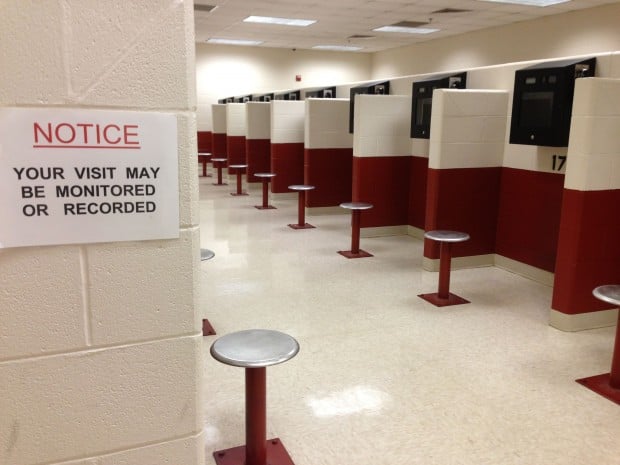 VALPARAISO | Anyone who has visited an inmate at the Porter County Jail knows face-to-face encounters have long been replaced with a monitored and recorded video call.
This approach, which jail officials say requires less labor and results in more visits per week, is about to be expanded to include the option for an Internet link from home or some other off-site location.
"It's an enhancement, not a change," Porter County Sheriff Dave Lain said.
The option, however, is coming with a price tag of $20 per 20-minute visit, according to Jeremy Rohr, sales engineer with Securus Technologies of Dallas.
Lain, who won approval for the system last week from the Porter County Board of Commissioners, said this optional approach should benefit the jail by offering another way to reduce frustration among inmates, while generating money for the county.
The county will receive 20 percent of the proceeds after 750 paid visits are carried out each month during each of the first two years, Rohr said. The county will receive 20 percent from all calls from the third year forward.
Securus will be installing $340,000 in equipment at no cost to the county, he said.
"It's pretty expensive," Rohr said of the company's investment.
Once up and running, which should come in about four to six months, users will be required to register with the company's website and secure approval from the sheriff's department.
Calls will be monitored and recorded, and can then be carried out via most PC or Mac computers, Rohr said. Efforts are underway to include hand-held devices in about a year.
Rohr said this approach is popular among those who don't live near the jail.
In addition to eliminating travel time and expenses, the online service allows more people to visit at one time and provides for more discretion. A mother at a jail in Ohio had told him recently she likes the option because her young child does not need to learn she is locked up.
Lain said there had been concern about replacing face-to-face visits with video equipment when the jail opened in October 2002. But that has died down as the reduced impact on staff has allowed for the number of visits to be increased from one to up to three times per week.