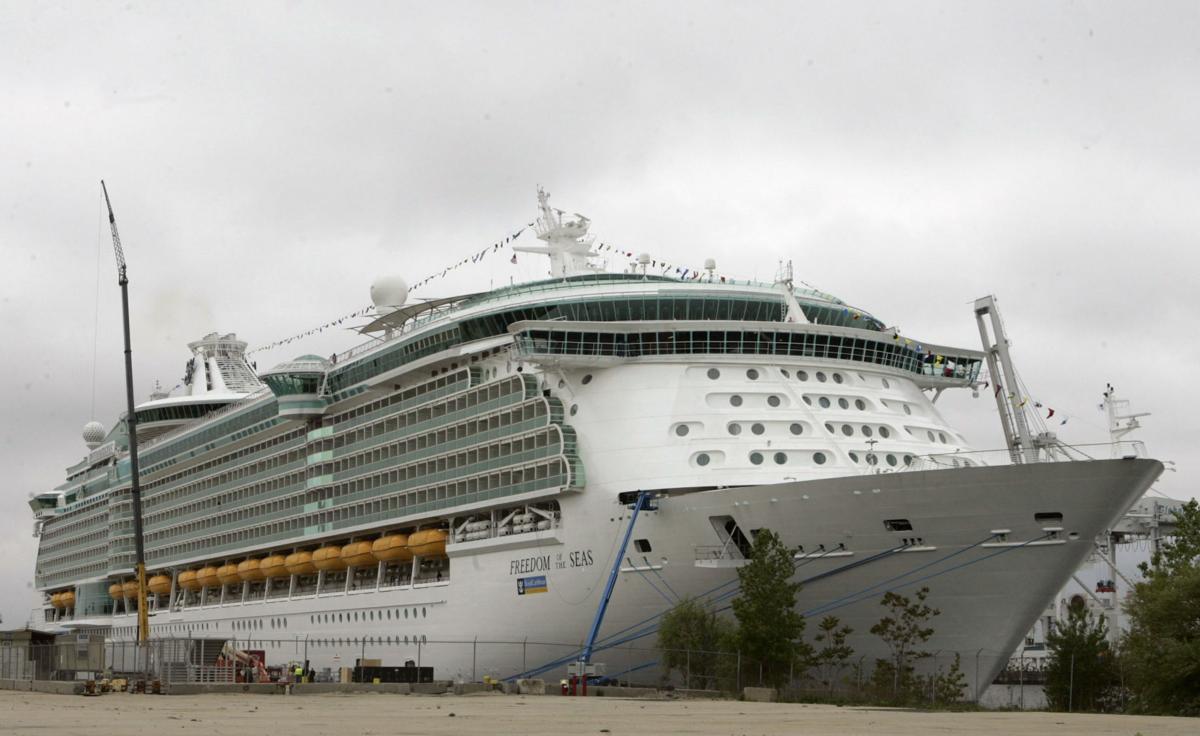 An 18-month-old girl fell to her death through an open window in a Royal Caribbean cruise ship's play area while docked in Puerto Rico, the family's attorney told NBC News on Tuesday.
Chloe Wiegand, of South Bend, had been with her grandfather Salvatore Anello, of Valparaiso, at the time of her 11-story fall, attorney Michael Winkleman said in an NBC News report. She was playing in the ship's H2O Zone kids water park.
Winkleman — a maritime lawyer with the Florida-based firm Lipcon, Margulies, Alsina and Winkleman — said Wiegand wandered toward the glass paneling encasing the area and asked Anello to lift her up so she could sit on the railing and bang on the glass. It was something she liked to do at her brothers' hockey games, according to the NBC report.
But Anello didn't realize there wasn't any glass behind his granddaughter, the attorney claimed in the report.
"Essentially, her grandfather lifts her up and puts her on a railing and where he thinks that there is glass there because it's clear, but it turns out there was no glass there," Winkleman told NBC News. "She goes to bang on the glass like she would have at one of those hockey rinks, and the next thing you know, she's gone."
Now, Winkleman said the family is asking themselves, "Why there was an open window in the glass paneling near the children's play area?," according to the report.
We are saddened by the terrible accident that took the life of Officer Wiegand's young daughter, and the city is holding this family in our hearts. https://t.co/suAIxHNn2W

— Pete Buttigieg (@PeteButtigieg) July 9, 2019
Before considering a lawsuit, his firm will review video footage of the "preventable" incident, Winkleman told NBC.
Puerto Rico Ports Authority spokesman José Carmona said officials are investigating whether the window already was open or if someone had opened it. 
"I'm just left wondering why in the world would you have an open window in a wall full of glass, literally right next to a kid's area?" Winkleman told NBC News. "The family is really at a loss for words. They are so deeply and utterly devastated by what happened."
Crown Point resident Marion Kellum and a friend of Anello shared in that desperation Tuesday. 
Kellum, a retired public school teacher who taught English, art and drama at Crown Point High School, said Anello was formerly a student of his.
Anello had a level of maturity and innate generosity that set him a part from his peers as a teenager. Once Anello graduated, the two lost touch for a while.
But about a decade ago, they reconnected when Kellum began putting on community plays to benefit the Old Lake County Courthouse in Crown Point. The former educator said he reached out to his old students for help, and Anello gladly took up the torch.
"It was just so typical of him," Kellum said. "He's one of the kindest guys around."
Kellum said it was common to find Anello talking about his family, and when his daughter became pregnant with Wiegand, he sold his "wonderful" house to be closer to them.
"He just couldn't be apart from them," Kellum said.
Kellum said the death of Anello's granddaughter will be "the worst event of his life," and that his longtime friend wasn't a careless person, nor would he ever knowingly risk Wiegand's safety.
"People judging him are on the wrong track," Kellum said. "He's not a bad guy in any sense of the word.
"Our hearts are just broken. ... You want to do something, but there is nothing you can do."
South Bend FOP No. 36 Chaplain James Burns said he has worked with the 18-month-old's father, South Bend police Officer Alan Wiegand, for years. 
"Now it's our turn to help him as officers and be there for him as a community," Burns said. 
Check back at nwi.com for updates as this story develops.
Be the first to know
Get local news delivered to your inbox!