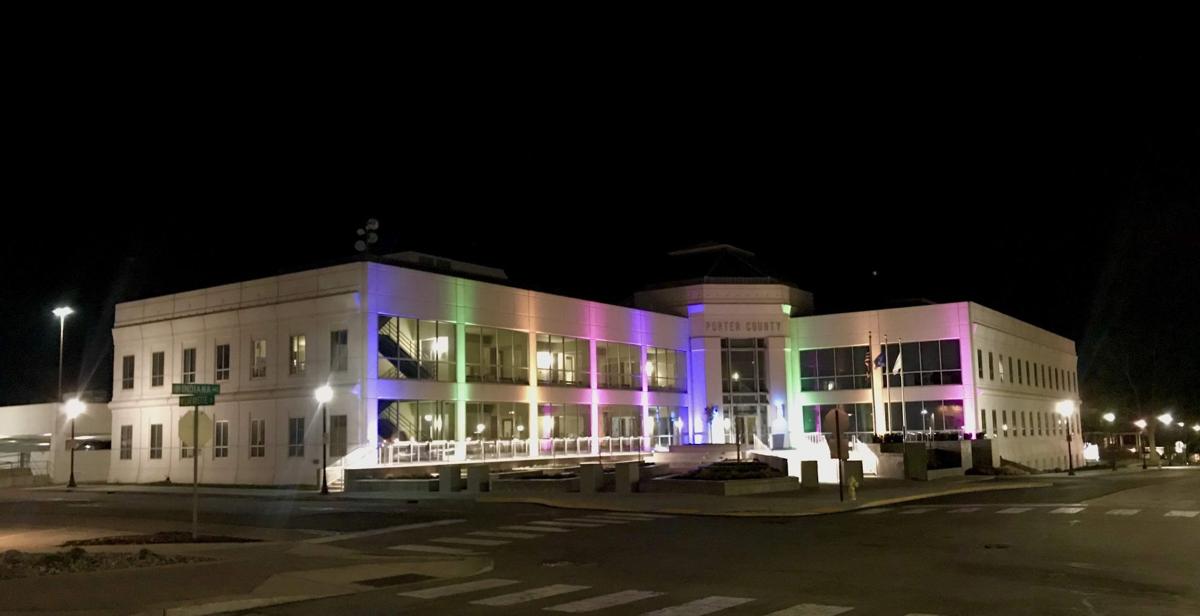 VALPARAISO — Porter County Health Officer Dr. Maria Stamp has urged all the county's school districts to require masks.
New COVID-19 cases at schools in the county "continue to increase at an alarming rate," Stamp told the Board of Commissioners on Tuesday.
Infected children can spread the disease to the community at large.
Complicating the Health Department's efforts to fight the disease is that Gov. Eric Holcomb's latest executive order regarding COVID-19 says school systems are responsible for protocols at schools, Board of Health attorney David Hollenbeck said. County health departments' role is to provide guidance and recommendations.
On Aug. 9, prior to the start of classes, Stamp advised school districts to mandate the use of masks and require social distancing of at least 3 feet.
Porter County is now one of only three of Indiana's 92 counties to be in the yellow category, and she expects it to be elevated into the orange category soon. The highest category is red.
The theory behind the governor's edict is that school corporations are in the best position to make decisions based on their circumstances at schools and on buses, County Attorney Scott McClure said. "We simply don't have the authority to mandate that action in the schools."
Residents who are concerned about masks and other COVID mitigation efforts in schools should take their concerns to the appropriate decision makers, he said.
Valparaiso resident Jennifer Hora interrupted the discussion to say her son's school has the number of cases in 12 days that it had in an entire semester last year. The decision makers at the school district say they don't have the authority to require masks, she said.
"This is not a public hearing," Board of Commissioners President Jeff Good, R-Center, said. "This was to come out and give our position."
"She wants to have a legal debate," he said.
"The agenda is full," Commissioner Jim Biggs, R-North, said. The meeting lasted two hours.
"We cannot by state law mandate masks in schools," he said. "We're trying to give the information to the public so the public is better informed."
"Our health department is doing what it's supposed to be doing. It's giving its advice when it's asked," Biggs said. "This is not 1939 Berlin."
Duneland School Board member Ronald Stone asked Stamp for guidance on a mask mandate. If Duneland requires masks, he said, "I'm going to have to give them something" regarding quarantines, he said. Parents who work outside the home complain when they have to arrange child care suddenly when a child is quarantined, he said.
"Who's in charge of the quarantines? Is that us?" Stone asked.
"That's actually a really good question," Stamp said. "Part of the reason for having kids wear a mask is to keep them in school," she added.
Getting answers to Stone will require some research, Stamp said.
"That is the communication we need to have between the schools and the health department," McClure said.
"It would be nice to keep our people at work as well," Commissioner Laura Blaney, D-South, said.
The commissioners announced Tuesday that when the county is in the orange or red COVID advisory level, as determined by the Indiana State Department of Health, visitors to county buildings must always wear masks. In addition, employees also will be required to wear masks in all common areas. Elected officials may set additional restrictions for their staffs.
Additional precautions might be implemented if the county enters the red category.
"I implore all in Porter County who are eligible to be vaccinated to do so," Stamp said. The county's vaccination rate — 56% of residents — is why the county is still in the yellow category, she speculated.
The Health Department offers vaccines at its offices in Valparaiso and Portage, and the agency is willing to go into schools, businesses and organizations to vaccinate people, Stamp said.
"We do occasionally have vaccinated people get sick enough to be hospitalized," she said, but so far no vaccinated person in Porter County has died of the disease.
As of Tuesday, the county had 20,564 COVID-19 cases and 333 deaths, including two recent ones, according to the state Health Department's COVID-19 dashboard.