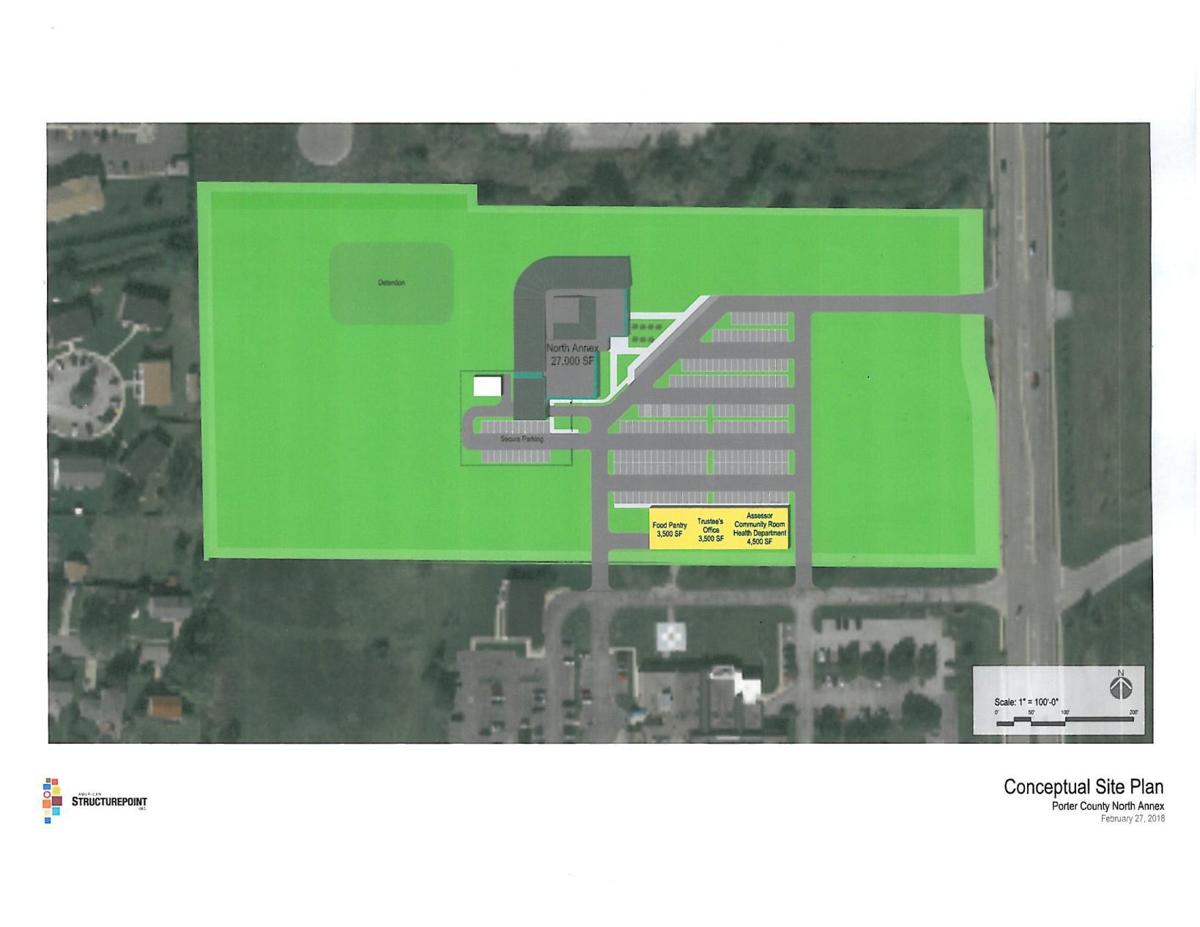 VALPARAISO — The Portage Township trustee's office is teaming up with Porter County government to build a "one stop shop for government services" center in Portage.
The project, which was unveiled during Tuesday night's Porter County Council meeting, is a modification of the county's proposed $10 million renovation and expansion of its North County Complex on south Willowcreek Road, according to Porter County Commissioner Jeff Good, R-Center.
"I think it's a good fit for what we're trying to do there," he said.
The 12,000-square-foot building will be just southeast of the existing county complex on land owned by county government, Good said.
The township, which is the largest in the county, would own more than half of the building and move in its trustee offices and the independently operated Portage Township Food Pantry, Trustee Brendan Clancy said. 
The county would use its 4,500 square feet for an assessor's office, health department and a community room, the last of which would serve as an early-voting site, Good said.
These county-related offices and space were to be part of the nearby complex renovation and expansion, he said. But building this additional space away from the security-heavy courthouse will result in an overall cost savings.
"It makes our building a little simpler," Good said.
Porter County Councilman Dan Whitten, D-at-large, who grew up in Portage where he operates a law office, said he liked the proposal.
"I would like to see this as a government corridor," he said.
Porter County Commissioner Jim Biggs, R-North, a native of Portage Township, said the county has always been open to this type of cooperative government agreement when it makes sense.
Officials from the city of Portage walked away from the County Council chambers disappointed in September when they were unable to convince county officials at the 11th hour to modify its North County Complex renovation project in favor of a combined city and county building constructed in the city's downtown area.
County officials rejected the downtown proposal as more expensive, failing to offer room for growth and far less accessible than the chosen site south of U.S. 6 on Willowcreek Road.
Be the first to know
Get local news delivered to your inbox!