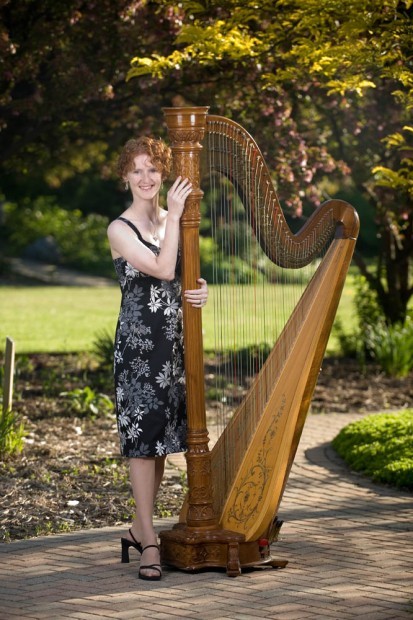 Jamie Haney, a professional freelanced harpist from Valparaiso, adds a touch of elegance to affairs.
Haney, whose clientele is primarily brides and grooms, plays for weddings, receptions or both. She is available for other types of receptions, banquets and holiday parties. Haney plays a wide variety of music — a classical or slightly contemporary repertoire for weddings and Celtic, classical and even Broadway show tunes for other occasions. She also learns music for clients on request, most recently the song "O."
"With enough advance notice a harp can play a lot of the same pieces a piano can," she said.
Haney started playing harp when she was 3 years old. Her sister was taking lessons and Haney joined in, having to sit on phone books to reach the strings.
"While I was learning to read, letters and the alphabet, I was learning to play music at the same time," she said. "My parents are music instructors. I learned the piano from my mom and flute from my dad. We're a very musical family.
"I've always played all three instruments, but the harp is most in demand," she said.
Haney, who grew up in Greendale, Wis., played in orchestras in grade school, middle school and high school, and with the Milwaukee Youth Symphony Orchestra. She went on to Albion College in Michigan on a scholarship to perform with the orchestra there. She earned a bachelor of arts degree in American studies and political science, and ultimately pursued a master's degree in liberal studies with concentration in history at Valparaiso University.
"Music is something I have always loved," she said.
Haney and her husband, Matthew, live in Valparaiso and have a daughter, Nora, 22 months.