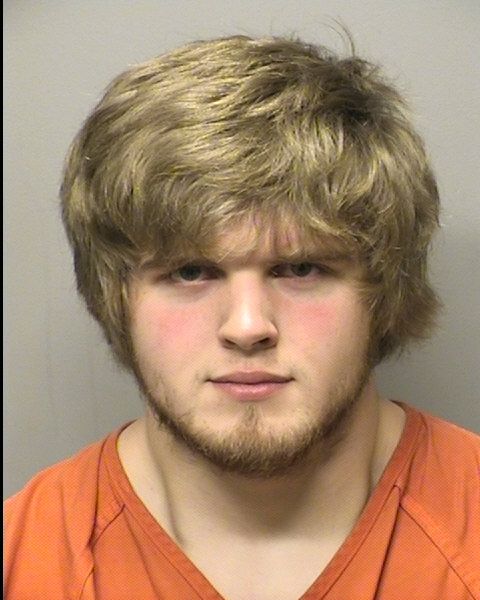 SOUTH HAVEN | A South Haven man told authorities he heard voices of his childhood imaginary friend while he tied up his girlfriend, put duct tape over her mouth and placed a pillow over her face.
Logan Fischer, 19, was arrested Saturday at the Portage Walmart after he released his girlfriend, then followed her to the store.
His girlfriend told investigators she went to his home and Fischer was acting strange and would not speak to her.
She told authorities he told her "you did this" and placed his hand over her mouth.
He turned on the radio, locked his bedroom door, then went on to tie her hands behind her back with a belt and began to choke her. She tried to yell, but she said Fischer then put duct tape over her mouth and a pillow over her face.
She told investigators she was tied up for about 30 minutes. She said Fischer told her he would untie her if she would remain quiet. She agreed, and he let her go.
She called her uncle who agreed to meet her in at the Portage Walmart parking lot.
While officers were at the parking lot talking to the girlfriend and her uncle, Fischer's vehicle was discovered parked next to his girlfriend's car.
He was taken to the Porter County Sheriff's Department where he reportedly agreed to talk to officers.
According to a report, he told investigators: "I might be crazy."
Officers said he them said heard the voice of "Eric," his imaginary friend from his childhood while he was with his girlfriend.
Investigators said Fischer told officer that he had tied up his girlfriend. He then told officers that "Eric" tied her up.
Fischer said "Eric" told the girl to cut him -- Fischer -- with a box knife, but the girl refused to cut Fischer.
During the interview, investigators said Fischer asked, "Can you handcuff me?" Fischer began rubbing his hands together, clenched his fists and tightened his jaw, officers reported.
He was taken to the jail where he was placed in restraints. He was initially charged with criminal confinement, strangulation and battery.