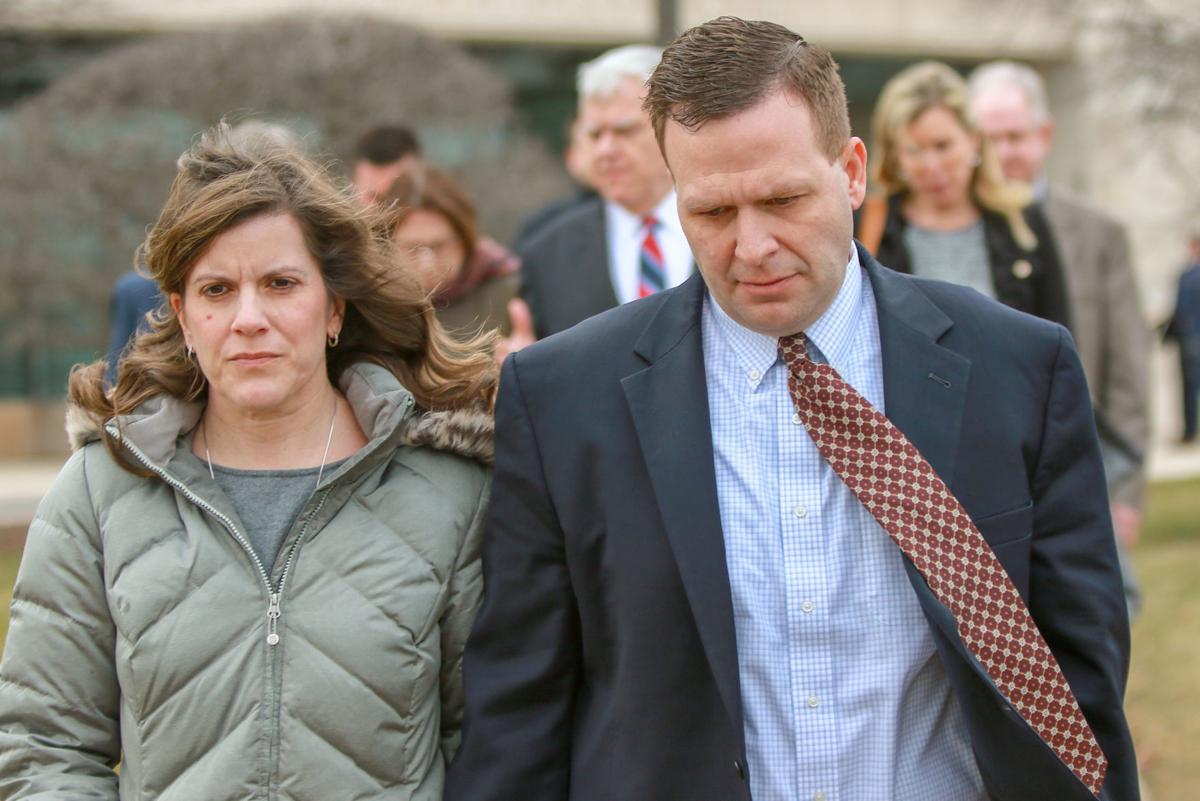 HAMMOND — A new judge is refusing to dismiss two felony counts of corruption against former Portage Mayor James Snyder.
U.S. District Court Judge Theresa Springmann ruled Tuesday that Snyder still may face a new trial on a bribery charge and remains guilty of tax evasion.
Springmann entered the case last month after U.S. District Court Judge Joseph Van Bokkelen bowed out after presiding over it for three contentious years.
Snyder's team of defense attorneys and government prosecutors both invited Springmann to overturn rulings Van Bokkelen made last November that left both sides dissatisfied.
Springmann declined to upset Van Bokkelen's decisions, ruling federal case law encourages a new judge to abide by the decision of the first judge.
Snyder's attorneys still can appeal to a higher court to dismiss the federal charges and guilty verdict still pending against the former mayor.
Federal prosecutors first charged Snyder in November 2016 with two bribery counts and one tax evasion count.
A jury heard the case against Snyder between Jan. 14, 2019, and Feb. 14, 2019.
Jurors acquitted Snyder of one bribery count alleging he corruptly arranged for the city of Portage to award public vendor contracts for towing services.
But the same jurors did find Snyder guilty of the other bribery count — he corruptly arranged for Portage to award garbage truck purchases.
The jury also convicted Snyder of obstructing the Internal Revenue Service's collection of income taxes by falsifying documents to conceal from the IRS the true financial status of his private business ventures.
Those two verdicts removed Snyder from public office.
His defense team pressed Van Bokkelen over the course of the next nine months to overturn the two guilty verdicts and either acquit Snyder of all wrongdoing or grant him a new trial.
The defense argued there was insufficient evidence to support the guilty verdicts and that misconduct by federal prosecutors denied Snyder a fair trial.
Van Bokkelen ruled Nov. 27 that Snyder deserves a new trial on the garbage truck bribery count.
Van Bokkelen stopped short of condemning prosecutors of misconduct. But Van Bokkelen did conclude "gamesmanship" by the prosecution prevented the jury from hearing testimony from the former owners of the truck dealership, who paid Snyder $13,000.
Snyder's defense team argued to Van Bokkelen and the new judge that Steve and Bob Buha, owners of Great Lakes Peterbilt, would have convinced a jury, had they testified, that they didn't pay Snyder a bribe, but rather paid him for legitimate consulting services he had earned in working for Great Lakes.
The defense contended the prosecutorial irregularities cannot be cured by a new trial, so the bribery count must be dismissed, making a new trial unnecessary.
Federal prosecutors still may choose to dismiss the bribery count on their own. They have asked for time to review that bribery count before deciding whether to proceed on it with a new jury.
Although Van Bokkelen upheld the tax count, Snyder's lawyers argued to Springmann the government failed to prove Snyder committed any violations still punishable under the statute of limitations, which sets the deadline for the government to file charges.
Springmann let stand Van Bokkelen's decision last year that Snyder's misrepresentations to the IRS were timely charged and there is enough evidence for a jury to find Snyder guilty of corruptly obstructing tax collections.
Gallery: Recent arrests booked into Lake County Jail
Be the first to know
Get local news delivered to your inbox!