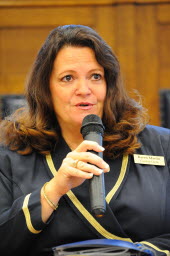 VALPARAISO | Porter County Clerk Karen Martin said a report of theft caused her to have the locks changed Monday at the voter registration office and to temporarily deny keys to the staff.
Yet the Democrat director of that office, Kathryn Kozuszek, who is challenging Martin, a Republican, in her re-election bid this year, blames politics on the move.
"One hundred percent politics," Kozuszek said.
Martin, who denies the political charge, said the lock change stems from Kozuszek's decision to place a web camera at her desk and claimed she did so because items have shown up missing from the office.
Martin said the office falls under her responsibilities and control, and she needed to respond. She said she is concerned about the presence of a camera where early voting is taking place.
"There are issues here that are red flags," she said.
Kozuszek said she brought in the camera, not because of thefts, but because she believes others had been going through her desk and office area, which are open to the rest of the office.
She believes she followed the chain of command spelled out in the employee handbook in taking all necessary precautions to a security breach of a work area. She said Martin took the keys two months earlier of a separate room where the ballots are kept.
Porter County Commissioner Laura Blaney, who is the lone Democrat on the three-member panel, objected to Martin's approach.  
"The building is under the charge of the commissioners," she said. "No one should be changing locks without our knowledge." 
Martin said while she, maintenance and the county commissioners are the only ones currently with keys, it is her intention to return keys to the office staff with a change requiring one Republican and one Democrat present to unlock the door.
"It's not personal," she said.