More than a dozen Democratic elected officials in Porter County are calling for the resignation of Porter County Election Board President J.J. Stankiewicz after he got into a shouting match with newly elected Porter County Clerk Jessica Bailey, yelling at her to "shut up," "listen to me" and "quit the crap."
After a video of the heated exchange was publicly released, they sent a sternly worded letter to Porter County Democratic Party Chair Jeff Chidester demanding his appointee Stankiewicz apologize and step down.
"We wish to express in no uncertain terms our dismay with the way your appointee treated Clerk Bailey," the politicians wrote in the letter. "We find the comments made by Mr. Stankiewicz to be demeaning, unprofessional and woefully misguided and inaccurate. We cannot tolerate such behavior from any member of our county boards."
The letter follows calls by the Indiana Secretary of State and The Times editorial board for Stankiewicz and Democratic voter registration Director Kathy Kozuszek to resign after last fall's election debacle in which election results were three days late because of a number of snafus, including a shortage of poll workers, 12 polling places opening late and allegations of mishandled ballots. 
Stankiewicz said his "private argument with the new clerk of courts was secretly videotaped."
"That private exchange was overly heated to say the least, but it eventually led to a very civil official meeting, and my pressure eventually caused public disclosure of the names and telephone numbers for workers to call to assure poll workers appear in the upcoming primary election," he said in a written statement responding to recent media coverage. "The job of election workers is full-time, super-hard and demanding. Nevertheless, it is equally the job of elected officials to perform their duties well in advance of legal deadlines, or the result will be another set of closed voting sites on Election Day. And that is exactly what occurred during the latest 2018 Election. So my rules for myself and others are very simple: I require that all, both male and female, serve the voters first, do not walk off the job, or use excuses like 'that's not my job' to avoid personal responsibility. Preparation for successful elections is not a simple foxtrot or waltz. Election Day is a 16- to 24-hour-long day that requires constant preparation before that day arrives."
Stankiewicz said in the statement he was angered by being told "it's not my job." It was not clear from the video during a discussion about poll workers whether Bailey said that, but Stankiewicz at one point tells her during the argument "what I'm hearing you saying is that's not my job" and she replies by saying, "That's not what I'm saying. You're not listening."
County Commissioner Laura Blaney; County Council President Dan Whitten; County Council members Sylvia Graham, Jeremy Rivas, Robert Poparad and Greg Simms; Sheriff David Reynolds; County Auditor Vicki Urbanik; County Treasurer Michelle Clancy; Portage City Council member Colin Czilli; Valparaiso City Council members Deb Porter, Diana Reed and Robert Cotton; Portage Township Trustee Brendan Clancy and Center Township Board President Deb Fray signed the letter in response to the verbal exchange before the March 8 Election Board meeting.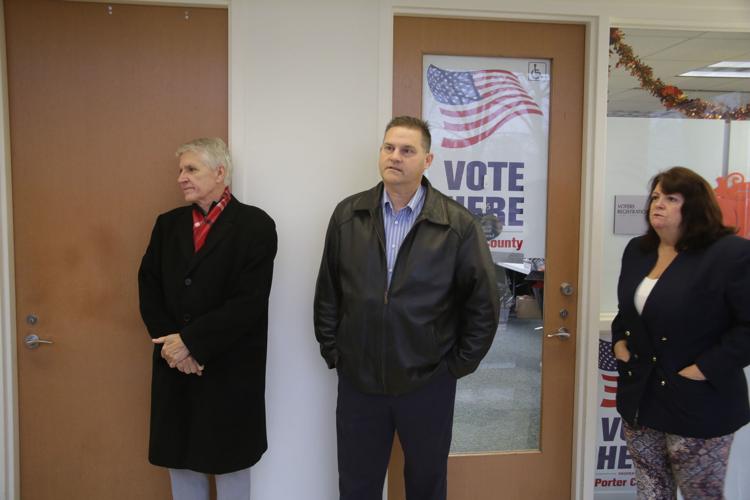 "Clerk Bailey is a duly elected office holder who has been on the job for less than three months. She has been diligently working to prevent a repeat of the debacle of the last election overseen in part by your appointee," they wrote. "She is not a subordinate to Mr. Stankiewicz, but rather, has an equal vote on the Election Board. There is no place in Porter County government for your appointee to berate her and use the derogatory language that he used. She deserves time to prove herself in the position Porter County voters have entrusted upon her."
The elected officials said they support "honest, robust public debate" but drew the line at unfounded personal attacks and said it was essential for officials in Porter County to work together even with people they disagree with.
"Mr. Stankiewicz owes Clerk Bailey a public apology. In the best interests of the citizens of Porter County, he should also step down from the Election Board," they wrote. "We ask that you demand this public apology and resignation without delay. Our citizens deserve reassurance that our Porter County Election Board places greater priority on working toward fair and honest elections rather than engaging in petty, political disputes."
Chidester said "no" and hung up on a Times reporter when asked if he had received the letter and if he had any comment. When asked to clarify if he hadn't received the letter or if he didn't have any comment, Chidester ended the call.
Recent arrests booked into Porter County Jail