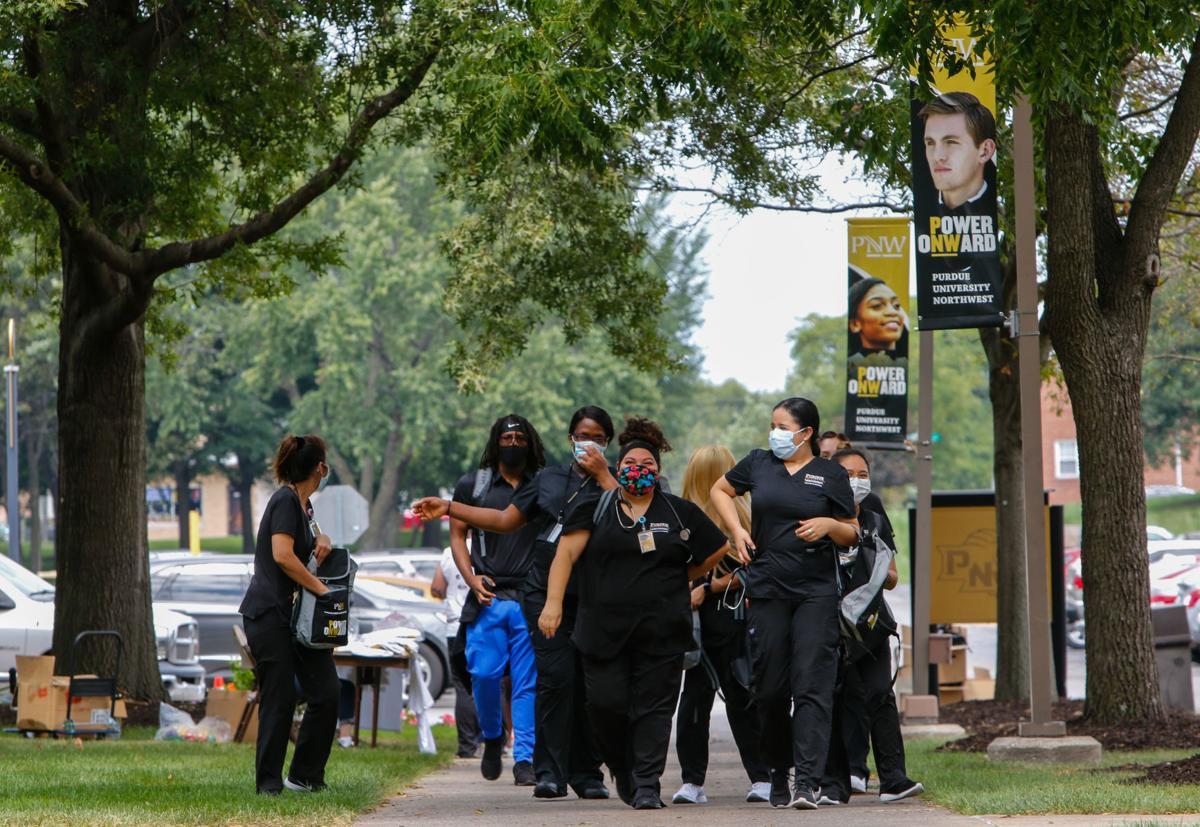 As school approach fall break, more Region districts are sharing data on the number of coronavirus cases and quarantines confirmed in Northwest Indiana schools.
Duneland School Corp. and Valparaiso Community Schools have added new COVID-19 dashboards to their district, similar to information shared by Crown Point and Lake Central school leaders earlier this month.
In Duneland schools, 34 total cases of COVID-19 have been confirmed among staff and students since Aug. 25. The school corporation is currently reporting 10 active cases, with two of those belonging to remote learners, according to district's most recent update on Friday.
Chesterton Middle School and Chesterton High School are both reporting three active cases. One case is active at both Brummitt and Jackson elementaries.
Valparaiso Community Schools officials are reporting three active cases across the district with 35 individuals identified as direct contacts currently in quarantine. The district is reporting one active case at Benjamin Franklin Middle School, at Heavilin Elementary School and at Valparaiso High School.
Valparaiso Community Schools has seen 21 total positive cases and 217 individuals identified as direct contacts since Aug. 12, according to the district's most recent update on Thursday.
"There have been no known in-school transmissions since we returned to school Aug. 12," Superintendent Jim McCall wrote in a letter to families Friday. "Our students and staff have adjusted to the challenges that the fall has presented them, and they have risen to the occasion with remarkable efforts by all."
In Crown Point, where Crown Point Community School Corp. officials only share the number of individuals asked to stay home after coming into contact with a positive student or staff member, 42 individuals were asked to quarantine this week, according to data most recently available on Tuesday.
Six of those individuals belong to Lake Street Elementary, seven are district staff or other departments, 11 were at Wheeler Middle School and 18 were at Timothy Ball Elementary.
In the Lake Central School Corp., which posts data every Wednesday, 335 students and 55 staff were listed as actively quarantined. Just over 100 of those cases were reported at Grimmer Middle School, which saw two students and three staff report of positive cases between Oct. 7 and Oct. 13.
Lake Central High School also saw a high number of quarantined individuals, with 63 students and four staff members taking part in a stay-at-home period.
Statewide, the Indiana State Department of Health reported 422 new student cases, 85 new teacher cases and 110 new staff cases in its weekly update on Monday. About two-thirds of Indiana schools are voluntarily sharing data for the ISDH dashboard, which launched at the end of September.
Cases remain low among Northwest Indiana higher education.
At Valparaiso University, only one case COVID-19 was active on campus as of Friday — down from six active cases this time last week. The university has seen 37 total cases since Aug. 20.
Calumet College is reporting two active cases among students, staff and faculty, as of Friday evening. The college has seen 15 total cases since Aug. 15 and 13 individuals who tested positive have been cleared to return to school.
Seven active student cases have been confirmed at Purdue University Northwest, where dashboard updates are provided every Friday. No cases were reported among faculty and staff.
At Indiana University Northwest this week, officials reported two of 10 individuals received a positive result in symptomatic testing, which began Aug. 1. Only four of the university's 822 total mitigation tests were reported as positive cases. IUN began mitigation testing Aug. 24 to monitor potential spread of the coronavirus among populations at greater risk due to congregate activity.
The Times is following cases of COVID-19 in schools in an interactive online dashboard. Follow along at nwi.com/education.