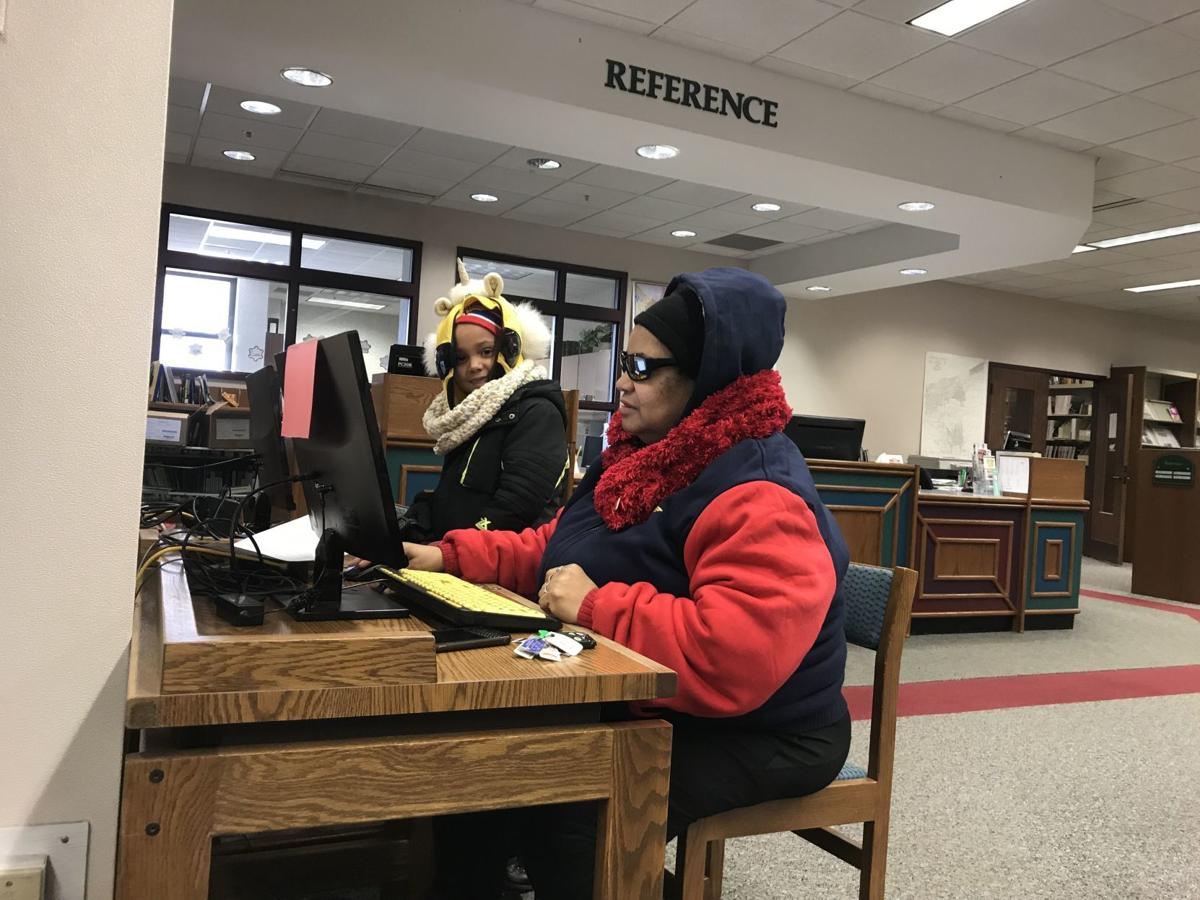 Nichole Daniels appeared to be the only patron at the Valparaiso branch of the Porter County library system Wednesday morning.
Positioned in front of one of the library's public computers, the Valparaiso resident said she was not there to take advantage of the warming center services being offered.
She was forced to venture out in the bone-chilling cold, because she does not have a computer at home and needed to download and print the e-learning lessons for her 6-year-old daughter, Danika-Nikhol Daniels, who joined her.
"I was happy the library wasn't closed," Nichole Daniels said.
There was no one at any of the other Valparaiso warming centers Wednesday morning. Calls to Lake County warming centers revealed no one was using them either.
Two people sought out relief Tuesday night at the warming shelter at Woodland Park in Portage, Portage Police Chief Troy Williams said Wednesday morning.
Williams said both people were homeless. The Portage Township trustee was contacted, and his office found a place for them to spend the night.
Map: Local Warming Centers
Communities in the Region may be offering warming centers due to the frigid temperatures. These locations have been used in the past as warming centers, but be sure to call ahead to verify hours. Are we missing a location? Is a listed location no longer valid? Email our editors at newstips@nwi.com.
Porter County Public Library System Director Jesse Butz said while no one had showed up for the warming center by mid-morning Wednesday, he was happy to have brought in a skeleton staff to open all five library locations in case the need develops.
"If we are able to be here for folks, it's a good resource for the community," he said.
The libraries are scheduled to remain open for their normal hours Wednesday, but they may be closed early if there are no visitors, Butz said.
Daniels said her daughter's education is one of the only reasons she would have left the warmth of home Wednesday.
"Even for food, we would have scraped up something," she said.
Café Fresco on the square in Crown Point was one local business that decided to stay open despite the frigid temperatures. The café opened at 9 a.m. Wednesday, and owner Breanne Zolfo said business has been brisk.
"People need warm coffee on a cold day," she said.
The café is operating with a reduced staff — just Zolfo and her parents are on the block today — but Zolfo said it was important to be a warm option for those without heat today. She said she's spoken with many customers in the Crown Point area whose furnaces have stopped working.
"It's another way we can help the community, especially when there's so many without power or with frozen pipes," Zolfo said. "It's important to give back to our community that supports us."
The café was open until 2 p.m. Wednesday and will reopen at 7:45 a.m. Thursday for a watch party of the café's appearance on the national morning show, "CBS This Morning."
Williams said police assisted in tracking down a man reported missing Tuesday night. The man was found at a home where residents had taken him in and kept him safe.
"We have brought on a couple of extra officers per shift for the next few days," Williams said.
The extra officers are being put on patrol to assist any citizens they see in need, offering rides to anyone seen walking, and checking on animals, which may have been left outside in the weather.
"When it is this cold, you usually see a reduction in criminal activity," Williams said.
Staff writers Joyce Russell and Carley Lanich contributed to this report.
Check back at nwi.com for updates to this story.
Gallery: Winter weather in the Region