After divers were unable to locate the body of a 21-year-old university student along a Minnesota stretch of the Mississippi River earlier this year, the young man's father was unwilling to give up the search and just wait for his son to surface.
He turned to private consultant Tom Crossmon for help, and within four hours, the young man's body was located and recovered.
Family and friends of 20-year-old Valparaiso resident Keegan Whaling are hoping for the same results when Crossmon makes the 10-hour trip from Duluth, Minnesota, to begin searching Saturday for the young man's body where he was last seen two weeks ago in Long Lake just north of Valparaiso.
Crossmon, who carries out drowning recovery services for nothing more than the cost of his expenses, said he is bringing a sonar not yet used in the search for Whaling and a remote-operated vehicle capable of retrieving a body.
"We actually can do a drowning victim recovery," he said.
WORKING WITH LOCAL AUTHORITIES  
Tyler Brock, conservation officer with the Indiana Department of Natural Resources, said his department has been in contact with Crossmon and has cleared the way for the search if continued efforts this week are not successful.
Divers with the Merrillville Fire Department were to search Monday, followed by a region-wide team on Tuesday, he said.
An effort is underway to raise the $5,000 needed to cover Crossmon's expenses, according to a Facebook post shared by friends. Donations are directed to the Teachers Credit Union, account number 4984119, with checks made payable to Keegan Whaling.
Whaling and a 21-year-old friend were reportedly canoeing when the boat capsized shortly before 7 a.m. Oct. 29, Brock has said. The 21-year-old man made it back to shore and told authorities the last time he saw Whaling was in the water. He did not see Whaling make it to shore.
Crossmon said he was contacted by the Whaling family or a representative for help.
He said he has been involved in search and rescue for more than 30 years. He began Crossmon Consulting in 2008 and does for-profit jobs to pay for the equipment needed to carry out drowning search and recovery efforts at no cost beyond his expenses.
It was his understanding that local hotel rooms and restaurant food are being donated for him and an assistant, he said. 
The sonar device, which is torpedo shaped, is dragged along under water and sends out sound waves, he said. The sound waves produce photo-quality images that Crossmon is able to see on a laptop computer in his boat.
When the target is located, Crossmon said, he lowers the remote-operated vehicle into the water, and it is able to grab hold of and retrieve the object. If the vehicle cannot reach its target, such as when there is heavy underwater plant growth as has been described at Long Lake, a dive team is called in for help, he said.
Crossmon said his success rate is high, but is challenged by factors such as strong currents and large areas.
Long Lake covers 48 acres and is about 3,200 feet, or nearly nine football fields, in length from north to south, Porter County Surveyor Kevin Breitzke said.
The width varies from 1,100 feet to 400 feet, and it would be a 1.7-mile walk around its shore, he said.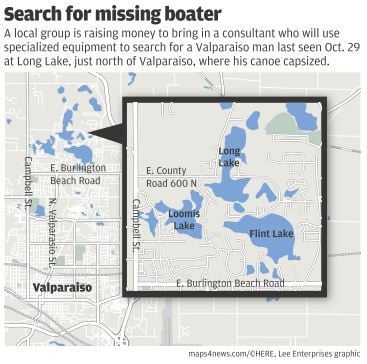 Crossmon plans to wait and see how the ongoing search goes before loading up his equipment later this week and making the long drive to Valparaiso.
"I'm hoping they have success," he said.