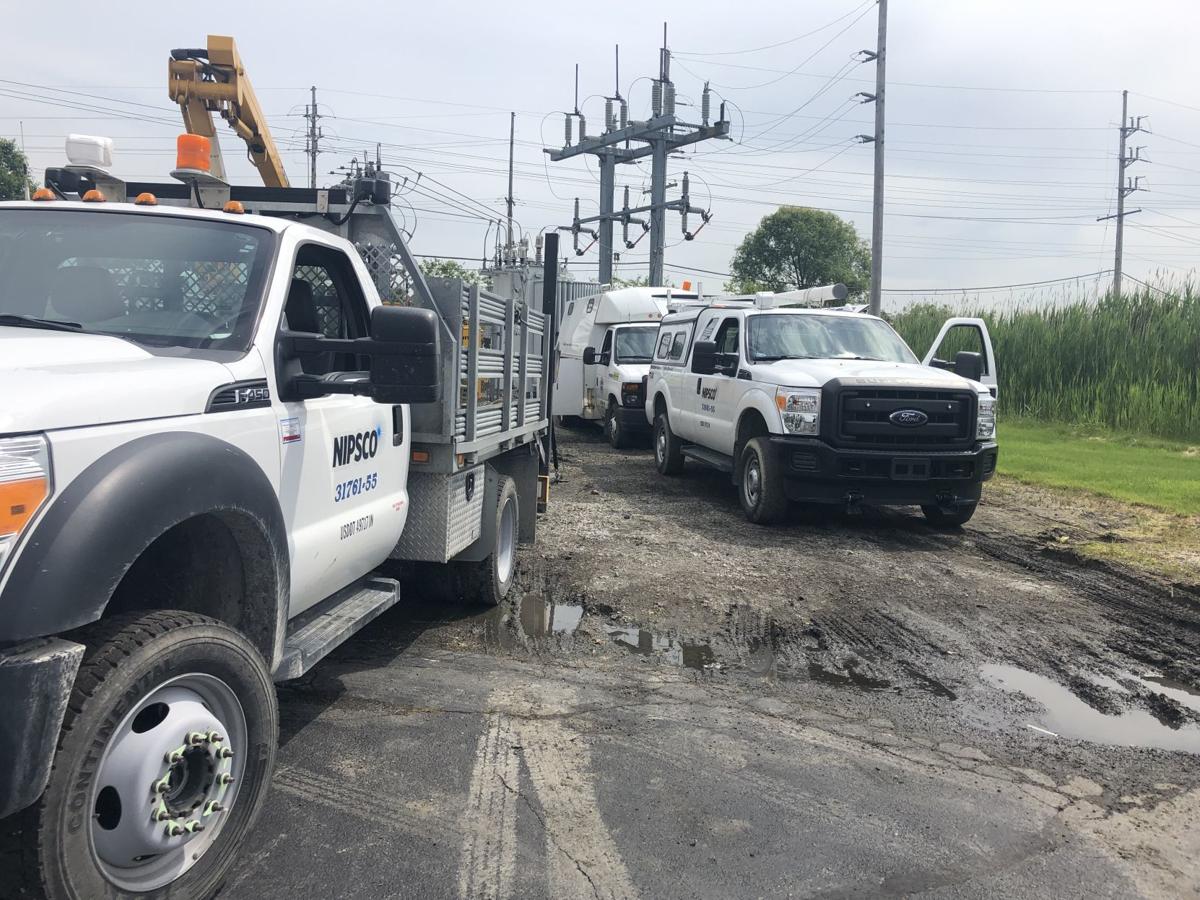 MICHIGAN CITY — One sign read, "Corporate greed or public service." Another sign said "They have the plant, but we have the power."
The signs were part of a public rally and picnic Thursday at Pullman Park to protest a proposed NIPSCO electrical rate hike. Rally speakers denounced both the rate hike for residential customers and the proposed 19% rate reduction for corporate customers.
"I live here. So do a lot of other people," said State Rep. Pat Boy, D-9th.
A Michigan City resident who represents parts of LaPorte and Porter counties, Boy opposed the 12% electrical residential rate hike that has since been reduced to a pending 7%. 
Boy urged the Indiana Utility Regulatory Commission, with which NIPSCO has filed its proposed new rates, to "look at the bigger picture."
The Northwest Indiana National Association for the Advancement of Colored Peoples and Beyond Coal Collaboration of the Sierra Club organized the rally, located in the shadow of the coal-firing plant that NIPSCO is retiring.
Nikki Troutman, environmental crime and justice chair for LaPorte County Branch 3061 of the NAACP, encouraged the utility company to "show vision and stop putting profit before people."
In explaining the rate hike, the NIPSCO website cites "balancing the need for system improvements while limiting the bill impact on customers is important."
According to NIPSCO, electric rates would be phased in over two steps in September 2019 and March 2020.
Under the previous 12% residential rate hike, an average customer using 690 kilowatt hours per month would see an overall $11 monthly increase in their electric bill.
The company website states, "In addition to supporting NIPSCO's plans to accelerate the retirement of its remaining coal-fired electric generating units and transition to lower-cost renewable energy, the others drivers of the proposed increase include investments to upgrading electric infrastructure, recent environmental upgrades, and a shift to demand among large industrial customers. New rates also support continued investments and improvements to better serve customers in the future."
Rally speakers noted that many of those customers and their churches are on limited incomes, and any utility rate hike would add to people's financial woes.
"My concern is cost shifting," said Gary City Councilwoman Rebecca Wyatt, D-1st. "It does not make good sense. They're shifting the burden from industries to people who can least afford it."
Young people also participated in the rally. Hannah Kilbourne and Ella Ryszka, both 9, and from Michigan City, representing a group called the Renewable Power Rangers, called for renewable power sources, which they said would help the local economy and create new jobs.
Among area pastors, the Rev. Jacarra Williams from New Hope Missionary Baptist Church said of any rate hike, "We can't do it. We won't do it."
Williams added that people can't fight this rate hike alone.
"We need to unify," Williams said. "Do it together."