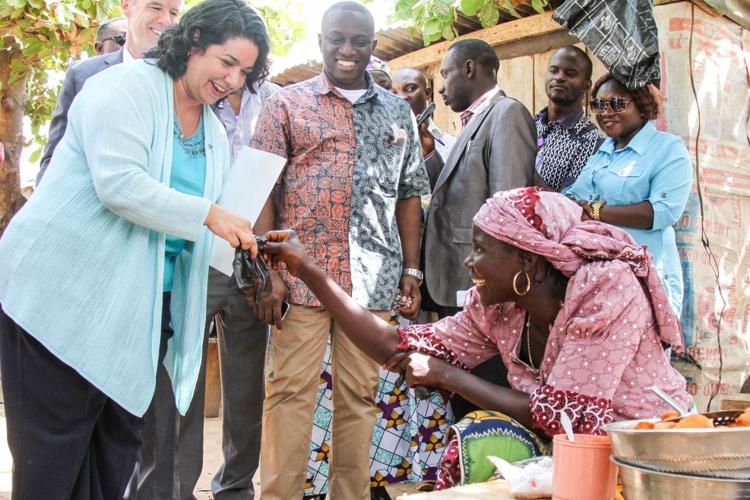 Sierra Leone's new ambassador was raised in Portage
It's more than 5,000 miles between Portage and Sierra Leone, but Maria Brewer knows both places well. Brewer, who grew up here, will be sworn in Thursday as the new ambassador to Sierra Leone.
During her career with the U.S. State Department, Brewer has served in Nigeria, Sierra Leone, Pakistan and other exotic locations.
Brewer was back in Northwest Indiana for "a nice re-grounding experience before we head out," she said during a recent interview in Portage.
The new ambassador wants art of the Indiana Dunes on the wall in her new home in Freetown, Sierra Leone's capital, so she can show visitors what it's like where she was raised.
She'll also take with her the Midwestern values of being rooted in reality, yet optimistic.
Growing up
As a child growing up in Portage, Brewer was an avid reader. She enjoyed National Geographic, Rudyard Kipling, Robert Louis Stevenson, Jack London and other stories about travel and adventure.
"When I was a child, I loved to read," she said.
Her own family's saga, she said, is a true Northwest Indiana story.
On her father's side, Maria Pallick — her maiden name — was born in Northwest Indiana because her grandfather, an immigrant, came to the Region after working at steel mills in Pennsylvania.
On her mother's side, the family was considered "Texican," residents of both Mexico and Texas at various times. The family didn't move, but the border did.
At Portage High School, she studied Spanish and journalism, graduating in 1991.
Brewer graduated from Valparaiso University in 1995, the same year her mother obtained her own college degree.
Brewer's mother was a teacher; her father was a diesel mechanic.
Early career
At VU, Brewer studied international economics, cultural affairs and other subjects.
"It turned out to be the perfect background for me" when she took the foreign service exam, she said.
On July 15, 1996, Brewer got the call that set her career in motion. She was hired.
Her first tour was in Lagos, Nigeria, where Brewer "fell in love with Africa," she said.
At her July 26 confirmation hearing before the Senate Foreign Relations Committee, U.S. Sen. Todd Young noted she served in Nigeria, Pakistan, Sri Lanka and India as well as Sierra Leone.
"You have valuable experience, Ms. Brewer, related to the Ebola crisis as well as Boko Haram and the al-Qaeda threats," Young said.
In most countries, the State Department employees informally adopt orphanages, providing clothes, supplies and gifts for children. Brewer did even better than that. She and her husband adopted a child of their own. Their 8-year-old daughter is always good about donating her outgrown clothes and toys, Brewer said.
Sierra Leone
Brewer served in Sierra Leone from 1999 to 2001, not long before the movie "Blood Diamond" came out. It was near the end of that country's civil war. Brewer was part of the international mission involved in peace negotiations.
The country itself has "beautiful, beautiful sandy beaches," Brewer said, but Sierra Leone also has suffered a series of traumas.
Deforested hills serve as home to impoverished people who use wood-burning cook stoves. That, combined with torrential rainstorms, is a recipe for disaster.
This summer, mudslides brought tragedy to the West African country.
"The death toll may go over 1,000," Brewer said.
Another tragedy was the result of war.
Brewer remembers the "profoundly shocking" visit to an amputee camp. Rebels hacked off legs and arms of their victims. Even infants weren't spared.
"These weren't people who were in accidents. This was a man-made tragedy in the most brutal and horrific way," she said.
Challenges Sierra Leone faces
Sierra Leone is a pro-U.S. country, in part because there's no baggage of being a former colonial power in Africa, Brewer said. There's also the moral authority that comes from being a democracy that has been around nearly 250 years.
At her confirmation hearing in July, Brewer offered written remarks about the challenges facing Sierra Leone as well as its opportunities.
"Sierra Leone ranks eighth from the bottom among countries on the UN's Human Development Index. One in eight Sierra Leonean children will not live to age 5. Sierra Leone has one of the world's highest rates of maternal mortality," she wrote.
She promised to work with leaders in Sierra Leone to ensure that public health remains a top national priority.
She also said she will help the U.S. serve as part of a team of neutral observers to ensure "free, fair, transparent" elections and a peaceful transfer of power. In March 2018, Sierra Leone will hold a presidential election, its fourth since 2002.
Brewer also plans to get to know the people there — not just the movers and shakers, but also the less fortunate, who are the majority of the population in any country.
Sometimes, ambassadors are able to help the elite hear the concerns of the people who have been marginalized — women, the poor and others whose concerns haven't been heard, Brewer said.
Preparing to leave
Before being sent to her new post, Brewer had to go to ambassador school, the training that newly appointed ambassadors receive before they are sworn in and go to their new posts.
She also had to be confirmed by the Senate, a swift process for her.
On Thursday, she will be formally sworn in as the new ambassador to Sierra Leone.
When she arrives, she will be the head of a virtual city of about 50 employees and their families, all working to represent U.S. interests in the distant country.