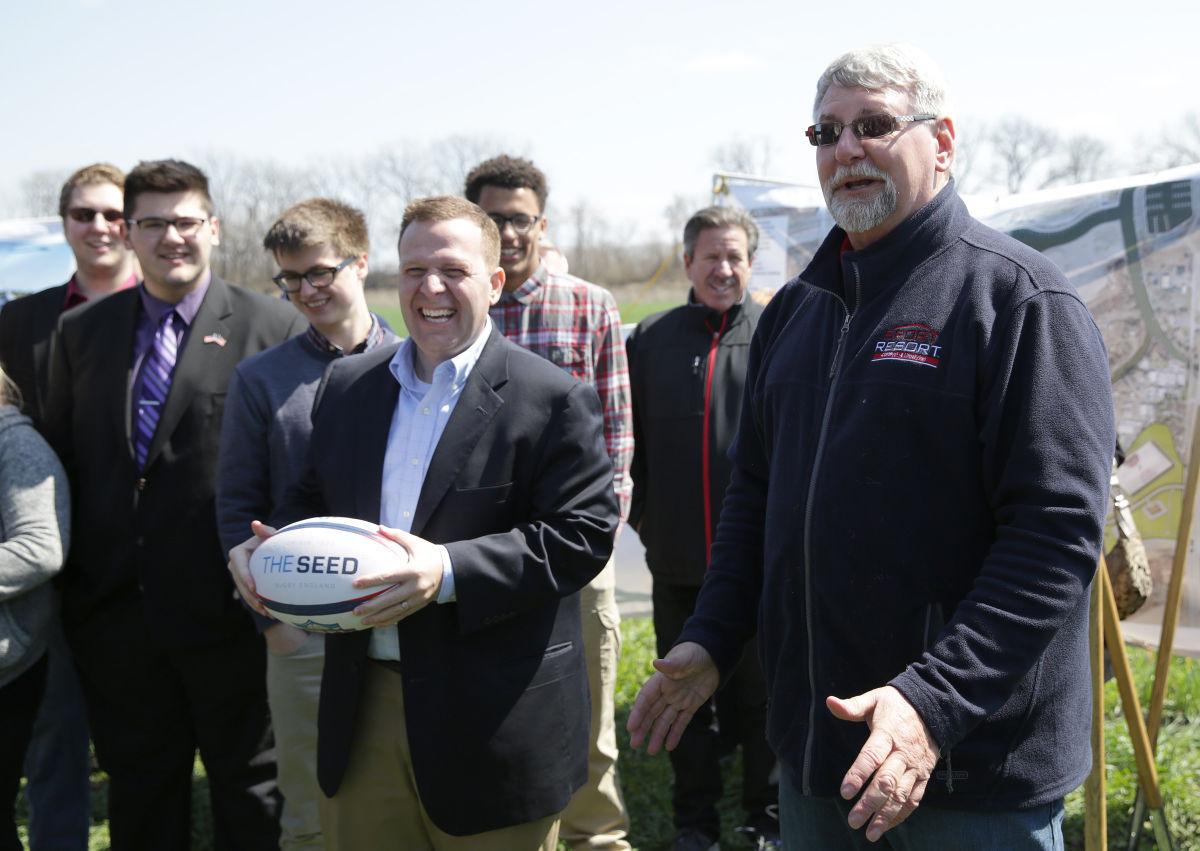 PORTAGE — Last April more than 150 people gathered in a field off Stagecoach Road.
Within months, they were told, there would be a lake and inflatable dome.
Neither happened. Instead, only some sand and topsoil have been moved from the site by property owners and developers Catalyst Lifestyles LLC.
"We were so ambitious," Chip Greenberg, spokesman for the group, said this week.
The construction that was planned for this summer was only a part of a $75 million sport resort.
The highlight of the development was a 165,000-square-foot dome to be used for sporting events and conventions. In addition, plans called for two other domes, each 60,000 square feet, to house a water park and an indoor drive-in theater featuring 40 vintage cars. The development, on about 160 acres straddling the Burns Waterway, would also include a 150-room hotel and KOA campground. Catalyst Lifestyles promoted the project as a premier youth sports destination.
Greenberg said the beginning of the construction met delay after delay this summer. 
Greenberg said they had to mitigate wetlands and spent a "great deal of time" working with NIPSCO on easements and worked with the city to complete the planned development documents. They also removed loads of sand, which were transported to other construction sites, and some top soil.
During the delays, he said, they also had a chance to rethink some of the design. Initially they were going to develop the back portion of the 160 acres the developers purchased from the city, which would include a bridge over the Little Calumet River.
Construction of the bridge is in a grant request from the city of Portage to the Northwest Indiana Regional Development Authority, which is still under consideration.
Not knowing the fate of the grant, said Greenberg, made them switch their focus.
"We are more focused on the front 44 acres at AmeriPlex Drive and Ind. 249," said Greenberg, adding that would include the large dome, the hotel and "restaurant row."
The next step is the engineering and construction of the roads in the front half, said Greenberg, which will take the next few months.
That change in focus, Portage planner Kurt Knutsen said, may send the development back to the drawing board.
Knutsen said while they received the preliminary development plan approval, they have never received final development plan approval with final engineering documents. Without the final approval, the developers cannot begin construction.
"The preliminary plan drawing may also have to be amended because of the changes with the NIPSCO easements," said Knutsen.
Greenberg said despite the setbacks, the developers are still committed to bringing the sport resort to the city.