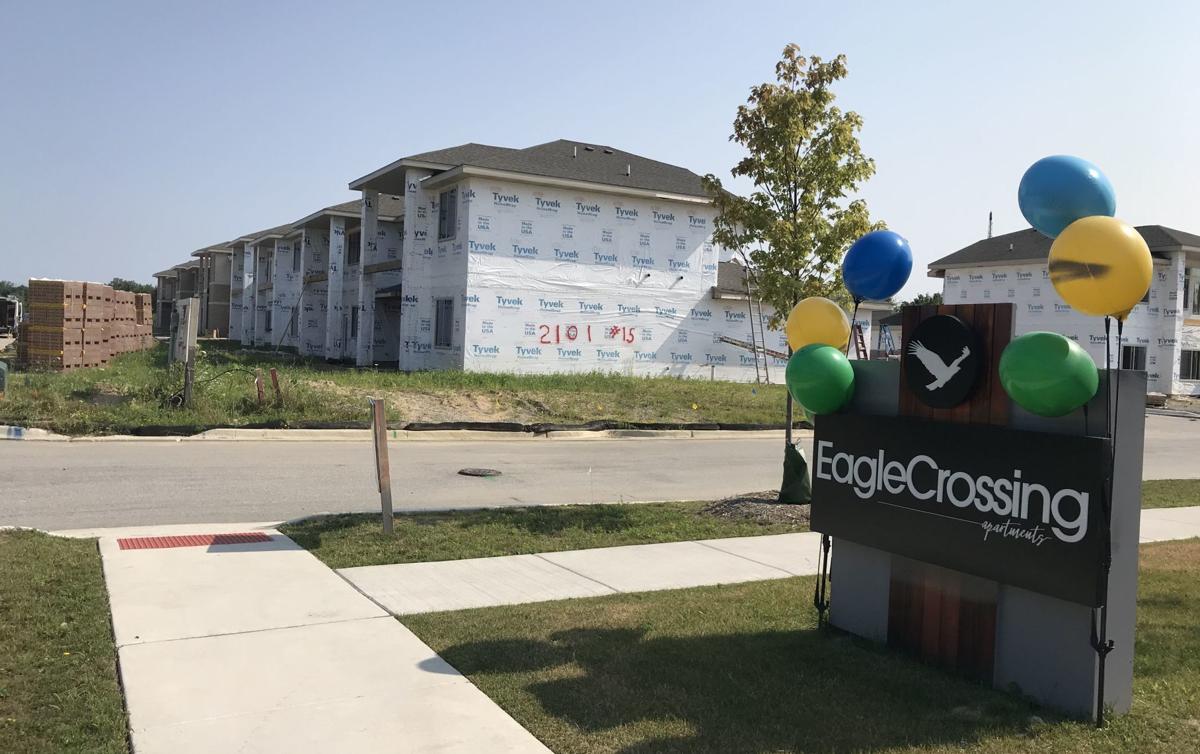 CHESTERTON — This week's death of a carpenter at a Chesterton construction site has prompted an investigation of the incident and a wider call for increased efforts at the local level to see if contractors are abiding by employment laws.
Mattias Miguel-Baltazar, a 35-year-old carpenter, fell Monday morning while working at the Eagle Crossing Apartments under construction east of Indiana 49 at 2113 Kelle Drive, according to police.
Miguel-Baltazar, who has an Indianapolis address but was carrying a Guatemalan identification card, was taken to Porter Regional Hospital where he was pronounced dead, police said.
Fellow crew members said Miguel-Baltazar was standing atop an 8-foot A-frame ladder handing sheets of plywood overhead to other workers on the second floor of the building when he fell down to the concrete foundation, police said. The incident occurred about 10 a.m. Monday.
Police said they found Miguel-Baltazar lying on his back with his head surrounded by blood. The man was not responsive at the scene.
The general contractor at the site said Thursday morning the incident is still under investigation.
"We are currently gathering the facts of the incident and are unable to comment," said John Laporte, national safety director for Core Construction.
"Our thoughts and prayers are with the his family," he said in an text message exchange. "We will get back to you when investigation is complete."
Porter County Coroner Cyndi Dykes said a Tuesday autopsy determined the cause of death as a "complex skull fracture due to blunt force trauma of the head resulting from the elevated fall."
The results of toxicology tests are pending, and the incident remains under investigation, she said.
The property manager at the site — In Good Company of Merrillville — declined to comment when reached Thursday by The Times.
Police investigation
Core Construction had contracted with CBS Construction of Fort Wayne for the framing work, and CBS Construction brought in the Indianapolis-based firm Alexis Construction, where Miguel-Baltazar worked, police said. Neither firm could be reached for comment.
Police said they were only able to find a generic Facebook page for Alexis Construction and no official state government listing.
Police said they initially had difficulty identifying the foreman at the site because the construction crew's primary language was Spanish.
Police said they were unable to find a listing with the Indiana Bureau of Motor Vehicles for the deceased man.
A cousin of Miguel-Baltazar, who also works for Alexis, notified their family, police said.
Employment laws
Randy Palmateer, business manager for the Northwestern Indiana Building and Construction Trades Council, called the incident tragic but said he believes it will help fuel efforts to get more local communities to adopt an ordinance requiring contractors to comply with federal and state employment laws.
The proposed ordinance requires contractors to comply with the law by paying employees as employees, rather than the all-too-common practice of compensating them as independent contractors, said Dewey Pearman, executive director of the Construction Advancement Foundation of Northwest Indiana.
Companies skirt the law to avoid paying Social Security, payroll taxes and unemployment and worker compensation, which then shifts that burden back on everyone who is following the law, he said.
The practice, according to the Indiana/Kentucky/Ohio Regional Council of Carpenters, costs the state of Indiana $405 million each year due to payroll fraud.
There is also a moral driver to this effort, Pearman said.
"These workers are being exploited," he said.
The ordinance has been adopted in Portage, Merrillville and Hobart and is under consideration in Valparaiso, Palmateer said.
A similar "responsible bidder ordinance" has been adopted by government units throughout the Region to ensure legal compliance, information disclosure and an even playing field when it comes to publicly funded projects, Pearman said.
Miguel-Baltazar was described by his foreman as an on-time employee, who never complained and "was working out quite well," police said.
The United Way of Porter County has its labor liaison reaching out to see if Miguel-Baltazar has family members in the area who are now in need of assistance, said President and CEO Kim Olesker.
The organization works with partners to provide direct assistance, in addition to referring those in need to the 211 social services hotline, she said.
Palmateer said the Northwestern Indiana Building and Construction Trades Council also will be reaching out to help the family of the deceased worker.