BURNS HARBOR — A firefighter for the town of Porter was taken to a local hospital after assisting ArcelorMittal with controlling towering flames late Tuesday in a coke oven battery, an official said.
The firefighter became ill while responding to the first-alarm fire at the plant, the Porter Volunteer Fire Department said.
An ArcelorMittal representative said the mill had to burn off excess coke oven gas as a result of a power outage. The gas is normally burned in the mill's two blast furnaces to make iron, as part of the steelmaking process.
The firefighter was treated on scene and taken to a hospital as a precaution, the Porter Fire Department said. He was released from the hospital a short time later.
The Burns Harbor Fire Department was dispatched about 10:30 p.m. to assist with an industrial fire at the company's plant in Burns Harbor, Fire Chief William Arney said.
The Porter firefighter was treated for heat exhaustion, he said. 
The Burns Harbor Fire Department left the plant about 2:45 a.m. Wednesday.
Keep reading for FREE!
Enjoy more articles by signing up or logging in. No credit card required.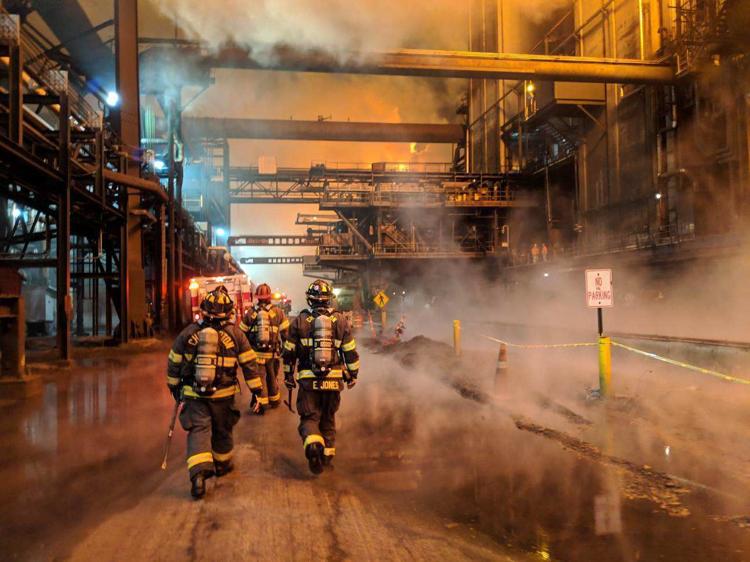 ArcelorMittal spokeswoman Mary Beth Holdford said the plant "experienced a high voltage power interruption for a short duration" about 10:05 p.m. Tuesday. The loss of power triggered an emergency flare system that burned off excess coke oven gas, which resulted in towering flames that could be seen from U.S. 12.
"The plant required about 12 hours to re-establish operations," Holdford said. "We understand one individual was treated and released for heat exposure. There were no significant injuries to employees or contractors during the incident."
Like other steel mills, ArcelorMittal Burns Harbor keeps a surplus inventory of slabs and other steel products on hand in case of any disruptions in production.
"The interruption will not impact ArcelorMittal Burns Harbor's ability to meet customer demand," Holdford said.
Firefighters from Burns Harbor, Porter and Chesterton assisted the company during the fire, Arney said.
The U.S. Environmental Protection Agency was notified through the National Response Center but was not handling the response. The Indiana Department of Environmental Management could not provide details about what happened by press time.