VALPARAISO — A day after two separate garbage can fires were discovered in Valparaiso High School, the school system and local police department released a shared statement outlining safety efforts underway.
"We feel it is important for everyone to feel confident in the important relationship between the Valparaiso Community Schools and the Valparaiso Police Department," according to the letter released Thursday morning.
Among the safety measures taken is implementation by the Porter County Safe Schools Commission of a phone app that allows school officials to quickly and easily notify 911 and all participating law enforcement of an emergency, according to the letter.
The more police contacted, the greater the chance that one nearby can quickly assist — one who, without the app, might not know about the situation, Porter County Sheriff Dave Reynolds has said.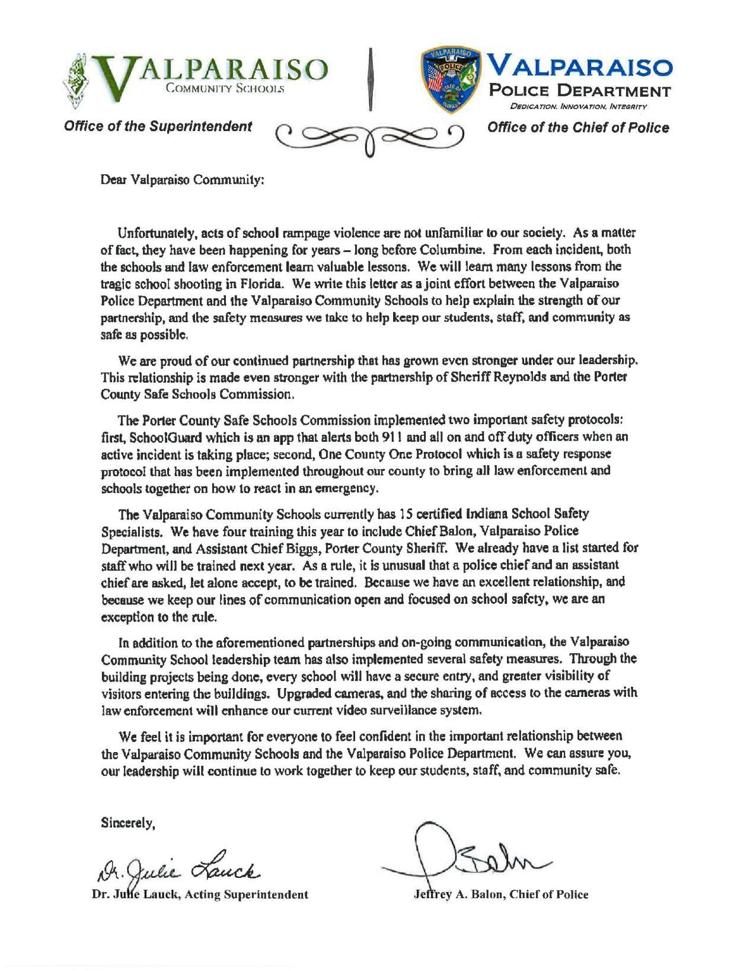 The Valparaiso schools are also taking part in One County, One Protocol, "which is a safety response protocol that has been implemented throughout our county to bring all law enforcement and schools together on how to react in an emergency," according to the letter.
Keep reading for FREE!
Enjoy more articles by signing up or logging in. No credit card required.
The local schools also have 15 certified Indiana School Safety Specialists, with Valparaiso Police Chief Jeffrey Balon and Porter County Sheriff's Department Chief Jeff Biggs joining the ranks after training this year.
The Valparaiso schools have also included safety measures in the school building projects underway, according to the letter. Each school will have a secure entry and greater visibility of visitors entering the building. There are also upgraded cameras with shared broadcast with law enforcement.
The first fire, discovered around 8:30 a.m. in a lower level restroom at the school at 2727 N. Campbell St., caused no damage, he said.
The second fire was noticed around 10 a.m. in another restroom on the main floor of the school, Grennes said. The damage was contained to the plastic garbage can and resulted in the temporary evacuation of students and staff.
Police say a 16-year-old boy, who was seen in a video near one of the restrooms in question, confessed Thursday morning to starting both fires.
The boy was arrested Thursday and faces charges of felony arson and criminal mischief.