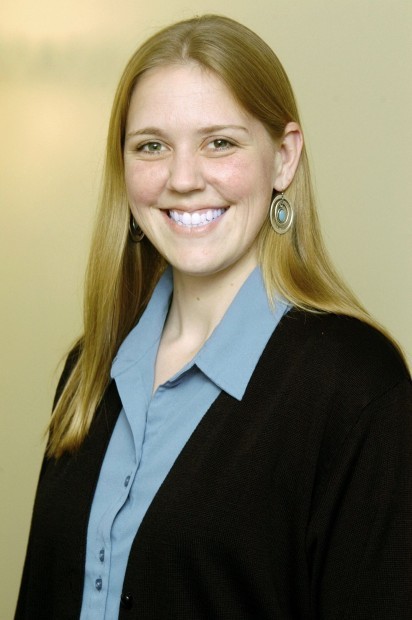 Megan Fisher's love of people has helped her settle into a rewarding career as an addiction therapist.
Fisher was hired in April at New Leaf Resources, a Christian nonprofit organization with locations in Crown Point, Wheatfield and Lansing.
"Through generous donations, we are able to offer a sliding scale fee structure for clients without insurance or other means to receive help," Fisher said.
"Our staff is paid on a salary basis, which is fairly unique to the therapy world, and ensures that therapists' focus remains with the clients instead of financial concerns.
"I was called to New Leaf Resources as a true believer in their mission, and with the goal of working with individuals in my community."
Fisher, 34, specializes in substance abuse, including street drugs, prescription drugs and alcohol. She also works with process addictions, including food disorders, sexual addictions, gambling, and internet/technology addiction.
"Historically, the addiction treatment field has been populated by recovering individuals passing on their knowledge," she said.
"Recently, we have witnessed a surge in the standardization of professional licensing and an increase in addiction professionals with impressive credentials."
While Fisher admits it can be difficult sharing in others' pain as a career, she says she experiences personal satisfaction and spiritual enlightenment through truly engaging in a relationship with the client.
"It is humbling and marvelous to be allowed into another person's inner world and explore healing through mutual vulnerability," she said.
"We are all different, so a one-size-fits-all method for healing just doesn't make sense."
"My clients and I work together to discover their strengths, beliefs, values and goals, so that we can create an action plan best suited to their needs," Fisher added.
A 2004 arts management graduate of Columbia College Chicago, Fisher received her master's in health sciences, addiction studies in 2011 from Governors State University. She interned with Hazelden Foundation in Chicago and was formerly employed by the Gateway Foundation, also in Chicago.
A Valparaiso resident, Fisher enjoys exploring caves and labyrinths.
"I have caved in southern Indiana and northern Kentucky, but have hopes to expand," she said.
"I have visited labyrinths in Indiana, Illinois, and California so far. I was introduced to labyrinths early in my own recovery and they are a meaningful way for me to center myself."