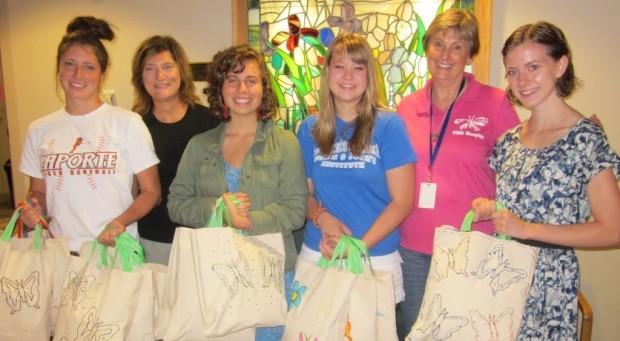 VALPARAISO | During the past year, four high school girls who belong to Girl Scout Troop 290 in Valparaiso have been working toward their highest achievement level, the Gold Award.
They chose to make welcome bags for patients and their families at the Visiting Nurse Association of Porter County's Arthur B. and Ethel V. Horton Hospice Center in Valparaiso. They recently delivered some of the completed bags.
Mary Kate Misch, Morgan Sandelski, Liz Ufer and Corie Young wanted to have their Gold Award project finished before their senior year at Valparaiso High School, Washington Township High School and LaPorte High School.
Under the direction of Mary Sandelski, troop leader since her daughter was in kindergarten, the four young women chose to do a project that would make a difference to people in need.
The Scouts and their leader visited the hospice center to see how they might help. They decided on welcome bags that would contain items such as a handmade pillow, toiletries, games, pen, snacks and coupons for a local eatery. Each Scout's goal was to make, decorate and fill seven canvas bags.
Since many family members of hospice patients come from out of town, the Scouts also decided to make a list of local restaurants with a location map to put in each bag. They visited local restaurants to obtain menus that will be put into a binder, along with a map, for families to reference at the hospice center.
The project provided the Scouts an opportunity to put principles into action.
"I used to babysit and wanted to find a way to way to do volunteer work," Ufer said.
Morgan Sandelski said she hopes that other groups will carry on the project.
Misch hopes others will become more aware of where volunteer help is needed.
"I really love helping people," Young said, "and this is a great way to help people in need."
For more information about the VNA and its programs and services, call the VNA at (219) 462-5195 or visit www.VNAportercounty.org.