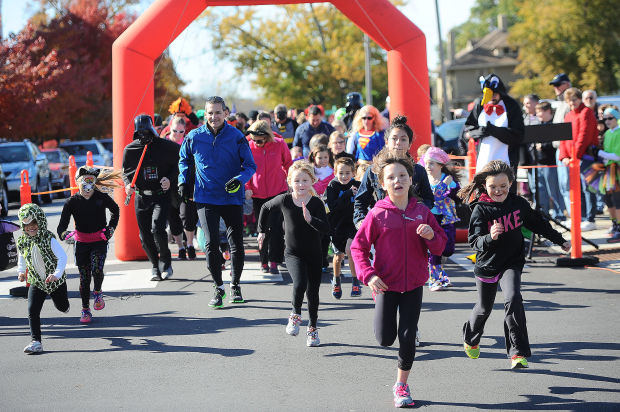 VALPARAISO | Pint-sized princesses, skeletons, vampires, Ninja Turtles, and Supermans took off Sunday in a flash at the start of the 1K Family Fun Run at the Monster Dash.
Kids and grown-ups were encouraged to wear favorite Halloween costumes for the Valparaiso event, which included the fun run and a 5K race.
The event, organized by the Valparaiso Parks Department and the Fit City council, was part of Mayor Jon Costas's Fit City Initiative to increase the health of Valparaiso residents.
"We want to get people out and moving and being healthy, especially now, when people want to start to hibernate," said Dan McGuire, the parks' recreation superintendent. "We wanted to do something unique in the fall and push the Fit City initiative."
Seven health and fitness organizations were represented at the event, including The Boys & Girls Club, Region Crossfit, the Valparaiso Family YMCA and Top Fuel Crossfit. For $10, event participants could purchase a card to take advantage of free fitness offers at the clubs from Nov. 4 through Dec. 28.
For example, eStudio Z Fitness offered free weekly Zumba classes, while Fuel Fitness and Integrated Movement offered free weekly workouts with a personal trainer.
"We feel this is a great deal for eight weeks," McGuire said. "The gyms are slow now, and this lets people get in to see the gyms and by the time it ends, they can see which ones they like and become members."
McGuire said other Fit City initiatives have included the community garden, the Biggest Winner contest, a healthy soup competition, and the Amazing Race contest with area school children.
Business was brisk at event's inflatable slide and bouncy house, where little ghouls and goblins kicked off their shoes and lined up for their turn at some fun.
Post race runners were given awards and treated to water, bananas and apples, and kids collected their share of Halloween treats.
Sara Breckenridge, 6, wrapped the tail of her green spotted snake costumer around her shoulder, while Sara's dad, John Breckenridge, slipped his Darth Vader mask over his face.
Although he is a runner, John Breckenridge wasn't entering the 5K.
"I already ran five miles this morning," Breckenridge said. "We wanted to get her out. ...It would be nice to get her running."
Sara's mother, Nelly Breckenridge, was anxious to witness the race.
"This is her first one, so we'll see how she does," Nelly Breckenridge said .