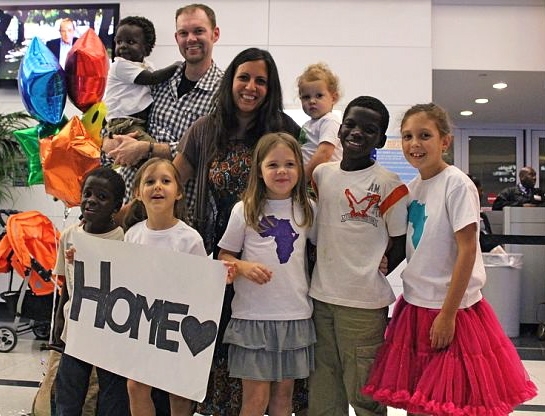 Lovelyn Palm blogs almost daily about family, faith, adoption, orphan care, living life positively and enjoying life. She shares experiences and insight and about faith that moved her and husband, Matt, to open their hearts and home and adopt.
Expanding on their family of four daughters: Chloe, 7, Anika, 6, Ellie, 4, and Bianca, 2, they adopted Clayton, 3, from Uganda in 2009 and on Oct. 9 returned from Uganda with sons Nicolas, 10, and Jude, 5. "That is where God had our children," she said of Uganda. "We did a lot of research and began hearing the call to adoption and when we started researching it's where God pulled our hearts.
"We felt like we had enough room, room in our home and room in our hearts and why not give kids that need a home and family that. We've spent three months in Uganda since 2009 and have fallen in love with the country. We've seen the needs there and we're involved in projects still, a clean water project. It's awful that people still have to serve their children dirty, disease infested water. We've seen that so we continue to give back to Uganda to help them."
Palm is raising money to dig a well in the village of Busoga. "Our 10-year-old spent time in that village with a mentor and saw the water. It's literally swamp water and he began praying for them to have clean water and when I was there for the (adoption) court proceeding, he told me about the village and we went and visited and saw. I said we have to do something."
In observance of her 32nd birthday on Oct. 15, Palm asked loyal blog readers to donate $32 towards the project and to date has raised $6,000, just $2,000 short of the money needed to bring fresh water to the Ugandan village. "It's pretty amazing," said Palm. "People want to help and they just want to know what they can do."
"We've opened hearts and realize this life isn't about us, it's about serving and loving other people," Palm added. Palm and her husband are members of Calvary Church in Valparaiso.