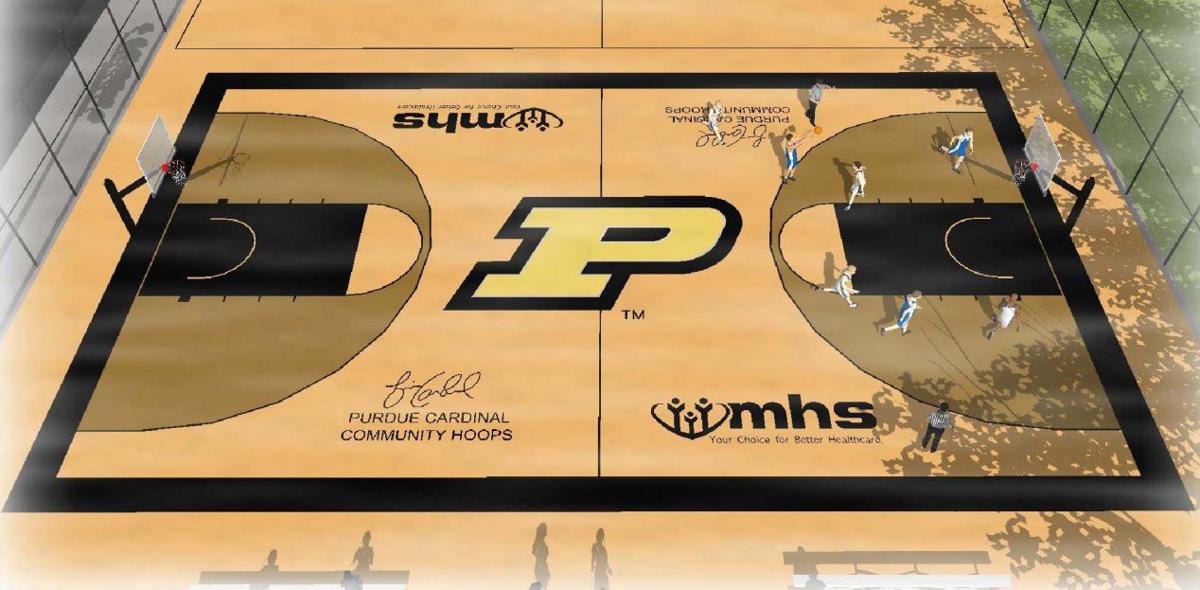 VALPARAISO — A city park basketball court is being painted to look like the basketball floor in Mackey Arena on Purdue's West Lafayette campus. 
It's part of the renovation of Tower Park that includes new backboards, seating, and resurfacing. 
Brian Cardinal, former Purdue basketball great and current member of the Boilermaker athletic staff, selected Valparaiso for his next Community Hoops project because it is hometown to another Purdue hoops great and Valparaiso High School basketball star, Robbie Hummel.
"I'm excited to bring a Purdue Cardinal community court to the hometown of one of our legends, Robbie Hummel," Cardinal said. "I hope there are young boys and girls who dream of becoming the next Robbie and take advantage of the beautiful court that will be built at Tower Park."
Community Hoops is designed to connect Purdue University with the youth of the Valparaiso area, Indiana and beyond by restoring and/or building basketball courts. Managed Health Systems, Purdue Trademarks and Licensing, Purdue Sports Properties and Brian Cardinal put together the partnership, utilizing needs within the community.
Construction will begin on the Tower Park basketball courts in July and be completed in October 2016. 
The Valpo Parks Department and the Valpo Parks Foundation said the gift from Managed Health Systems and Purdue Cardinal Community to renovate the court in the park at Franklin Street and Evans Avenue is the first in a series of public private partnerships that will begin to be announced in the coming weeks.
"This lead gift is symbolic of how we are able to accomplish great things for our residents and guests" said Valpo Parks Director John Seibert. "Our quality facilities have often been made possible by these public and private partnerships. We are very thankful to Brian, Robbie, Managed Health Systems, and the Community Hoops program at Purdue for their gift."
This is the first of many volunteer and private sector announcements and opportunities that will be part of the Valpo Park Foundation's Leaders Giving Back Campaign that will support renovation of sports facilities, neighborhood parks and other special venues, he said.
The Foundation has a variety of ways for the public to be involved in the project. For more information, contact John Seibert, Donna Hannah or Barbie Johnson at valpoparks.org or at (219) 462-5144.