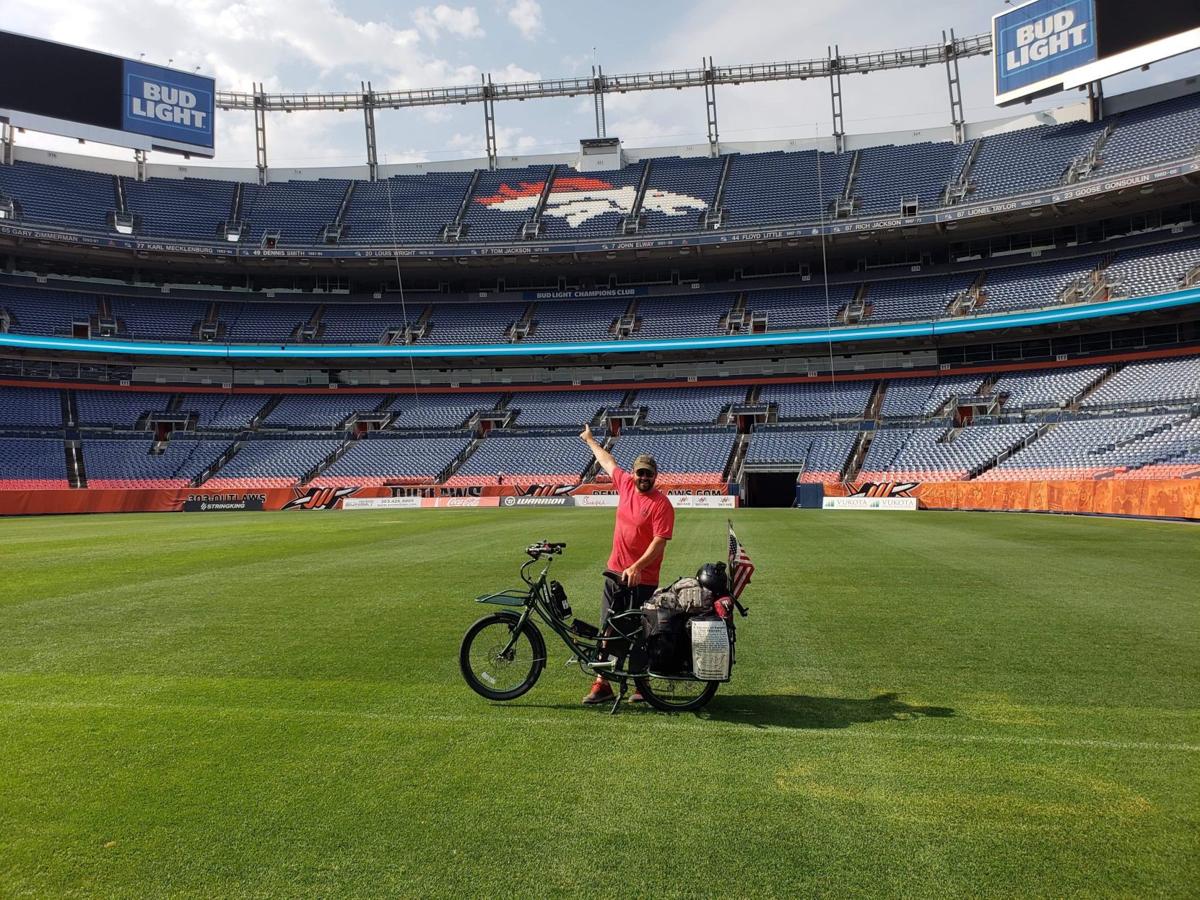 Eli Smith said he has suffered heat stroke, been hit by cars and more during his walk and bicycle ride to reach all four corners of this country.
But none of it has derailed the 38-year-old's enthusiasm to bring awareness to suicide and post-traumatic stress disorder among veterans.
"I just wanted to do something that's never been done before," he said.
Others have walked and biked the country for various causes, but Smith said he has not seen where anyone has set out to touch the four furthest corners of the country. He is charting his progress at his 4CornersHike Facebook page and is expected to arrive Tuesday night in Portage.
Smith, who served a couple of years in the U.S. Army in South Korea up through 2002, said he came up with the idea of the walk and ride after losing a few of his fellow soldiers to suicide.
"So I sold everything I owned," he said.
He left his home in Ashville, Ohio, to begin his walk in November 2016 from Pensacola, Florida, he said. The walking stretch of the route took him west to his first corner in southern California and then north to his second stop in Washington state.
Smith said he then continued the journey on bicycle on March 17 from Las Vegas, where he rode back to northern Washington and then east where he arrived in Chicago late last week.
In addition to speaking to many random people along the way, Smith said he takes his message to various veterans groups and hospitals, as well as the media.
There have been many hotels along the way that have donated rooms to make the trip a little easier, but there are no guarantees.
"I've slept on the side of roads and under bridges," he said.
Smith said he has received 12 letters so far through social media from veterans who had been contemplating suicide before hearing about his awareness efforts.
"They're getting help," he said. "It's literally saving lives."
But Smith recognizes that an estimated 20 veterans commit suicide each day in this country. So he said he will pedal on and stop at as many major cities across the country as he can.
His journey out of Northwest Indiana will take him east and north up to his third destination in Maine and then south along the Eastern Seaboard to his final destination in Key West, Florida.