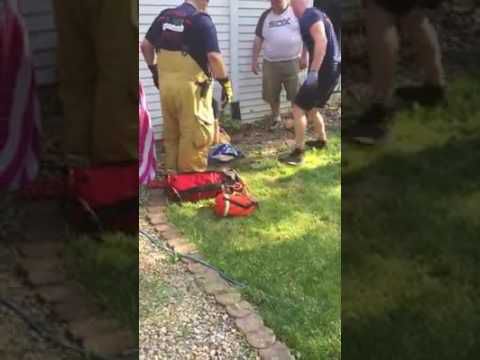 VALPARAISO — Firefighters are known for rescuing kittens from trees and ducklings from drains, but Monday, firefighters here rescued an animal of a different sort.
Firefighters were called to the 2400 block of Glendale Boulevard just before 5 p.m. for a report of a baby deer stuck in a 10-foot deep sump pump hole.
Using a tow strap and pike pole, firefighters were able to lift the fawn from the hole.
Homeowner Max Malloy said the family discovered the fawn when they went outside Monday to open the family's swimming pool and heard a "horrible noise." They followed the noise to the sump pump pit, which was adjacent to the house, and saw the tiny animal.
"We tried for like four hours to get it out," said Malloy, himself a 27-year veteran firefighter in Riverdale, Illinois. After calling several other agencies for help, the firefighters were called in.
"The fire guys came out, and they were great," said Malloy.
"We get deer roaming through here quite often," he said. They had never before seen the fawn, which appeared to be only three or four days old.
The story, however, doesn't have a happy ending.
Malloy said after the fawn wobbled away from the rescue, they had hoped it would be reunited with its mother. However, Malloy said he heard the fawn call for its mother all Monday night and into Tuesday morning. On Tuesday, a friend spent three hours tracking the fawn before capturing it and taking it to a local wildlife refuge.
Malloy said he called the refuge Wednesday morning only to learn the fawn had died.