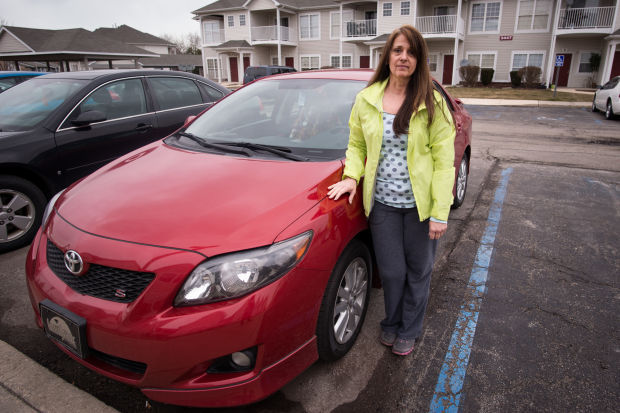 VALPARAISO | Portage resident DelRea Good said she did not immediately pull over for the flashing lights behind her because, as a 52-year-old woman traveling alone at 11:21 p.m. on a dark county road, she was concerned for her safety.
Assuming the car behind her was a police officer, Good said she slowed her vehicle, put on her emergency flashers, waved her arm out the window to acknowledge the pursing car and continued for less than a mile where she pulled over into the lighted parking lot at the Kohl's department store in Portage.
The decision not to immediately stop resulted in her being handcuffed and taken to jail by Porter County Sheriff's Department Patrolman William Marshall on a felony charge of resisting arrest. It may also cost her her job, because a nurse cannot work after being convicted of a felony, she said.
"I felt I didn't do anything wrong," Good said. "I got to a safe place and I told him that."
Porter County Sheriff's spokesman Sgt. Larry LaFlower said, "The sheriff's office supports our officer's decision in this matter."
He cited state law requiring motorists to yield to emergency vehicles and said Marshall was driving a fully marked squad car and used the lights and siren.
Marshall wrote in the incident report he initiated the March 20 traffic stop just north of County Road 700 North on northbound County Road 500 West (Airport Road) after clocking Good's car traveling 54 mph in a 35 mph zone. Good told The Times she was unsure how fast she was driving.
Marshall acknowledged Good waved out her car window and turned on her flashers before pulling over less than a mile later in the store parking lot.
Good said Marshall was very angry as he approached her car and said to her, "What in the hell are you doing? I could arrest you for this."
Good said she was surprised by his reaction and told him to stop yelling at her.
Marshall described Good in his report as "highly agitated and uncooperative." She reportedly told him she was aware he was a police officer, but drove to where she felt safe.
"I don't care who you are I don't have to stop on a county road, I'm a single female," Marshall quoted her as saying.
After Good refused to listen to how her actions put her and others in danger, Marshall said he arrested her.
Good, who said she did not resist the arrest or make any further comments, claims the officer bruised her arm while leading her to his police car and continued to "bully" her at the jail by claiming Advil and other medications she had were controlled substances.
Good, who reportedly has no prior criminal record, said as a nurse, she is accustomed to following rules.
"I follow rules every day or people could get hurt," she said.
She is scared about the impact of a felony conviction, but said the issue is bigger than just herself.
"This is serious," she said. "This could be your mom, your sister, your daughter next time."
Defense attorney Bob Harper, who is representing Good, said her concerns about pulling over along a dark county road are not unwarranted.
He referred to a case in 1991 where a woman pulled over in Valparaiso for a car with flashing red lights and was attacked by a man pretending to be a police officer.
Portage police issued a warning two years ago after someone using flashing red and blue lights, possibly impersonating a police officer, tried to get a woman to pull over.
Portage Police Sgt. Keith Hughes said at the time the woman used good judgment by not stopping for the man.
He recommended drivers call 911 if they question who is attempting to pull them over and if unable to reach a dispatcher, acknowledge the officer by waving at them and then drive to a well-lit public location before stopping and tell the officer about your concern.