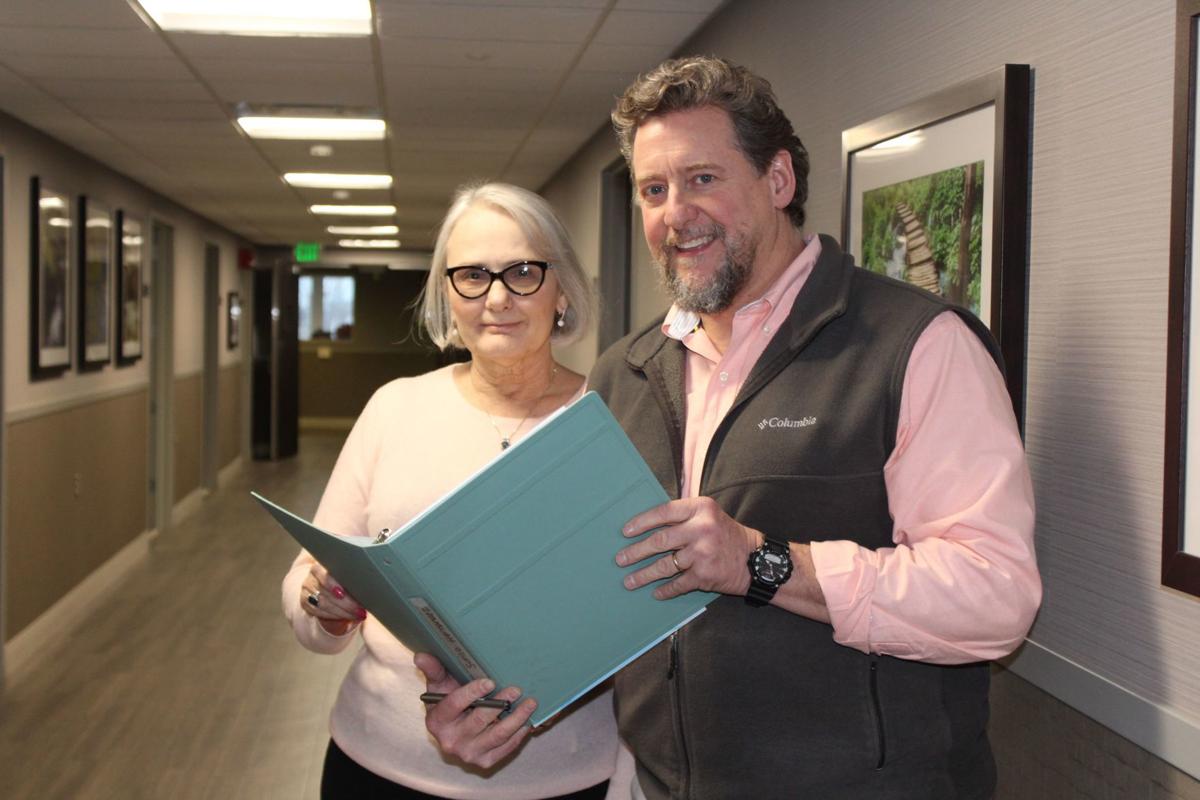 Psychedelic drugs are starting to be used to treat mental health disorders in Northwest Indiana and the country as a whole — and researchers are calling them game-changers for the field of psychiatry.
"It's a pretty exciting time that we've entered over the last few years," said Dr. Joseph Fanelli, a psychiatrist who is the medical director for behavioral health services at St. Catherine Hospital in East Chicago, discussing his hospital's use of ketamine, the first of these types of drugs to be approved as a psychiatric medication.
Drugs that used to be reserved for raves or rock concerts are now being administered in the doctor's office, at a time when antidepressants aren't always effective and the country's suicide rate has grown by a third since 1999. The Food and Drug Administration has approved clinical trials for the use of MDMA — also known as ecstasy or molly — to treat post-traumatic stress disorder in combination with therapy, and psilocybin, the ingredient in magic mushrooms, for depression. Other countries are studying whether LSD can improve mental health. 
Ketamine, an anesthetic that has been taken as a party drug because of its dissociative effects, has, in an intravenous form, been used as an "off-label" treatment for depression in the U.S. for a few years. In March, the FDA approved a ketamine-based nasal spray for treatment-resistant depression, opening it to be covered by insurers.
According to research, its benefits come on almost immediately, whereas antidepressants generally take weeks to start working. Fanelli called ketamine "one of the most rapid, dramatic treatments we've had and been able to use in a long time."
Ketamine was found to be a treatment for depression by accident — as, Fanelli pointed out, many psychiatric discoveries are made. Patients anesthetized with ketamine noted positive effects on their moods.
But since ketamine is a generic drug, pharmaceutical companies didn't have an economic incentive to put it through clinical trials as a treatment for depression. Then Johnson & Johnson patented a ketamine compound called esketamine that, this year, got FDA approval in nasal-spray form, becoming the first new type of drug to treat depression in decades.
The drug has to be administered in a doctor's office and the patient monitored because of its potential hallucinatory side effects.
Fanelli noted that the dose is much lower than what would be used for anesthesia or on the streets.
"The effect patients get when treated with it is rarely anything like a high," Fanelli said. "Patients might feel foggy-headed or lightheaded. The main thing we watch them for is to make sure they're fully alert, not sedated."
He said a lot of patients leave saying: "Maybe I felt something, I don't know." "It's not really a pronounced effect," he said.
Esketamine is being given, in conjunction with oral antidepressants, to people who didn't get relief from previous antidepressants or their effects waned. Fanelli estimates St. Catherine has used it in about 5% of patients.
The length and intensity of treatment depends on the patient. "Some people have a course of ketamine of two or three times a week for maybe two to four weeks, then they may be fine without the need for anything else," Fanelli said. "Some people have to have it continued, once a week or month; sometimes less often or more often."
Not all psychiatrists are satisfied with the risk-benefit ratio of ketamine.
Dr. Kobie Douglas, chief medical officer for Merrillville-based Regional Mental Health Center, said his agency is still weighing whether to offer ketamine or its cousin.
"The jury is out on whether it's going to be a valuable, or should I say reliable, form of treatment," he said.
He said those risks include sedation, the dissociative symptoms and effects on blood pressure.
And he noted that since the drug was given "breakthrough therapy" status by the FDA, speeding the regulatory process, it didn't undergo the rigorous study generally required of new drugs.
"My personal opinion is whenever a medication is fast-tracked, that should set off some alarms for physicians," he said. "There's a reason that the scientific method is worthwhile. I don't see why there would be a need to fast-track a medication, especially if it has a known history of abuse."
Still, he acknowledged: "It's always exciting to have something new or different on board. We have lots of patients with severe, treatment-resistant depression, and we're looking for ways to address their depression."
The drug has been studied at some Chicago-area hospitals. Research at Northwestern Medicine Central DuPage Hospital in Winfield, Illinois, has found it can help suicidally depressed patients, though that use would have to be approved separately by the FDA.
"It's going to probably change the way we practice psychiatry and medicine," said Dr. Danesh Alam, medical director of behavioral health for Northwestern Medicine Central DuPage Hospital.
He said he can see a day where emergency rooms use ketamine as the "first line of intervention" for suicidal patients.
He noted that insurers have covered ketamine treatments for about 60% of patients, though Medicare and Medicaid aren't paying for it yet.
He said he wishes the government wouldn't make it so difficult to research the psychiatric benefits of psychedelics, as well as marijuana, as other countries are doing. "It's hard to study (drugs) if you can't do it with federal support," he said.
He calls the moment "a challenging and exciting time in our field: challenging because of how society is affected by the opioid crisis, the suicide crisis, and I'd add in the trauma crisis. The exciting part is new treatments may help us treat the disorders associated with all of these conditions."
Dr. John Zajecka, a professor of psychiatry at Rush University Medical Center in Chicago, noted that research has found that antidepressants are effective in only about a third of patients. This despite the fact that depression is close to becoming the No. 1 cause of disability worldwide, affecting more than 300 million people. "Traditional antidepressants are not cutting it for most people," Zajecka said.
Conventional treatments have focused on increasing neurotransmitters such as dopamine, serotonin and norepinephrine.
Ketamine has a different mechanism. It expresses the so-called brain-derived neurotrophic factor, which Zajecka said is "basically brain fertilizer" and that depression essentially turns off. It has been found to regrow connective neurons.
He said Rush is studying how to deliver ketamine without the hallucinatory side effects.
"We do need to find more novel treatments," he said. "It's a public health crisis right now, and one that we need to pay attention to."