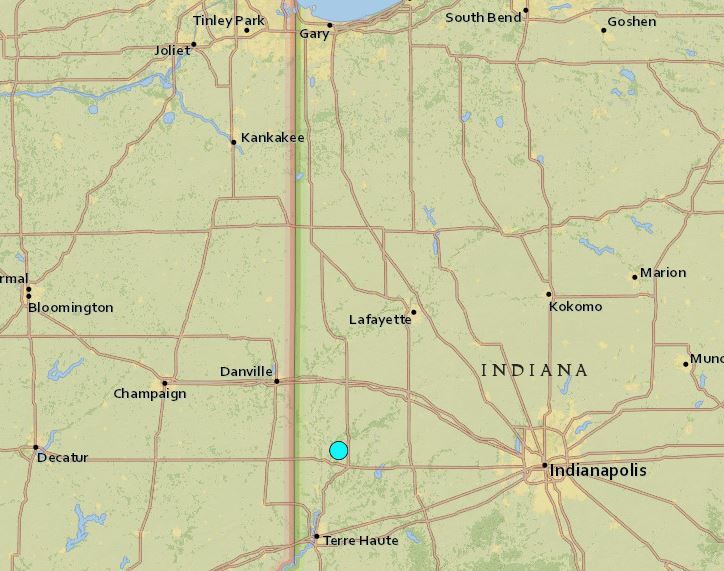 Walls shook, houses creaked, animals were on alert and Regionites took pause as they felt tremors emanating from the earth Thursday afternoon. 
A small earthquake centered near a western Indiana town rattled parts of Indiana and adjacent states, the U.S. Geological Survey said. The epicenter of the earthquake sits about 120 miles south of the Region. 
The federal agency said a magnitude 3.8 quake occurred at 3:18 p.m. and was centered in Parke County in Indiana, which is about 60 miles west of Indianapolis. The USGS said the quake occurred at a depth of about 1.9 miles beneath the Earth's surface and was classified as moderate. 
Residents across northern, central and southern portions of Indiana reported on the USGS website that they had felt it. Residents in parts of Illinois and southern Michigan also reported feeling the quake. 
Officials have not reported any damage as a result from the small quake. More locally, residents in Northwest Indiana and even bordering Illinois communities felt it at their homes and workplaces. From more subtle rattles of furniture to shaking beds, residents raised an eyebrow at the momentary, unexpected event.
"I was lying down and the bed just started shaking, and I heard creaks and noises throughout the house," said Don Garza, of Dyer. "It was definitely a confusing moment, I thought I was crazy. Definitely not something you expect in Indiana."
Ashley Taylor, of Chesterton, said she was inside when she felt her house walls briefly shake, upsetting her pets.
"The dogs were going crazy, barking, they don't like storms and fireworks," she said. "I thought it was maybe thunder but it was clear outside. I called my husband and he said he felt something at his work in Valparaiso. That's the first time I ever felt something like that."
While relatively uncommon, Indiana has had occasional tremors in the past, with some even causing destruction to Hoosier towns. The Charleston, Missouri, earthquake of 1895 reportedly caused damage to buildings in Evansville and other southwestern communities in Indiana.
The most notable earthquake recorded was on Sept. 27, 1909, in the Wabash River valley in Indiana, according to the U.S. Geological Survey. Homes sustained structural damage, windows shattered, walls cracked and chimneys tumbled.
Before the most recent quake, Indiana residents may have felt echoes of the magnitude 5.1 earthquake that happened near the border of Virginia and North Carolina on the morning of Aug. 9, 2020.
Since 2000, a total of 16 quakes have hit Indiana communities, according to U.S. Geological Survey data. Most of the earthquakes appear to be in the southwestern portion of Indiana, including Evansville, Greencastle, Mount Vernon, Princeton, Poseyville, Washington and Bicknell. Though on Jan. 26, 2011, an earthquake did strike the northeastern community of Emma, a magnitude 3.0 earthquake.
The magnitude of the earthquakes in Indiana have ranged from 1.1 to 4.6, which is considered to be a very strong quake. The magnitude 4.6 earthquake occurred in July 18, 2002, in Mount Vernon on the southern tip of the state just 15 miles northwest of Henderson, Kentucky. It was felt throughout Indiana, Illinois, Kentucky, Missouri, Tennessee, Ohio, Mississippi and Arkansas.
Earthquakes of a magnitude of 1.0 to 2.9 are considered to be microquakes, 3.0 to 3.9 are minor, 4.0 to 4.9 are considered light, 5.0 to 5.9 are moderate, 6.0 to 6.9 are strong and 7.0 to 7.9 are categorized as major. Those of a magnitude of 8.0 or higher are considered to be great and cause severe destruction and loss of life.
The Indiana Geological and Water Survey at Indiana University noted the effects of earthquakes in the Midwest reach to farther locations because the older age and colder temperature of the rocks allow the waves from the quake to travel longer distances at higher intensity, compared to the western U.S.
The Indiana Department of Homeland Security said that residents should be aware of aftershocks, or residual tremors, after an initial event. People can report their experience with the earthquake to the U.S. Geological Survey online at earthquake.usgs.gov/earthquakes. 
The Associated Press contributed to this report.