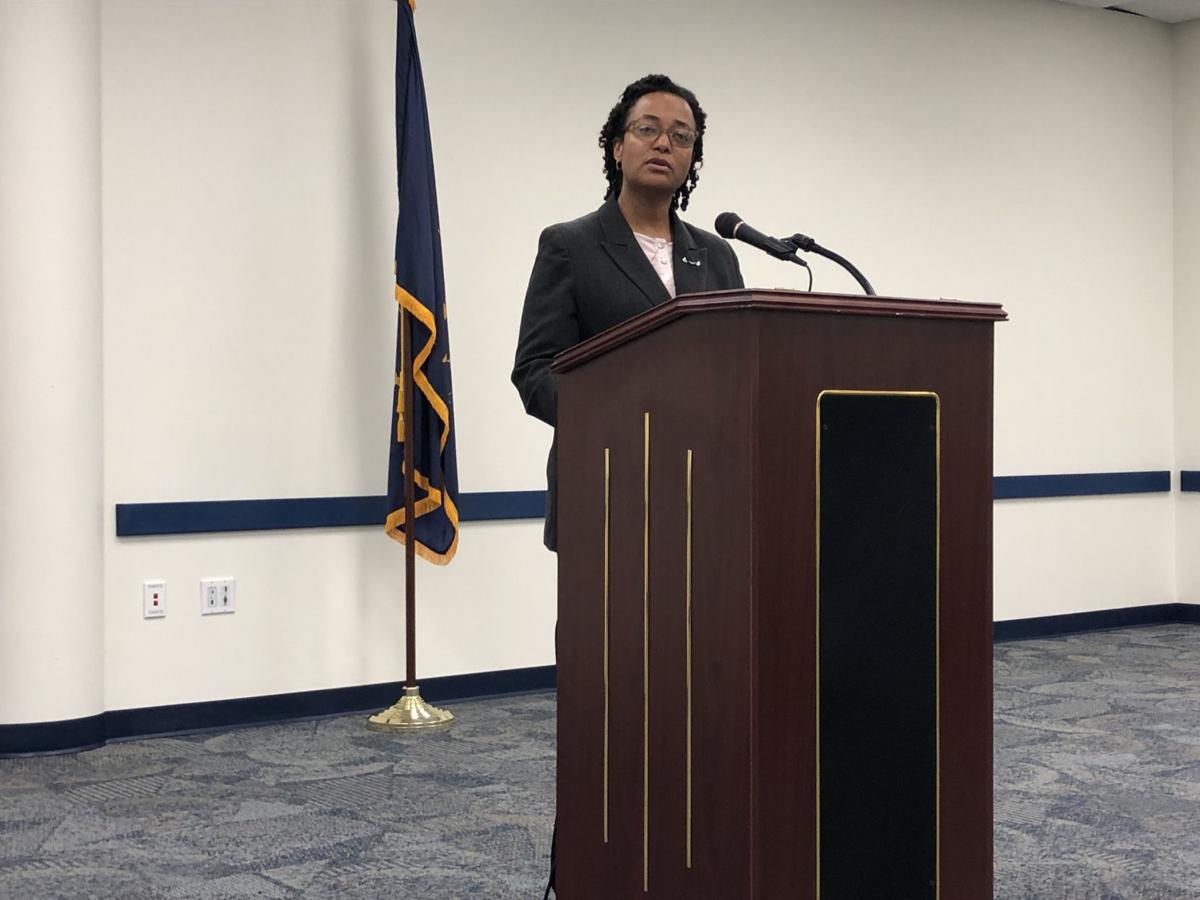 MERRILLVILLE — Indiana gets more child abuse and neglect referrals and investigates more parents than all but a few states. Yet the vast majority of the reports are unsubstantiated.
That's according to a new assessment of the state's beleaguered Department of Child Services. The report was conducted on the heels of the previous director quitting because she said the agency was not protecting kids.
"You guys know that taking care of children is our ultimate goal as an agency," said DCS Director Terry Stigdon, who has been serving in that role since December, when previous Director Mary Beth Bonaventura suddenly resigned. "This is really the opportunity for us to really get some true direction about where we're going to go."
On Tuesday, Stigdon, along with other representatives of DCS and the Child Welfare Policy and Practice Group — the organization that conducted the six-month review — visited the Lake County Public Library in Merrillville, part of a statewide tour to announce the findings of the report.
In 2016, Indiana had 108.2 children for every 1,000 children in the state referred to child services, the report found. The national average is 55.6. Only the District of Columbia, Vermont and West Virginia had higher rates.
Of those referrals, the state completed 93.1 assessments for every 1,000 children. Only the District of Columbia and West Virginia had higher rates.
Only 15 percent of the reports were found to be child abuse and neglect.
"I don't think there's any evidence that there's more abuse and neglect in Indiana than anywhere else," said Sue Steib, an evaluator with the Montgomery, Alabama-based Child Welfare Policy and Practice Group. "It's more a matter of what your public policy has been. We're not being critical of that policy necessarily because those things get put in place for good reasons and usually they're well-intentioned reasons because people are concerned about the well-being of children.
"But child protection and child welfare systems are not necessarily the best resource for every need that families and children have."
Alternatives include community organizations, schools and the public health system, she said.
Indiana has a universal mandatory reporting system, which requires that any individual who suspects abuse or neglect report it to DCS. Many states only require that of trained professionals, like social workers or physicians. The state also has had a broad public awareness campaign about reporting suspected abuse, which may have driven up the number of reports.
The report recommends the agency focus on more severe cases, excluding "neglect, which is based solely on poverty or limited, onetime lapses in parental judgment."
The report found that Indiana has a "very high rate" of children in out-of-home care — 8 kids for every 1,000 in the state compared to 3.6 nationwide.
The assessment also says Indiana has "an exceptionally high rate of court involvement in child welfare cases" — more than any state that reports that data and double the national average.
"We believe that's an unnecessary use of court and attorney resources," Steib said.
The opioid epidemic is putting a strain on Indiana's child welfare system. The reports of child abuse and neglect in Indiana have grown more than 63 percent over the past five years, with more than half of the cases involving parental substance abuse.
However, help for those parents is limited. Steib noted that DCS spends five times more on drug testing than drug treatment.
"It was a lens to us on where the emphasis is at DCS on that issue," she said.
The report recommends that DCS expand its substance abuse treatment offerings for parents — such as rehabs that let moms and dads take the kids with them or supportive housing for parents in recovery — and that local communities increase the accessibility of treatment for mothers and fathers who are addicted.
"We don't think DCS should be the first responder where substance abuse on the part of the parent is the issue," Steib said.
The report cited DCS' strengths: a "remarkable" amount of support from the governor and legislature; state initiatives to address the opioid crisis; a high percentage of foster children being placed with relatives; a majority of foster children finding permanent homes; and in-house legal representation.
The review also found the organization suffers from "low morale," heavy caseloads and high turnover. Iowa pays case managers and frontline staff $6,000 to $7,000 a year more and has less than a third of the turnover of Indiana. Supervisors have 40 percent more employees than national guidelines suggest. Chances for professional growth are scarce.
Indiana Gov. Eric Holcomb has allocated $25 million from the state's $2 billion budget surplus to DCS for improving salaries, training and educational opportunities for employees.
DCS has had assessments like this before. But previous advice has been ignored, the report found. Stigdon has appointed Todd Meyer, a former prosecutor in Boone County, to carry out the recommendations outlined in the new review.
"When we're done implementing these changes, Indiana will be seen as the gold standard for child welfare," Meyer said.