Report: Rent out of reach for low-income workers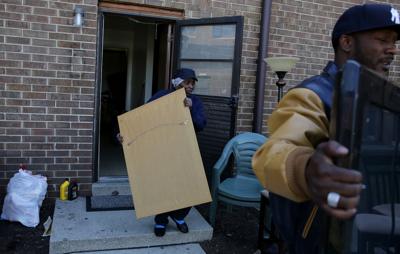 MUNSTER — A minimum-wage employee in the Region would need to work between 72 hours to 92 hours a week to comfortably afford rent for a two-bedroom apartment, according to a report released earlier this month by the National Low Income Housing Coalition.
To afford a one-bedroom apartment, a minimum-wage employee in Lake, LaPorte or Porter counties would need to work anywhere from 58 to 72 hours a week.
A shortage of affordable low-income housing is not just a regional problem, NLIHC President and CEO Diane Yentel said in press call earlier this month to announce the coalition's annual Out of Reach report. Yentel said nowhere in America can a minimum-wage employee working full time pay less than 30 percent of his wage for a two-bedroom apartment.
"There is a significant gap everywhere," Yentel said.
Thousands flood in for housing help
Unaffordable housing is not just a problem for minimum-wage workers, either.
Melissa Bohacek is the communications manager for Northwest Indiana Community Action, the nonprofit organization that administers the Housing Choice Voucher Program, also known as Section 8, in communities in Northwest Indiana that do not otherwise have a housing authority.
Bohacek said her organization provides rent assistance to a range of households — the working poor, single mothers, recent college graduates and senior citizens throughout the Region.
"It's everyone from infants to end of life," Bohacek said.
On May 5, the organization accepted applications for the voucher program from residents in Lake, LaPorte and Porter counties. It was the first time in two years the organization opened its waiting list to new applicants.
"I had about seven call specialists," said Gina Gomez, community service manager for the organization. "It was nonstop (calls) from 8 a.m. to noon."
Gomez said the organization received thousands of calls, but it had to cap the number of applications accepted at 200 due to the number of available vouchers. Anyone who called the organization after May 5 was referred to another agency, Gomez said.
Lorraine Mays, of Valparaiso, said she was one of those people who tried calling on May 5.
The single mother of three boys said she made $11.90 an hour as a cook at a nursing facility, but still struggled to pay her $700 a month rent.
"I tried all that day," she said. "Luckily, I'm in the position that my landlord works with me, but he can always evict me at any moment." 
Mays said she has fallen behind on her rent on several occasions, sometimes several months behind. 
Rent 'out-of-reach' for some Regionites
The percentage of renters in NWI ranges from 23 percent of total households in Porter County, 29 percent in LaPorte County and 31 percent in Lake County, according to the Out of Reach Report.
The average renter in Lake County earns $12.19 per hour, according to the report. An affordable rent — 30 percent of the renter's income — at that wage would be $634 per month, but the county's average rent for a modest one-bedroom apartment is $710 per month. The average two-bedroom apartment rents for $864 per month.
The average renter in LaPorte County earns $10.28 per hour, the report states, which means an affordable apartment there would need to cost less than $535 per month. The average rent for a one-bedroom apartment is almost within that range — $548 per month. The average rent for a two-bedroom apartment is $729 per month.
The average hourly renter wage in Porter County is $11.81, which means rent is affordable at $614 per month.
The average one-bedroom in the county is $710 per month and the average two-bedroom is $864 per month.
Indiana rent cheaper than most states
Indiana compared favorably to other states in the nation when it came to affordable low-income housing, according to the report.
Indiana had a lower two-bedroom housing wage, which is the hourly wage a renter would need to earn to comfortably afford an average two-bedroom apartment, than 38 other states and the District of Columbia.
A Hoosier would need to earn $15.17 an hour to comfortably afford a two-bedroom apartment in the state. A renter in Hawaii would need to earn $35.20 an hour for the same accommodation. In Puerto Rico, a renter only needs to earn $9.68 an hour.
Micah Pollak, an assistant professor of economics at Indiana University Northwest, said part of the reason why rent was more affordable in Northwest Indiana than other areas was because of the Region's limp population growth.
Though high rent is detrimental to the county's low-income residents, Pollak said it can be a sign of positive economic growth.
Pollak said one reason for the lagging population growth in NWI was the lack of diversity in housing options.
Sales of existing homes in Northwest Indiana ticked up very slightly in May, to 1,071, while the median price continued a significant rise, in…
He pointed to an annual real estate report by national real estate agency Bradley Company, which found that, unlike other regions, Northwest Indiana has not seen an increase in new conventional multi-housing projects.
Pollak said it wasn't just the working poor who struggled with rent, but also millenials saddled with student debt.
Those millenials were more interested in smaller homes — condos, apartments and townhouses — than the traditional single-family houses that dot the region, according to Pollak.
"Lake County is really diverse in terms of incomes," he said. "Any kind of solution that addresses housing affordability is going to need to address that."