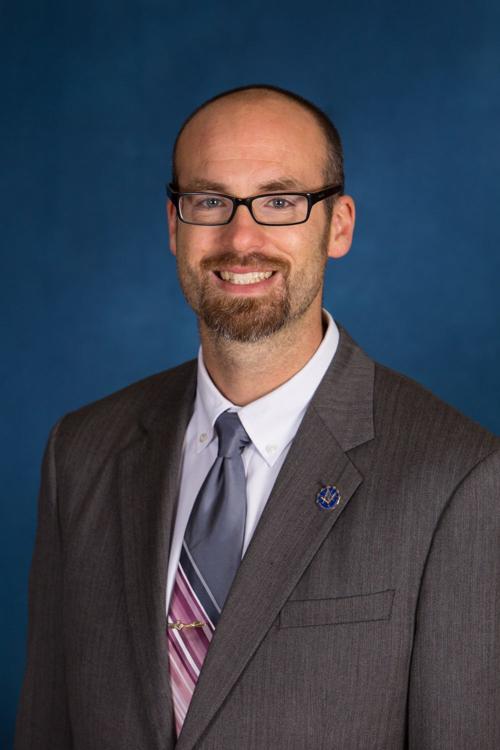 SCHERERVILLE — The Redevelopment Commission and Town Council approved a $15,000 reimbursement to a sitting councilman on Wednesday.
Ward 5 Councilman Caleb Johnson's law firm received the $15,000 for participating in the town's façade matching grant program. 
The one-to-one match program began in February 2015 to improve and upgrade buildings with stores and businesses downtown, along Joliet Street and areas in close proximity to it.
Johnson's law office is located at 113 W. Joliet St. 
Johnson said Friday the façade grant was use to help redo the front of the garage; some of the garage work was included in the grant since it faces the main road. 
"The majority of the façade was the concrete work, and the removal of the old garage that was out there," Johnson said. 
In total, Johnson said the law firm has spent $59,028 on renovations to the building and plans to redo landscaping on the property. 
The councilman opened a new location for his law office along Joliet Street in Schererville at the end of October, he told The Times earlier this year.
During both the Redevelopment Commission and Town Council meetings, Johnson recused himself from voting on the matter, explaining the recusal. The Republican councilman sits on both boards.
Both the Redevelopment Commission and the Town Council approved Johnson's reimbursement 4-0.
The maximum reimbursement allowed under the town's façade matching grant program is $15,000, documents show. 
Previously, Johnson's law office was located at 956 W. U.S. 30, Schererville, according to Indiana secretary of state records.
Johnson previously told The Times he was hesitant to apply for the grant, given he is a councilman; however, he was encouraged to apply for the program.
"I was really honored to have been granted it. I've got to be honest. It's a great program to really help out businesses and to improve our downtown area," Johnson said. 
Johnson later added: "I'd rather not be on the agenda as an agenda item. So I'm glad it's over." 
Town Manager Bob Volkmann said Johnson has a right to apply for the grant just like any other citizen.
Town Attorney David Austgen agreed with Volkmann's assessment.
"He's a citizen. He's a tax-paying citizen," Austgen said in May. "Caleb asked me that before he even applied ... he said, 'How does this work?' I said, 'You're a citizen. You recuse yourself. You be transparent. You tell your citizens and on the public record, which he did, and you're good. You have the same rights as everybody else.'"
According to Indiana Code 35-44.1-1-4, a public servant, including elected officials, commits a conflict of interest — a level six felony — if they knowingly or intentionally have a "pecuniary interest in; or derives a profit from; a contract or purchase connected with an action by the governmental entity served by the public servant."
However, if a public servant follows disclosure guidelines set forth by Indiana law — or falls under other exemptions — a conflict of interest hasn't been committed.