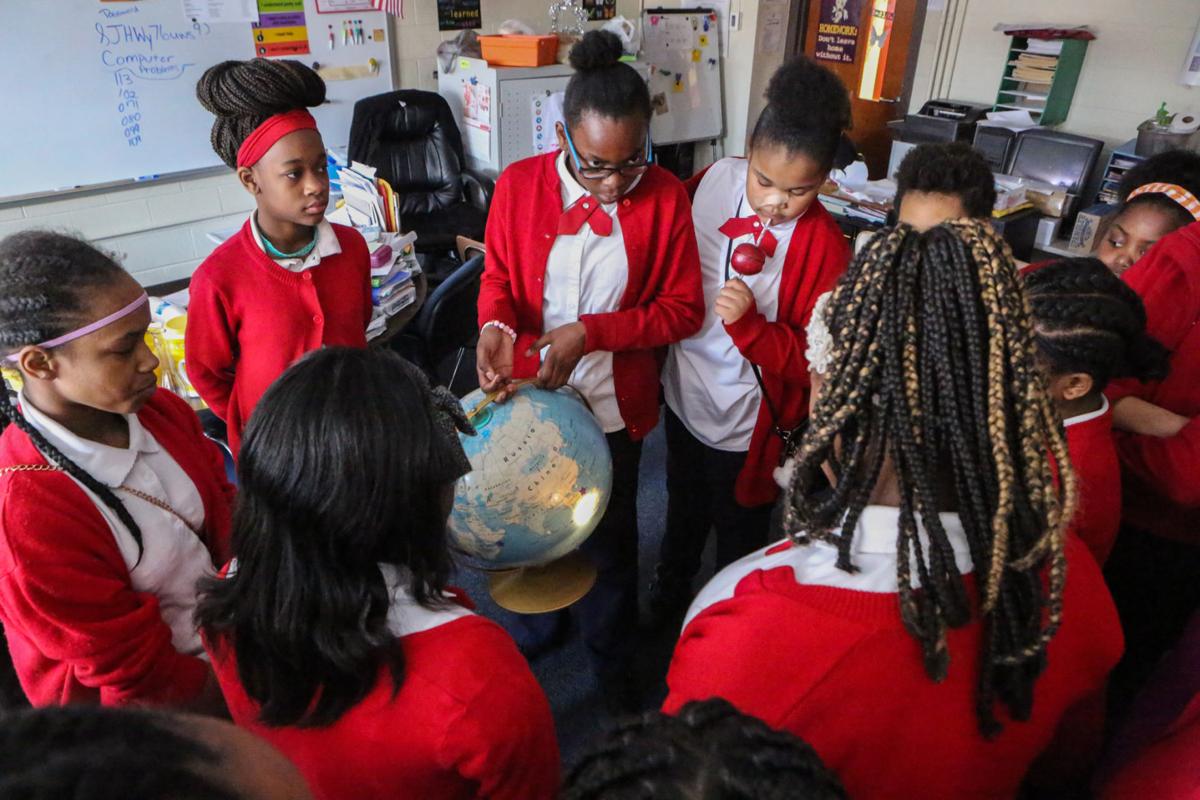 INDIANAPOLIS — The Indiana Department of Education on Wednesday released the 2016-17 School Accountability Grades showing that nearly 25 percent of schools improved one or more letter grades, with close to 6 percent improving their letter grade to an A. Overall, 62 percent of schools received an A or B.
Local school grades mirrored other districts in the state with some schools showing improved grades, some remaining the same and other school grades dropping.
The school corporation grades have not yet been released. The state is scheduled to release that information in November.
Seven of the schools in the Crown Point Community School Corp. earned an A, while the other three -- Taft Middle School, Col. John Wheeler Middle School and Timothy Ball Elementary School — maintained a B.
Of the 11 schools in the Valparaiso Community School Corp., seven earned an A, while the other four earned a B. Thomas Jefferson, Cooks Corners, Hayes Leonard, Northview and Memorial elementary schools all maintained an A grade in 2016 and 2017.
Merrillville High School went to a C from a B. Lake Central High School moved to an A from a B. Hosford Park New Tech Elementary School in the Lake Ridge New Tech Schools maintained its A grade. Krueger Middle School in the Michigan City Area Schools had an F in 2016 and 2017. Westville High School in the MSD of New Durham Township maintained a C grade.
Marquette High School in Michigan City and Bishop Noll Institute in Hammond went to an A from a B, while Andrean High School maintained its A grade in both years. Ambassador Academy in Gary was graded a D both years. Portage Christian School dropped to a D from a B. Kesling Middle School in LaPorte improved to a B from a C.
Gary emergency manager maps plan
No grades were released for the Gary Community School Corp. where school officials have appealed the grades for several different schools. According to the report, the School City of East Chicago also appealed the school grades for Central High School, Harrison Elementary School and Block Middle School.
State department spokesman Adam Baker said school audits and appeals are common in the accountability grade process. "It provides schools the opportunity to ensure they present their data accurately and to ask questions, should they have any," he said.
The Gary Community School Corp., which has been graded an F, has been taken over by the state, and an emergency manager was appointed to improve the school district's finances and academics.
Reached by telephone Wednesday while at an Indiana State Board of Education meeting, Gary schools emergency manager Peggy Hinckley said the district is committed to assisting the Department of Education on auditing the data.
She said the district is at the state board meeting to talk about Marquette and Beveridge elementary schools, both of which have had F grades for several years.
"We're presenting improvement plans for those schools," Hinckley said.
"I don't have enough information to say exactly what the state is looking at as part of the audit. I know that for Marquette and Beveridge, we're going to implement double success periods for language arts and math. We're going to try and catch those students up immediately as they fall behind rather than waiting until the end of the school year and putting them in summer school. That's going to mean we're going to extend their school day for 2 1/2 hours," Hinckley said.
She said the district would not ask teachers to stay late, but instead would hire education majors from Purdue University Northwest, Calumet College of St. Joseph and Indiana University Northwest to tutor those students.
Hinckley said this effort will cost about $200,000 per school and is being funded through Title 1 money.
Several local superintendents pleased
Other local school leaders are pleased with their school grade.
East Porter County School Corp. schools Superintendent Rod Gardin said he's pleased with the grades this year.
"Four out of six schools received an A, and two schools received a B," he said.
"Those grades are a testament to the hard work that our teachers and principals do every day to make sure that students are learning. We've got 2,547 students, that's up 47 students this year. That includes 250 students who are transfer students from all over, including adjacent corporations."
Gardin said that means parents from outside the school corporation see the good work done by teachers and they want their students in the corporation. "They're willing to sacrifice time and money to drive their kids to school to make sure that they get an excellent education," he said.
Lake Station schools Superintendent Thomas Cripliver said Edison Jr.-Sr. High School, and Hamilton and Polk elementary schools' letter grades improved this year to a B. He said Bailey elementary maintained its B.
"We did some professional development with our teachers in English/language arts and math and really focused our instruction," he said. "Our students and teachers worked really hard to make these improvements."
Michigan City Area Schools Superintendent Barbara Eason-Watkins said the district is pleased that Michigan City High School earned a grade of B this year. She said this reflects a strong graduation rate, significant growth in achievement among students who were struggling academically and the fact that a majority of the graduates earn dual credits or industry certifications.
"The ISTEP and the complex formula used by the state to calculate grades has challenged our elementary and middle schools, as it has many schools across our state," she said.
"Each of our schools has developed specific strategies to accelerate growth and achievement. Knapp Elementary's co-teaching program to support students with special needs, a strong gifted/talented program and a focus on growth for underachieving students have been key in their strong performance, and we are implementing many of these same strategies across the district."
Some charter schools weigh in on grades
Sean Egan, principal/superintendent at Hammond Academy of Science and Technology, said the charter school is happy with its letter grade for the 2016-17 school year. It improved to a B from a C.
"We are especially proud of the growth that a large percentage of our students were able to accomplish," he said. "Also, our high school program demonstrates exceptional results in both our career- and college-readiness and our graduation rates over time."
At 21st Century Charter School in Gary, Principal Anthony Cherry said, "Our school grade is not what we would like, and we are in the process of appealing. We are supposedly a D school, two points away from a C. Primarily the reason for our grade is low ISTEP scores K-8. It's the old educational conflict of growth versus proficiency."
Added Kevin Teasley, 21st Century superintendent and president/CEO of Indianapolis-based GEO Foundation, "We are appealing our grade. To us, the grade makes no sense. We are the only school in the state to graduate a student who earned her bachelor degree while in high school. We graduated many others with an associate degree.
"The report card does a good job of being punitive, but doesn't recognize the positive things — the outcomes — we are producing.
"Over and above all of these points, 21st Century administered state tests to 122 new students last year, of which 84 percent failed the math and 62 percent failed the English portion of ISTEP. We don't blame the kids; rather, we want to serve these kids. But given that these students came to us way below grade level, the state should take that into account. ... We are an open-enrollment school and will continue to be. We are here to serve all," he said.