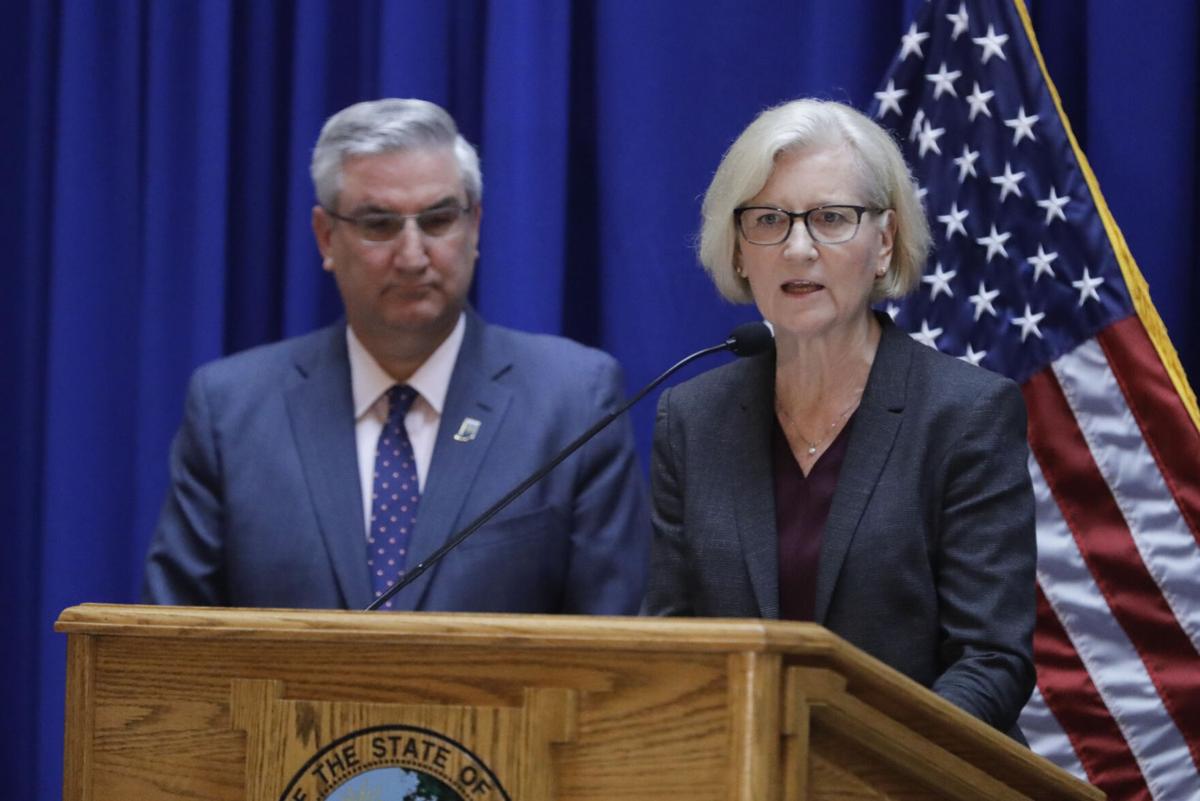 Indiana is seeing a surge in Delta variant cases, but the coronavirus vaccine has proven effective at preventing serious illness and death.
Indiana State Health Commissioner Dr. Kris Box said during an Indiana State Department of Health press briefing Friday that the more highly transmissible Delta variant is now the most-seen COVID-19 variant in Indiana. Box said it potentially causes more severe illness and has caused outbreaks in four long-term care facilities in Allen, Fulton, Howard and Gibson counties that collectively have resulted in seven deaths.
"Most of the cases and deaths were of the unvaccinated or partly vaccinated," she said.
The vaccine has proven to be highly effective at preventing infection, serious illness and death, Box said. While no vaccine can prevent 100% of infections, only 2,700 of the 2.9 million fully vaccinated Hoosiers have contracted COVID-19. Only 132 of those were hospitalized with only 46 deaths, 90% of which were of people over the age of 65.
"The data very clearly shows vaccines are extremely effective," Box said. "The COVID-19 vaccine is free for all Hoosiers, though they do take your insurance information when administering the vaccine because they may charge your insurance company administrative fees."
So far, nearly 5.7 million doses of vaccines have been administered across the state.
Chief Medical Officer Dr. Lindsay Weaver said about 49% of the eligible population has been fully vaccinated but there was a drop-off in vaccination rates among younger age groups.
It's expected kids under the age of 12 will become eligible for the vaccine sometime between September and December.
The state is shifting its approach to contact tracing to focus more narrowly on gathering places like workplaces, schools and long-term care facilities as more people get vaccinated.
The mRNA COVID-19 vaccine has been linked to heart inflammation, but those cases have been rare and are easily treatable, Weaver said.
"The number of myocarditis cases remains low and the risks of the vaccine are much lower than the risks of COVID-19," she said. "As a parent, I'd take those odds. Vaccines are the most effective tool we have to protect the people we love."
Weaver encouraged people who have already been infected with coronavirus to get vaccinated.
"We don't know how long natural immunity will protect people after recovering," she said. "It's still possible, though rare, to be reinfected. The best protection is to be fully vaccinated."
Many primary care providers are now offering the vaccine, and the State Department of Health plans to establish mobile clinics at fairs and carnivals.
Box said she was disappointed with the state's vaccination rate and said the State Department of Health has been working to assuage people's hesitancy about the vaccine, which she partly attributed to the FDA's emergency use authorization.
Full approval would reassure some people, though she stressed the vaccines are safe.
"This is the most studied vaccine in the history of the world," she said. "The adverse effects have been studied the most."
She encouraged people to educate themselves about the vaccine on State Department of Health and Centers for Disease Control websites and then try to educate others.
"We can all be vaccine ambassadors," Box said. "It's a matter of educating people. Some fear the vaccine causes infertility. There has never been a history of a vaccine causing infertility."
 Weaver said to listen to people's concerns about getting the vaccine and then specifically address them.
"Unfortunately, some people won't change their opinion until someone they know becomes very ill or dies," she said. "As an emergency medical physician, I hear people say they wish they had gotten the vaccine because now they're very sick. Nobody thinks a loved one is going to become a statistic."