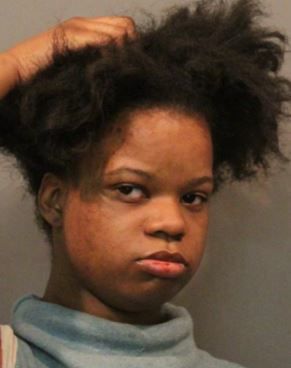 CROWN POINT — A teenage girl charged Wednesday with murder in the death of a 7-month-old boy Monday appeared disoriented and disheveled after calling 911 and repeatedly saying, "I killed baby, take me to jail," according to court records.
April Gross, the 17-year-old daughter of the infant's grandmother, had been caring for the child for about an hour while other family members went out, Lake Criminal Court records state.
Gary police drove the infant, 7-month-old Darius Whitley, to Methodist Hospitals Northlake Campus in a squad car, but the baby was pronounced dead, police Cmdr. Jack Hamady said.
"The officers went above and beyond trying to save this baby and getting the child to a hospital as fast as they could," Hamady said. "Dispatch did a great job."
Gross has not yet made an initial court appearance or entered a plea to one count of murder.
The baby's mother told police she and her mother — who is Gross' guardian — left Gross alone with the 7-month-old while they took the infant's older sibling and went to pick up another woman, who was planning to do Darius' mother's hair, according to court documents.
About 10:25 a.m. Monday, Gross called 911 and said at least five times, "I killed baby, take me to jail," records state.
The dispatcher asked Gross how she killed a baby, and Gross said, "I slammed the baby down on the floor," according to court documents.
Gross gave an address on Martin Luther King Drive, but 911 dispatchers pinged the call to an apartment in the 5100 block of Georgia Street and directed police officers there, court records state.
Police found Gross on a stairway inside an apartment building, carrying the baby's limp body. Gross had a bloodlike substance on her lips, and her hair was in disarray, records say.
Cpl. Jamall Joseph took the baby from Gross and gave him to Officer Jamal Milton, who immediately began chest compressions.
Gross, whose speech was slurred, again said, "I killed my baby," court records allege.
Joseph placed Gross in his squad car, along with Milton and Darius, and drove them to the hospital as Milton continued lifesaving measures, records state. Officer Simon Lillie and Cpl. Darrian Donald helped escort the squad, Hamady said.
During the ride, Gross rubbed an officer's right arm and repeatedly asked, "Am I in trouble?" court records state.
At the hospital, Joseph asked Gross for her name and birthday, and she mumbled a reply, court records state.
When the officer asked Gross what happened, she said, "I killed my baby. Am I in trouble? It's 10 o'clock. Can I go? Is he ready? Am I in trouble?" court records state.
While officers talked to others at the hospital, Gross laughed when no one was talking to her and attempted to stand up several times. Officers later took her to the Gary Police Department's Juvenile Division, court records state.
{h3}Gallery: Recent arrests booked into Lake County Jail