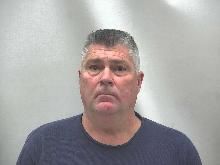 HAMMOND — The city's mayor says longtime Hammond public official Michael Opinker resigned his paid position on the Hammond Water Board Saturday morning amid the public disclosure of a police body camera video in Opinker's pending drunken driving case.
But Opinker's criminal defense attorney told The Times Saturday evening that his client has not and will not resign the seat.
Hammond Mayor Thomas McDermott Jr. said Saturday that Opinker tendered his water board resignation earlier that morning.
The mayor also said city officials are reviewing any impact the drunken driving case may have on Opinker's employment as the Hammond Fire Department's assistant chief of inspections.
"I thank Mike Opinker for voluntarily resigning his board position with the Hammond Water Department," McDermott told The Times Saturday morning. "I will seek an appointee to fill his position who can focus, without distraction, on what is in the best interests of the Hammond Water Co., as well as its employees and the residents of the city of Hammond."
But at about 8:20 p.m. Saturday, Opinker's attorney, George Galanos, said his client did nothing wrong and will not resign the water board post.
"He was a model citizen during the arrest," Galanos said of the Dec. 29 incident in which his client allegedly crashed his SUV into a parked car, then admitted on recently released body camera footage that he was drunk when he did it.
Galanos said Opinker wasn't on the clock for either his water board or fire department positions at the time of the incident, which led to drunken driving charges.
"There was no dereliction of duty," Galanos said, reiterating that his client would not be resigning.
But speaking to The Times again on Saturday evening, McDermott said Opinker spoke to the city's personnel director Saturday morning and tendered his resignation.
As a member of the Hammond Water Board, Opinker has a vote in holding sway over the city's municipal water utility.
Opinker did not return a call placed by The Times seeking comment Saturday, and Galanos said all of his client's comments would be going through the attorney because of the pending OWI case.
That admission is revealed in police body cam video, recently obtained by The Times from Hammond police, as a drunken driving case remains pending against Michael Opinker in Lake County court.
State records show Opinker earned $96,033.93 in compensation in 2019 for his fire department position and an additional $8,514.08 for his water board position.
McDermott said he's weighing his options as it relates to Opinker's appointed position as assistant chief of inspections.
McDermott noted Opinker, who also is a former Hammond city councilman, is a solid fireman and proficient at his job.
"I believe in due process, but Opinker has been the third-highest ranking fireman in the department and has been for over a decade. I'm not thrilled with what's going on," McDermott said.
McDermott's comments follow the release of police body cam footage to The Times recently.
That footage captures the aftermath, sobriety tests and ultimate arrest of Opinker following a Dec. 29 crash in the 2600 block of 163rd Place.
He allegedly failed a balance test, a walk-and-turn test and other tests to determine his level of sobriety, an affidavit states. 
Opinker admits on the video he "was drunk" and had consumed "six shots and three beers in four hours" at the time of the crash.
Police say Opinker's SUV careened into a parked vehicle in that area, prompting the police call and ultimate arrest.
Despite Opinker's admissions on camera, and testing more than three times over the legal blood-alcohol limit via breath test, the results of the breath test were tossed earlier this year by Lake County Judge Julie Cantrell.
Lake County prosecutors said the officer in the case has testified that he didn't wait a state-mandated 15 minutes between breath tests when one test didn't function properly and a new one had to be administered.
The officer waited only eight minutes between tests, Lake County prosecutor spokesman Bradley Carter has said.
The city's chief fire inspector and former council president was arrested Sunday night for alleged drunken driving, according to police.
Opinker's defense attorney moved to quash the results of the breath test in the case, and the judge granted that motion in March.