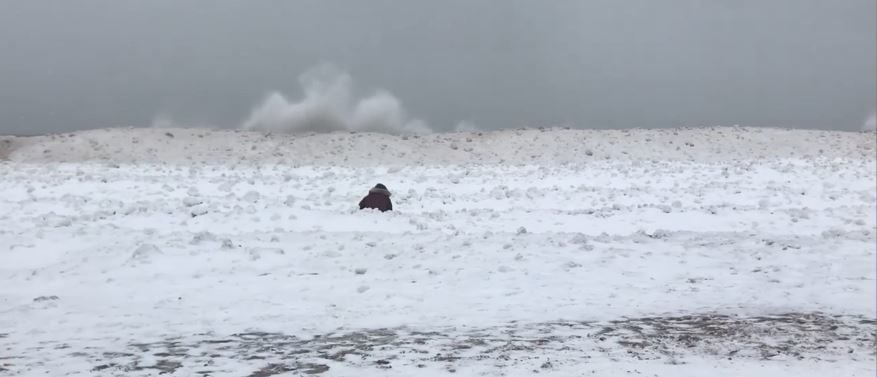 CHICAGO — Officials are warning about the dangers of walking along Lake Michigan's snowy shoreline, after a man fell through an ice shelf on Tuesday. 
Johnny Jacobsen, of Chicago, was walking along the shore of Loyola Beach in Chicago with his wife when he suddenly plummeted through the ice and into the water, a video shows. The lower half of his body appeared to disappear beneath the icy surface and his wife ran closer as he shifted to try and get out. 
He was able to quickly pull himself out and get off the ice unharmed. 
"I definitely think there should be some warnings or something," Jacobsen said. "I had no idea these existed. I thought I was walking on sand."
Dave Benjamin, executive director of the Great Lakes Surf Rescue Project, said luckily Jacobsen had fallen into relatively shallow water but "it could have been much worse."
Benjamin said shelf ice that forms along the shoreline is a hidden danger that has cost lives. 
"It can be impossible to know where the sand ends and the waterline begins," Benjamin said. "People see peaks of snow but it's really ice. Then they try to climb them, but the peaks could be the weakest point in the ice, causing them to fall in. Some of these are 6 feet tall and if you fall down in one into waist-deep water, there's no way to climb out."
He said hypothermia can quickly set in before the person is able to get help or pull themselves out of the ice and water. 
Benjamin said there have not been any ice tragedies recently near the Region, but this past week an ice fisherman in northern Michigan died after he fell through the ice while riding an ATV and drowned.
While taking pets to enjoy a winter beach walk, owners should be careful not to let their dogs off the leash near the lakeshore when there's ice. 
"People will take their dogs to the beach but then the dogs get in trouble on the ice and people will die trying to rescue their dogs," Benjamin said. "But most of the time, the dog will survive."
He said that if someone sees a pet or animal in danger on ice, one should call 911 and stay off the ice. 
There have been a total of 948 drownings in the Great Lakes since 2010, according to the Great Lakes Surf Rescue Project.