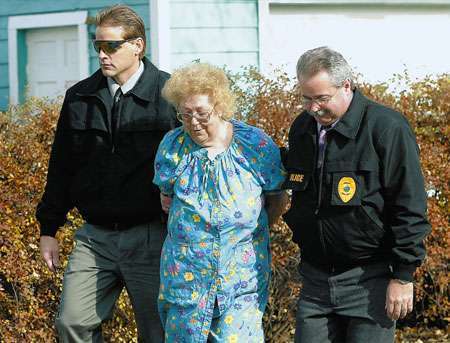 HOBART -- A Hobart woman was charged Monday with repeatedly injecting her husband with insulin until he was dead and storing his body in a garage for three days while she got her hair done and handed out Halloween candy.
Barbara Joy Garcia, 61, told police she "decided that she would have to kill her husband," 71-year-old Cipriano Garcia, because he was about to discover she had withdrawn $4,000 from savings to cover gambling losses, according to a probable cause affidavit charging her with murder. Police and family members said it wasn't the first time she gambled away sizeable chunks of the couple's savings.
She later tricked her daughter, Tammy Garcia, into helping wrap her husband's body in a tarp secured with an extension cord and transporting it to a wooded area in Bloom Township, Ill., where it was dumped, police said. The daughter was not told her adoptive father had been repeatedly injected with insulin, authorities said, and her mother said she had to hide the body so she could continue to receive pension checks she needed to survive.
Police initially planned to arrest Barbara Garcia at her husband's funeral Monday. But, while Cipriano Garcia's family gathered at a Lake Station funeral home to remember his life, his wife of 43 years was noticeably absent. Less than 15 minutes after the funeral ended, police arrived at the couple's tiny aqua-colored home in the 300 block of Cavendar Street and took her into custody.
Wearing a green house robe with flowers, Lt. Leo Finnerty and Detective Sgt. Steve Houck escorted Garcia out of her home, which was decorated with a welcome sign, wind chimes and a row of angels along a walkway.
Authorities said Barbara Garcia initiated her plan on Oct. 30 by offering to make her husband coffee and lacing it with some of her medication, causing him to fall asleep. The former licensed practical nurse at Porter Memorial Hospital then began injecting her husband's body with insulin.
In between each 10-cc dose, Barbara Garcia monitored her husband's breathing by feeling his carotid artery. Each time she felt a pulse, she injected more insulin, according to court documents.
When Garcia's pulse stopped, she rolled his body into a rug and unsuccessfully tried to move it. When Tammy Garcia arrived home Oct. 30, her mother told her that Garcia had died suddenly and she begged her not to call 911 citing the need to continue receiving pension checks, according to court documents. Tammy Garcia, who had moved back into the family home about two weeks earlier, agreed.
The two then moved Garcia's body into the garage, where he remained until Nov. 2, police said. At that point they allegedly loaded his body into a pickup truck, covered it with a tarp held down with cinder blocks and drove to a small lake in Bloom Township, Ill., where they discarded it.
Garcia's body was discovered by an Illinois resident about 12:30 p.m. the next day in a wooded area along the banks of a pond near Burnham Avenue and Sauk Trail.
In addition to the murder charge filed Monday, Barbara Garcia likely will face an Illinois charge of concealing a homicide, police said. Lake County Prosecutor Bernard Carter said Tammy Garcia's involvement is being reviewed, although no decision has been made on whether to file charges.
Houck said Barbara Garcia immediately became a suspect after police visited the Garcia home and noticed signs of a homicide. Police would not provide specifics.
Houck led Hobart's investigation after Garcia's body was identified. In the days before Garcia's body was found, police said he was not reported missing. But Houck said friends and family did call the home and became concerned after they had no contact with him.
Prior to the department's involvement, the case was handled by the Cook County Sheriff's Department. Both agencies and the Lake County prosecutor's office were represented at a news conference Monday afternoon, which also included members of the Garcia family.
Hobart Police Chief Brian Snedecor said Barbara Garcia admitted to the slaying about 2 a.m.Thursday. He classified the homicide as premeditated. In the days following the confession, Snedecor said detectives notified and interviewed additional family members.
"There was a lot of information to gather," Snedecor said. "We're talking about two different states working together, but we kept in touch and worked hand in hand with them once the case started developing."