To find Matt Millar's new restaurant The Southerner, veer off the beaten path from busy downtown Saugatuck, Michigan, with its lovely 19th century buildings housing a collection of the coolest shops, restaurants, wineries and galleries. Instead follow the curving road paralleling the Kalamazoo River towards a one-story rambling building set far back from the road. Painted an almost too-bright yellow, there's a large smoker in the side yard and window boxes brim with colorful flowers. It's here that Millar, a two-time James Beard Award finalist, recreates the Appalachian roots of the families like his who migrated north in mid-1900s to work in Michigan's auto industry.
Millar is famous in this section of Southwest Michigan, known for The Journeyman, his first restaurant located in Fennville about 15 minutes southeast of Saugatuck where his menu was crafted around the foods from this area — whether it was organically raised pork or cheeses made from goats who feed on raspberry brambles. He then was the executive chef at Reserve, the uber trendy and vastly popular restaurant located in an old bank in downtown Grand Rapids.
The Southerner opened about two years ago and the restaurant's buzz keeps getting stronger with write-ups in the Wall Street Journal and Bon Appetit magazine. The interior is a fun, casual place — think a friend's summer cottage. Large windows over-look the river as it flows towards Lake Michigan. Tables and chairs don't match, neither does the delicate china used as dinnerware. An old-fashioned phonograph is set on a table by the entrance to the bar and the kitchen is open so you can watch Matt and his crew works.
Go there in the winter and it's easy to get a table, warm weather is different and unless you're really early count on waiting. But that's okay, they have a great wine, beer and cocktail list.
On a busy summer night, the restaurant sells hundreds of pounds of their wonderful fried chicken (Matt shared the recipe) which takes over 12 hours just to marinate. Two great appetizers to try while it's cooking are the house-made pepper jelly with locally made goat cheese and a rather spicy pimento cheese spread both served with Saltines.
The following recipes are courtesy of Matt Millar.
Nana's Fried Chicken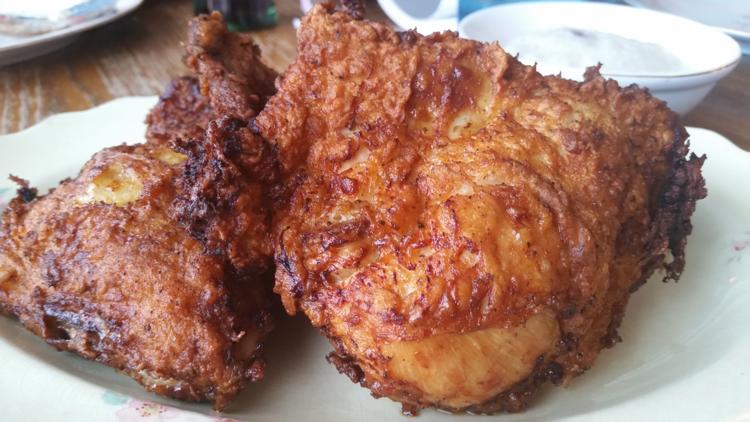 1 fryer chicken, about pounds, cut into 8 pieces
2 tablespoons fried chicken rub (recipe below)
DIRECTIONS: Toss everything together in a container which will hold everything in close quarters.
Refrigerate for 12 hours.
3 cups White Lily flour (not self-rising)
3 tablespoons fried chicken rub
DIRECTIONS: Stir together well. Place the rub in a large bowl. Remove the chicken from the buttermilk, shaking off excess, then coat in the dredge.
Move the pieces to a pan fitted with a cooling rack and let them rest for a half hour to give the flour a chance to adhere.
Heat about an inch of peanut oil in a cast iron skillet to 350 degrees. Add the chicken pieces and fry without fussing for about 12 to 15 minutes, until the chicken is cooked about two thirds of the way through. Flip the chicken and continue frying until it reaches 170 degrees. Remove to a pan fitted with a cooling rack and rest 10 minutes before eating.
This makes more than you will need for the recipe but keeps well in a sealed jar.
2 tablespoons Cayenne Pepper
1 tablespoon granulated onion
1 tablespoon granulated garlic
1 tablespoon black pepper
1 tablespoon mustard powder
You have free articles remaining.
Keep reading for FREE!
Enjoy more articles by signing up or logging in. No credit card required.
1 cup apple cider vinegar
DIRECTIONS: Puree the peppers in a food processor and add them to a medium, non-reactive sauce pan.
Bring the mixture to a boil over high heat, then turn the heat down enough to avoid burning or boiling over, but enough to still maintain a gentle boil.
Cook until the mixture thickens to the consistency of a fruit jam, about 45 minutes.
You should be able to run a spoon across the bottom of the pan and leave a clear trail behind it for a moment. Strain the solids out and chill completely.
Serve with cream cheese or, use one of Matt's favorites our favorite, chevre or fromage blanc from Evergreen Lane Creamery in Fennville, Michigan. This works great with Saltines.
The pepper jelly is perfect on laminated biscuits (that's why I'm sharing the recipe below), the type where you can just pull apart the layers, meaning more area to spread butter and jam.
Laminated Biscuits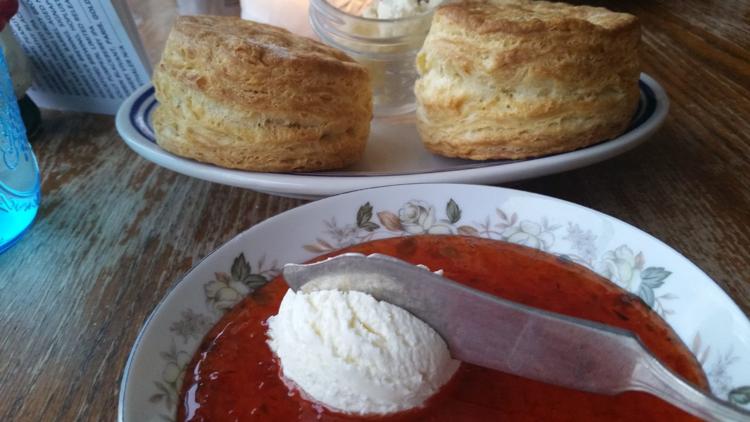 2½ teaspoons baking powder
3½ cups all-purpose flour, plus more for surface
1 cup (2 sticks) chilled unsalted butter, cut into ½-inch pieces, plus more, melted, for brushing
DIRECTIONS: Preheat oven to 425 degrees. In a food processor, pulse baking powder, salt, sugar, baking soda, and 3½ cups flour to combine. Add chilled butter and pulse until largest pieces of butter are the size of a pea. If you don't use a food processor, use your hands to mix the flour mixture and then add the butter and mix quickly until the butter/flour mixture is the size of peas. Be careful not to handle the dough too much.
Transfer to a large bowl and gradually drizzle buttermilk over top, tossing with a fork as you go to incorporate. Knead mixture a few times in bowl until a shaggy dough forms (mixture will look a little dry), then turn out onto a clean surface and pat into a 1"-thick square.
Using a knife or bench scraper, cut dough into 4 pieces. Stack pieces on top of one another, sandwiching any loose dry bits of dough between layers, and press down to flatten. Lift up dough with bench scraper and dust surface with flour. Roll dough into a 1"-thick rectangle, trimming the border so the edges are clean. Divide into a 4x3 grid to make 12 biscuits (don't reroll scraps). Transfer to a parchment-lined baking sheet, spacing 2" apart; freeze for 10 minutes.
Brush the tops of biscuits with melted butter and the place in hot oven. Reduce temperature to 400° and bake biscuits until they're deep golden brown on the bottom and golden on top about 20–25 minutes.
Note: Unbaked biscuit dough can be made one month ahead. Freeze, uncovered, on baking sheet until solid, then transfer to a resealable plastic bag. Do not thaw before baking but add a few minutes to baking time.
If you've noticed both the chicken and the biscuit recipes call for White Lily Flour which I've seen at some stores in our area. The reason for using White Lily, is all very complex but to sum up a very lengthy article in the New York Times, the flour, a Southern favorite since the company was founded in 1883 uses 100 percent soft red winter wheat, a low-protein, low-gluten variety that's considered the best for creating light-textured and fluffy baked goods such as cakes, cookies, flaky pie crusts and biscuits.
The Times article is fascinating which discusses the consternation of championship biscuit makers who were terrified that Smuckers buying White Lily and moving the company was the death knell of this wonderful flour.
Amazingly, several of these Blue Ribbon home bakers were given unmarked bags of flour — the original White Lily and the Smucker's White Lily and were able, even by just looking at it, to tell which is which. Since then, I've read that it's still great as are King Arthur, Martha White and Southern Biscuit flours, the latter which I've never heard of the latter.
These types of flours are almost regional — though you can buy them nationally through their Websites and sites like Amazon but it makes you wonder about the loss of all the old-time flours including the ones ground by mills in Lowell, Trail Creek near Michigan City, the Bonneyville Mill in Bristol and John Woods Mill in Hobart during the 1800s and early 1900s. Wonder what breads, cakes and more tasted like using flour from those. Luckily, two of them — Bonneyville and John Woods are now operated by park systems and produce different types of flours and cornmeal, so we can find out.
The Southerner is located at 880 Holland St., Saugatuck. For more information, call 269-857-3555 or go to thesouthernermi.com.