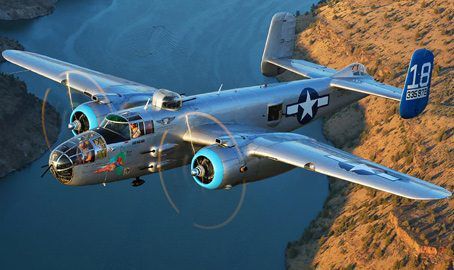 LAPORTE — A plane used in combat by the United States to help achieve victory in World War II is on public display at the LaPorte Municipal Airport.
Rides and tours of the B-25J Mitchell "Maid in the Shade" will be available Friday through Sunday.
Originally, the plane was scheduled to arrive at the airport Monday but stayed grounded until Tuesday in Ypsilanti, Michigan, following a weekend air show because of storms, said Diane Schwarz, LaPorte Municipal Airport operations manager.
The plane is owned by the Commemorative Air Force, an organization with numerous other retired fighter planes used to honor the men and women in the military who flew them.
Jim Olivi, a B-25J crew member, said the restored and preserved planes are also tools to educate people, especially youths, about past wars.
"It looks pretty much like it looked like when it was flying combat missions," he said.
The Commemorative Air Force headquartered in Dallas, Texas, has 71 locations nationwide, including Mesa, Arizona, where the B-25J is stored.
B-25s are known primarily for flying combat missions over the Pacific Ocean following the Japanese attack on Pearl Harbor. The missions included the bombing of Tokyo.
Olivi said their plane flew strictly over Italy and Yugoslavia, bombing primarily railroad bridges at low altitude from the winter of 1944 to the spring of 1945. After the war, Olivi said, the plane became a civilian aircraft used in spraying for insects.
The Commemorative Air Force later bought it and assigned the plane to the organization's Mesa, Arizona, wing.
"We cleaned it up and refurbished it," Olivi said.
Schwarz said the plane is part of the airport's 75th anniversary celebration.
The anniversary was actually last year when a B-17 owned by the Commemorative Air Force came offering tours and rides for a week.
All of the other festivities, though, were canceled because of the pandemic.
Tours of the B-25 are scheduled from 2-6 p.m. Friday through Sunday.
The cost of a tour is $10 a person or $20 for a family.
Rides will be offered from 9 a.m. to 1 p.m. Friday through Sunday at a cost ranging from $325 to $590.
Other Saturday happenings include an antique car display, food trucks, aviation career booths and the LaPorte County Public Library Mobile Classroom.
There will be a pancake breakfast from 7 a.m. to noon Sunday.
The Aero Club also will draw the winner of a four-passenger, Cessna 172M model airplane at 4 p.m. on Sunday.
Schwarz said the winner of the plane also receives $20,000 in cash.
All 4,000 tickets for the raffle have already sold.
"They went pretty fast," she said.