EAST CHICAGO — From one perspective, Demo Day at East Chicago Katherine House Boys & Girls Club marked the culmination of an 18-month process.
From another standpoint, the proposed improvements to the club represent another chapter in a 100-year tradition of service to youth.
In anticipation of major improvements, Katherine House Club held a mock demolition of a fake wall Thursday to reflect the construction work to begin Monday and be completed in time for summer activities.
ArcelorMittal's Kelly Nissan, who manages the steelmaker's partnership with the East Chicago Club, said this $1.25 million investment "is going to impact children's lives. They'll have access to more experiences and more opportunities than they had in the past."
As to the staged demolition, Nissan noted, "We thought of shovels, but we're not digging. This is a renovation."
Riley Smiley, president/CEO of Boys & Girls Clubs of Greater Northwest Indiana, added, "We're not breaking ground, but completely renovating."
As of Thursday, Smiley reported, the capital campaign had raised $1.182 million.
"It's not about the money raised," Smiley noted. "It's what we can do for generations of children to come. We have an opportunity to change the future of this community."
Allison Martin, vice president of philanthropy for Boys & Girls Clubs of Greater Northwest Indiana, listed the additions: an outdoor playground, traverse walk climbing wall, safety entrance, changes to interior walls, "exergaming" room, STEM (science, technology, engineering, mathematics) lab, digital music recording studio and a teen center.
Currently, Martin said, the East Chicago club has 790 youth members, with 125 to 150 members visiting daily.
With the additions, Martin said, "We feel confident those numbers will double, as was the case with our Duneland Club."
The East Chicago Club dates back to 1919, when a faith-based group opened Katherine House as a youth center. In 1973, the club became the third such group to be part of Boys & Girls of Northwest Indiana and the first club to accept girls. The current building opened in 1991. Club officials in 2017 recognized the need for renovation and enhancements to the existing facility, and the following year a capital campaign began.
As a product of the old Katherine, or "K," House, Dr. Edward Williams, chair of the Katherine House capital campaign committee, recalled learning many life skills there. These included discipline, sportsmanship, community relations, getting along with others and fluency in multiple languages.
"We cannot say thank you enough to all the donors who stepped up to the plate," Williams said.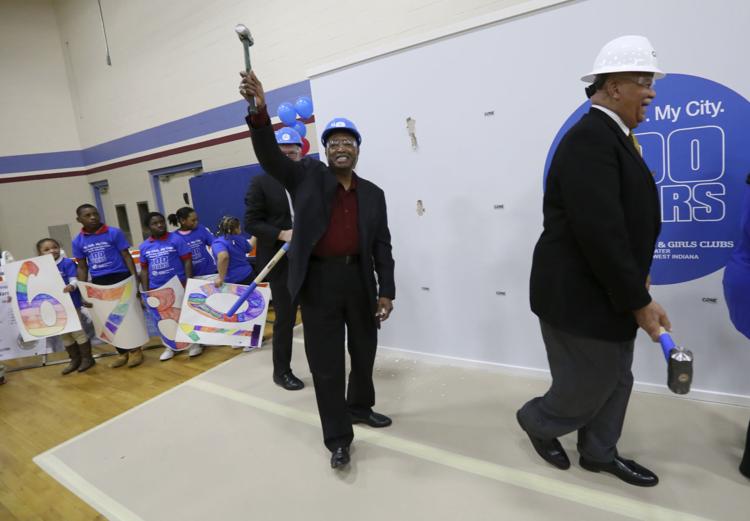 Among the major donors to the project is Foundations of East Chicago, whose president, George Weems, said the board vote was unanimous in favor of a $500,000 five-year grant.
"We know about the impact this is going to have on our city," Weems said. "What we do for Boys & Girls Clubs is an investment in the city of East Chicago."
East Chicago Club activities will continue during construction, with programs moved one block to Alse Clemente Center. According to Pablo Palominos, club director, current programs include homework and academic assistance, social and emotional development, a traveling basketball team and STEM activities.
"I feel extremely humbled and honored by today," Palominos said. "This is a very, very special day."