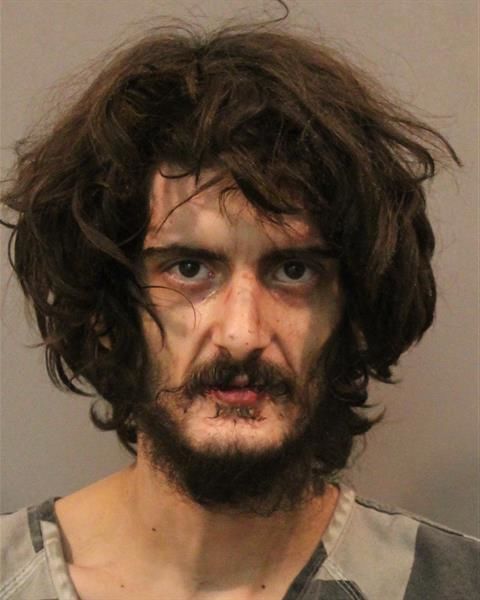 SCHERERVILLE — A Schererville man handcuffed and tortured a victim so badly with a hatchet, taser and other deadly weapons, he had to be airlifted with life-threatening injuries, police said.
Jason Kalbac, 27, of Schererville, was charged with one felony count each of attempted murder, aggravated battery, criminal confinement with a deadly weapon and battery resulting in serious bodily injury, and four felony counts of battery by means of a deadly weapon.
During the 48 hours of abuse, the victim suffered two broken hands, multiple stab wounds in his legs, a large cut in his forearm that caused arterial bleeding and two black eyes, as well as several bruises and cuts on his head and body, according to Lake Superior court records. Police noted a hole the size of a quarter in the victim's arm, which was caused by the hatchet. 
Due to heavy bleeding coming from his arm, the victim tried using bloodied rags for a makeshift tourniquet. First responders then applied a tourniquet to his arm once they arrived. 
At 9:21 p.m. Wednesday police were called to a disturbance in the 2100 block of Schilling Drive, said Schererville Deputy Chief Jeff Cook. 
The caller told police that his son had bludgeoned his son's friend inside the home, stating there was blood everywhere.
Jason Kalbac fled the scene in a vehicle. Officers stopped him a short distance from the home and he was arrested, police said.
Police tended to the victim, a 26-year-old Schererville man, who was bleeding profusely from his left arm. 
The victim said he lived five months with Jason Kalbac, who told the victim he was not allowed to leave the residence. The victim further told officers that Jason Kalbac became physically abusive for the last 48 hours and used a Taser, a police-style expandable baton and brass knuckles to beat and torture him, police said.
Court reports show that the two men were playing video games in Jason Kalbac's bedroom when he began blaming the victim for his problems and an argument ensued. 
Jason Kalbac then handcuffed the victim in the bedroom and hit him several times with an expandable metal baton, court records said. The victim eventually managed to get his hands out of the handcuffs, but Jason Kalbac tased him and began to stab his head and body with a hatchet. 
The victim's escape was further thwarted when he found the bedroom door was initially locked, in which Jason Kalbac allegedly threatened to kill the victim if he told anyone what happened. 
After the victim eventually escaped the bedroom, Jason Kalbac's father found him and called 911, Schererville police said.
His father told police "that his son had been assaulting his friend and that he was sick of it" and that "he was afraid that Jason was going to kill (the victim) sooner or later," court reports said. 
The victim was airlifted to the University of Chicago Hospital with life threatening injuries after being taken to a local hospital. Police said he is currently in stable condition.
Investigators collected several weapons from the scene and several pieces of bloody clothing, including two stun guns, handcuffs, brass knuckles, a taser, two knives, a hatchet and an expandable baton. Dried blood was visible on one of the knife blades, the metal baton and one of the tasers, police reported.  
Jason Kalbac was being held at Lake County Jail Friday.
Anyone with more information was urged to contact Schererville Police Detective Dave Nangle at 219-322-5000. To remain anonymous, call 219-865-4646.
"I am glad the officers and detectives resolved this so quickly," Cook said. "We have had several calls in the past involving confinement and battery, but not to the extent of this case."
History of violence
According to Schererville Police Department records, officers have been called 21 times since 2012 to the 2100 block of Schilling Drive for incidents involving Jason Kalbac, Cook said. Court records show that Jason Kalbac has previously faced charges including drug-related offenses and multiple counts of battery.
In October 2018, Jason Kalbac and his father, William Kalbac, were charged with several drug-related offenses following a months-long drug investigation that resulted in a search of their Schererville home, Lake Superior Court records said.
Police found several pieces of evidence, including 28 bags of suspected cocaine, three used hypodermic syringes, a bag containing suspected synthetic marijuana, several glass pipes and paraphernalia with suspected heroin on it, according to court records.
As a result, Jason Kalbac faced 25 felony and misdemeanor counts that alleged he sold synthetic marijuana to a confidential informant four times between Sept. 27 and Oct. 19 in 2018. William Kalbac was given one charge of maintaining a common nuisance, as well as misdemeanor counts of possession of marijuana and possession of paraphernalia.
On Jan. 23, 2020, Jason Kalbac was sentenced to serve one year in Lake County Jail, however the sentence was suspended and he was ordered to serve the time in probation and complete a drug treatment program.
According to court reports, Jason Kalbac had been charged with domestic battery in three occurrences before the latest incident.
He was charged more recently with domestic battery in January 2020 in White County, Indiana, and the case is ongoing.
In January 2017, Jason Kalbac was charged with confinement, intimidation, domestic battery resulting in moderate injury and battery with moderate injury, according to the Lake Superior Court. In November 15, 2017, Judge Samuel Cappas dismissed charges of confinement and intimidation, but found him guilty of domestic battery resulting in moderate injury and battery resulting in moderate injury. He was sentenced to 18 months imprisonment.
In this case, Jason Kalbac was staying with a female friend in Gary when an argument about money broke out. The argument became physical when he allegedly put the woman in a headlock. During the struggle, his dog fled the residence and he told her, "(Expletive), I'll kill you, you let my dog out," court reports said. The woman continuously tried getting away, but he continued pulling her into the residence and then stomped her back and struck her while she was on the floor, the records said.
Neighbors heard the woman screaming for help and they called 911. When officers arrived, Jason Kalbac was taken into custody.
In December 2016, he was charged with a count of domestic battery in Schererville Town Court, but the charge was later dismissed in November 2019.