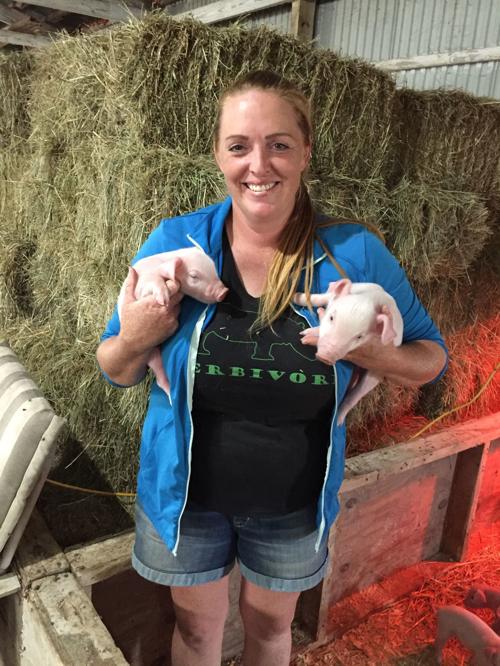 At a Trader Joe's in Chicago, customers have been frustrated when there isn't the exact meat they want available on store shelves.
Carly Rosenbaum, a Trader Joe's worker and Chicagoan by way of previous residency in Seattle and St. Louis, is only too happy to direct those customers to the aisle with high-protein meat alternatives.
"When the pandemic first hit and everyone was panic buying, we didn't have meat for a few days," Rosenbaum said. "Then I was like, 'Don't worry. We have all these great meat alternatives.' People were trying things that they had never tried before because they had never needed to."
Rosenbaum, 23, went vegetarian in 2017 and is one of about 16 million Americans to make the same choice over the past few decades. From 1971 until 2018, the percentage of Americans choosing meat alternatives grew from 1% up to 5%, according to surveys from Harris Interactive and Gallup.
Many vegetarians and animal rights activists believe the COVID-19 pandemic, and how it has ravaged the meat industry, could be a turning point in more Americans joining their meat-free ranks.
Americans eat more meat per capita than any other country.
The average U.S. citizen eats approximately 222 pounds of burgers, pork chops, lobster, fried chicken and whatever else per year, according to the U.S. Department of Agriculture.
That's equal to about 10 ounces of meat per day, double what the USDA says is healthy for anyone. That level of consumption has been linked to rises in rates of obesity, diabetes, strokes and cardiovascular diseases.
"In this country, it's almost gluttonous," said Erin Yanz, who runs a rescue farm with about 150 animals on 33 acres in Hobart, Indiana.
Another 10 hens are on their way to Yanz's farm after their previous owner-farmer had said they planned to bury them alive — yes, that's legal in some states — because their farm was closing, Yanz said.
Yanz noted her vegan diet amid the pandemic means she's not experiencing the same woes as other consumers.
"I'm feeling no shortage of anything, except for toilet paper," she said concerning the few times she's gone to the grocery store. "We felt no shortage of meats or things like that; I never bought them in the first place."
At The Herbivorous Butcher in Minneapolis, which purveys wheat-based faux meats and dairy-free cheeses in a butcher shop-style atmosphere, "business is booming right now," said Kale Walch, who co-owns the shop with his sister.
Yes, Kale, spelled like the vegetable, is his real name, a serendipitous coincidence.
The Herbivorous Butcher is moving forward with plans to build a larger production facility at a time when many other food makers and farmers are being forced to close. Walch said April 2020 was The Herbivorous Butcher's best month ever business-wise.
The global meat-substitute market is expected to become a $5.2 billion industry in 2020, an increase of 40% in just four years. But it is still dwarfed by the $945 billion international meat industry. Before coronavirus shook up the market, meat was expected to surpass $1.14 trillion in revenue in 2023.
Yanz and Robert Grillo, a Chicago-based activist and author, argue the meat industry is unnecessary and wasteful.
Yanz finds it absurd Americans think it is OK to eat cows and pigs but not OK to eat dogs or horses. She pointed out that a pig's intelligence is about on level with a human 3-year-old.
"They're extremely intelligent beings," Yanz said.
"We live in an age now that we know we can get all of the nutrients that we need from plant foods," Grillo added.
Grillo uses eye-popping figures to push this point, like how 70% of U.S. grain goes to feeding livestock or how there are at least 23.7 billion chickens worldwide raised solely for egg-laying and/or meat.
That's almost three chickens to every one human.
The hardest part about giving up meat, according to Walch, Yanz and Rosenbaum, was missing out on the foods they loved.
That's what got Walch experimenting with vital wheat gluten, a high-protein flour that can be turned into a meat-like "muscular dough" that's since formed the vegan foundation for his business. Walch's first creation, Smoky House Ribs, still pairs with his grandmother's homemade barbecue sauce recipe.
Rosenbaum was able to easily replace beef burgers with veggie burgers.
And when Yanz started craving fried chicken — she went vegan at first as a health decision after giving birth four years ago — she was able to quickly learn how to make a substitute by watching a YouTube tutorial.
"Anything you have now, you can get the vegan version of," Yanz said. "This is the best opportunity to make some easy choices, learn some recipes. We're home anyways."