Here are the top 5 trending stories today. 
UPDATE: Arrest made in fatal shooting in Morocco that left a Lowell man dead
Police announced Monday night they've made an arrest in Saturday night's shooting in Morocco that claimed the life of a 21-year-old Lowell man. 
Dakoyta Corning was shot in the chest just before 8:30 p.m. in the 100 block of Polk Street, Morocco Town Marshal Dustin Gary said.
Gary said Monday night that Frank Klotz, 57, also of Lowell, has been charged with reckless homicide and is currently being held in Newton County Jail. 
Corning was taken by Newton County Emergency Medical Services to Riverside Medical Center in Kankakee, Illinois, where he was pronounced dead.
The Newton County Sheriff's Office, Indiana State Police, Brook police, Kentland police, Goodland police and Morocco Fire Department assisted.
Gary stated that the case is still currently under investigation and more information will be released when it becomes available.
Set an alarm for best view of Wednesday's super blue blood moon
Early risers will have the best chance of seeing Wednesday's super blue blood moon.
The best time to observe the moon will be from 6:15 to 6:30 a.m. Wednesday throughout Northwest Indiana and northern Illinois, according to the National Weather Service. It will be the brightest moon in nearly 69 years.
Passing clouds are expected, but a narrow window of clearing could occur about sunrise Wednesday, forecasters said.
Viewers can expect to see a moon about 14 percent larger in diameter and about 30 percent brighter than when it's at its furthest distance from the earth. It won't be as big and bright again for another 18 years.
According to the astronomy website earthsky.org, the term supermoon entered usage five years ago when the closest full moon fell on March 19, 2011. The scientific term is perigee full moon.
Gallery: Super Moon Eclipse
Check out these great photos of the Super Moon Eclipse from around the region and the world. Do you want yours added to this gallery? Email them over to Times Digital Producer Laura Lane at laura.lane@nwi.com.
In 2034, the moon will come even closer, within 221,485 miles. That, too, will be a supermoon.
A blue moon is the second full moon of the month, and a blood moon is a total lunar eclipse, the weather service said.
The Associated Press contributed to this report.
Munster intersection realignment rolls along; some Centennial Village condos already reserved
MUNSTER — Springhill Suites at Marriott is up and running to great reviews at Centennial Village along Calumet Avenue, town officials said. And a new Pittsburgh-based restaurant chain, The Simple Greek, has leased a space in the commercial building directly to the north of the hotel.
Meanwhile, construction continues elsewhere at Centennial Village, the new development that will combine upscale condominiums with retail, and which, along with re-routing 45th Avenue, officials hope will transform the look of Calumet Avenue — and Munster itself.
One of the most ambitious projects planned for the town in years, Centennial Village is envisioned as a new downtown area where locals can shop, dine and live. It will be next to Centennial Park and the Pennsy Greenway bike and walking trail.
Centennial Park, once a closed landfill, was transformed into Munster's largest park with many amenities such as soccer fields, a clubhouse, outdoor pavilions, entertainment stage, gardens, a 3-acre dog park, walking paths, fishing and a nine-hole golf course.
Developers have specified a likely seven-year timeline for the project. Centennial Village is divided into four quadrants, the first of which has been in development since the construction of Springhill Suites at Marriott first broke ground in 2016.
On the northwest side of this quadrant will be the 8,000-square-foot retail building that officials hope will house shops and restaurants. The development combines residential and commercial uses in four buildings. The idea is to create a "walkable" mall in the area.
Centennial Village's website is currently taking inquiries for the commercial space as well as the residential units — 36 units per building offering nine floor plans and underground parking.
A one-bedroom, one-bath condo starts at $226,180; a three-bedroom starts at $377,772. A one-car underground parking stall is $22,000; a two-car parking stall is $33,000. Kris Hoge, of Re/Max Realty Associates of Munster, said they are actively marketing them, and some units already are reserved. 
Realigning 45th Street a huge undertaking
The development is located at the former home of Munster Steel, which has since moved to Hammond. It also is a direct neighbor to the planned 45th Avenue underpass project, which not only will redirect traffic but also provide the area with a facelift and new recreational opportunities.
The town is working with regional partners to build an underpass beneath the Canadian National Rail tracks that cross Calumet Avenue.
Once that project, which is expected to last several years, is completed, 45th Avenue east of Calumet Avenue will be realigned to meet with west 45th Avenue and reduce congestion at that intersection. Currently, that area is complicated by commuter-rush traffic every night and an active rail line that also causes tie-ups.
The 45th Avenue realignment, known formally as the Grade Separation Project at town meetings, is meant not only to reduce traffic congestion but also encourage and enhance new development in the area.
The reimagined 45th corridor will cut through the northern portion of Centennial Village. The Pennsy Greenway bike path will run east of the development, meaning that its users will pass between Centennial Village and Clayhole Lake. The Pennsy Greenway bike trail is considered an important component in expanding recreational opportunities not only in Munster but regionwide.
The 45th Avenue realignment at Calumet Avenue is likely one of the most complex infrastructure projects ever undertaken in the Region, Munster Town Manager Dustin Anderson said.
It's been on local wish lists for decades now and began moving toward reality about seven years ago. The pace may appear slow, but looks can be deceiving: "It's been a very complicated project," Anderson said.
Not only have the town and its regional partners had to deal with the permitting process, and utilities, environmental and rights-of-way issues over the years, but they also have had to address the concerns of Canadian National Railroad. CN operates a busy live track that crosses Calumet just south of 45th Avenue going east and north of 45th going west.
The 45th Avenue realignment ultimately will result in a tunnel that goes under the railroad line to finally line up the two sections of 45th, so they meet in the middle for the first time. It also will add to green space in the abandoned portion of east 45th.
Financing to involve several local, state agencies
Town officials reported last week that four areas of concern remain to be agreed on between the town and CN Railroad; two are nearly resolved, and two are getting close to agreement.
Town officials said that until all issues are resolved, they cannot confirm a precise timeline. However, once it starts the project is expected to last at least two years.
The cost of the $36 million project will be shared between the town and its regional partners, which include the Indiana Department of Transportation, the Northern Indiana Regional Planning Council and the Northwest Indiana Regional Development Authority. NIRPC will be putting in $9.6 million, INDOT up to $10 million and the RDA $6 million.
Local funding will pay the remainder, which is expected to come from a revenue bond the Town Council will have to approve when the time comes.
"It'll be up to the council" what type of revenue bond to choose, Anderson said, though he likely will recommend money from the town's wheel tax fund, he said.
Last spring, the Town Council approved development standards for Centennial Village, and agreed to expand liquor license opportunities to help attract dining establishments to the area.
Merrillville shooting victim says jail argument over rap song led to attack. Police say suspect ID'd self in surveillance video.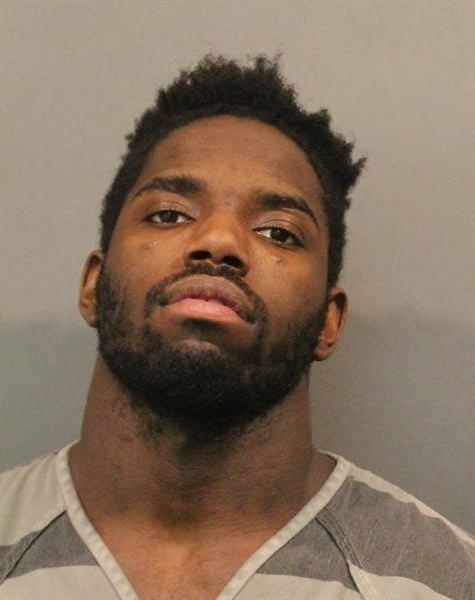 MERRILLVILLE — Gary and Merrillville police joined forces recently to arrest the shooter in a Dec. 10 attack that left a 19-year-old man paralyzed.
Merrillville police announced Monday that Niemah Christopher Crews Jr., 20, of Merrillville, is now facing attempted murder, and battery charges.
Police said Crews shot at the victim six times, striking him twice, with a .45-caliber handgun outside the Save Gas station at 61st and Harrison Street in an apparent gang-related attack.
Merrillville police said a witness at the service station was getting fuel there when he heard shots fired about 4 p.m. that day and saw a man, wearing black pants and a red hooded sweatshirt with the hood up, firing at the fallen, motionless victim, who was hit in the spine and is paralyzed from the chest up.
Police said the shooter escaped by fleeing down an alley and into a nearby neighborhood where his image was captured as he walked by a home surveillance video recording.
Merrillville Police Detective Sgt. James Bogner said the Merrillville investigation reached out to the Gary Police Department who helped identify Crews as the suspect.
Court records indicate Crews has been serving a four-year sentence under the Lake County Community Corrections program for a 2016 burglary. Police said they and the Lake County Community Corrections staff took Crews into custody recently at his Merrillville home.
Bogner said they questioned Crews who "surprisingly identified himself" as the suspect in the home surveillance video.
Police said the victim, now recovering from his wounds, also identified Crews, from a photographic lineup, as the man who shot him.
The victim said Crews targeted him over a prior dispute they had while locked up together in the Lake County Jail. The victim said he and Crews fought over a rap song that angered Crews because it was a "diss against Crews' dead gang member." Police didn't identify the dead gang member.
Police said Crews threatened to kill the victim if he ever saw him outside the jail. Crews faces a maximum penalty of 40 years in prison if convicted.
Study finds Indiana common construction wage repeal reduced worker pay, didn't save money on public works projects
INDIANAPOLIS — When Gov. Mike Pence signed the 2015 repeal of Indiana's common construction wage statute, the Republican proclaimed that eliminating county minimum pay rates for public works projects would save the state and local governments money without reducing the paychecks of Hoosier workers.
"Wages on public projects should be set by the marketplace and not by government bureaucracy," Pence said at the time.
"By repealing the common construction wage, our state is putting hardworking taxpayers first, lessening the burden on cash-strapped local governments and schools, and opening doors of opportunity for small businesses across our state."
Three years later, the first in-depth, non-partisan analysis of the impact of Indiana's common construction wage repeal suggests that Pence was wrong.
The Midwest Economic Policy Institute, in a report provided exclusively to The Times, determined that following common wage repeal Hoosiers working in the construction industry are earning less than they were before, with no meaningful cost savings for Indiana taxpayers.
Worker pay, productivity decline
The institute used U.S. Department of Labor statistics for the four quarters preceding repeal of Indiana's common wage, also known as the prevailing wage, and the four quarters after to determine how the policy enacted by the Republican-controlled General Assembly affected 10 market outcomes.
The study found that construction wages fell in Indiana by an average of 8.5 percent following repeal of the common construction wage, with the lowest-paid workers seeing their paychecks drop by 15 percent.
Over the same period, construction wages in Illinois, Michigan and Ohio — which retained their prevailing wage laws — grew a combined 2.8 percent, according to the report.
The researchers, Frank Manzo IV, of the policy institute, and Kevin Duncan, of Colorado State University-Pueblo, explain that Indiana's common construction wage acted like a minimum wage for skilled construction workers, reducing income inequality by stabilizing the wage floor.
When it was removed not only did wages drop in Indiana, but the state's construction industry had to turn to individuals with fewer skills to fill positions that previously employed Hoosiers with training and credentials beyond a high school education.
The changes in the construction industry workforce negatively impacted worker productivity, which grew at a slower rate in Indiana compared to Illinois, Michigan and Ohio.
The study found worker productivity in Indiana only increased 4.4 percent between 2014 (before repeal) and 2016. It grew 9.8 percent over the same period in the neighboring states.
According to Manzo and Duncan, that means while public projects in Indiana appear to cost 2.1 percent less per hour, contractors and taxpayers are paying workers that are 5.3 percentage-points less productive per hour.
As a result, the relative decrease in worker productivity more than offsets any benefits from Indiana's lower wages, they said.
No public works savings
The researchers also analyzed public construction bid data in 14 northern Indiana counties, including Lake, Porter, LaPorte, Newton and Jasper, to determine how common construction wage repeal affected competition, union jobs and school construction.
Records show prior to repeal, public works projects received, on average, three bids.
Repeal proponents claimed repeal would increase competition. Though, post-repeal, governments saw little change, still receiving an average of 2.9 bids per project, according to the study.
Repeal supporters also claimed the common construction wage favored union contractors.
But, in fact, union businesses grew their market share post-repeal to 91 percent of market value, up from 87 percent.
Finally, the analysis found no significant change in the value of Indiana public school construction costs following repeal of the common construction wage.
"The early data from Indiana is unambiguous, and confirms what most peer-reviewed economists have been saying for decades," Duncan said.
"Repeal of prevailing wage laws does not save taxpayer dollars, but it shrinks middle class paychecks, hurts the economy, and causes problems ranging from lower productivity to higher turnover for the construction industry."
Legislative reaction
State Rep. Ed Soliday, R-Valparaiso, who joined the entire Northwest Indiana legislative delegation in voting against common wage repeal in 2015, said the study confirms what he thought all along: "It hasn't saved us a penny."
"When you have the common construction wage ... you hire local people and they spend their money locally," Soliday said.
"When you go out-of-state and so forth, and just chase price instead of the overall macroeconomic contribution, you wind up weakening your own community."
Soliday said instead of repeal he would have preferred lawmakers consider legislation to change how the common wage worked.
But he also doesn't anticipate the issue coming before the House again anytime soon because within the Republican supermajority Soliday said there's "an honest difference of opinion among respectable people."
House Speaker Brian Bosma, R-Indianapolis, was one of the co-sponsors of the common wage repeal law.
Bosma said last week that he has yet to read the policy institute study, but has seen plenty of anecdotal evidence that the law is working as intended.
"It has changed the cost of public projects, I know it has because that's part of my law practice," Bosma said.
"I'm not sure that the finances have changed on it, but the projects may have become bigger for the same amount of money."
The Indiana Department of Labor is due to submit to the General Assembly its own analysis of the five-year impact of common construction wage repeal in 2021.