OKLAHOMA CITY — One name missing in outgoing President Donald Trump's flurry of pardons is "Tiger King" Joe Exotic.
His team was so confident in a pardon that they'd readied a celebratory limousine and a hair and wardrobe team to whisk away the zookeeper-turned-reality-TV-star, who is now serving a 22-year federal prison sentence in Texas. But he wasn't on the list announced Wednesday morning.
Joe Exotic, whose real name is Joseph Maldonado-Passage, was sentenced in January 2020 to 22 years in federal prison for violating federal wildlife laws and for his role in a failed murder-for-hire plot targeting his chief rival, Carole Baskin, who runs a rescue sanctuary for big cats in Florida. Baskin was not harmed.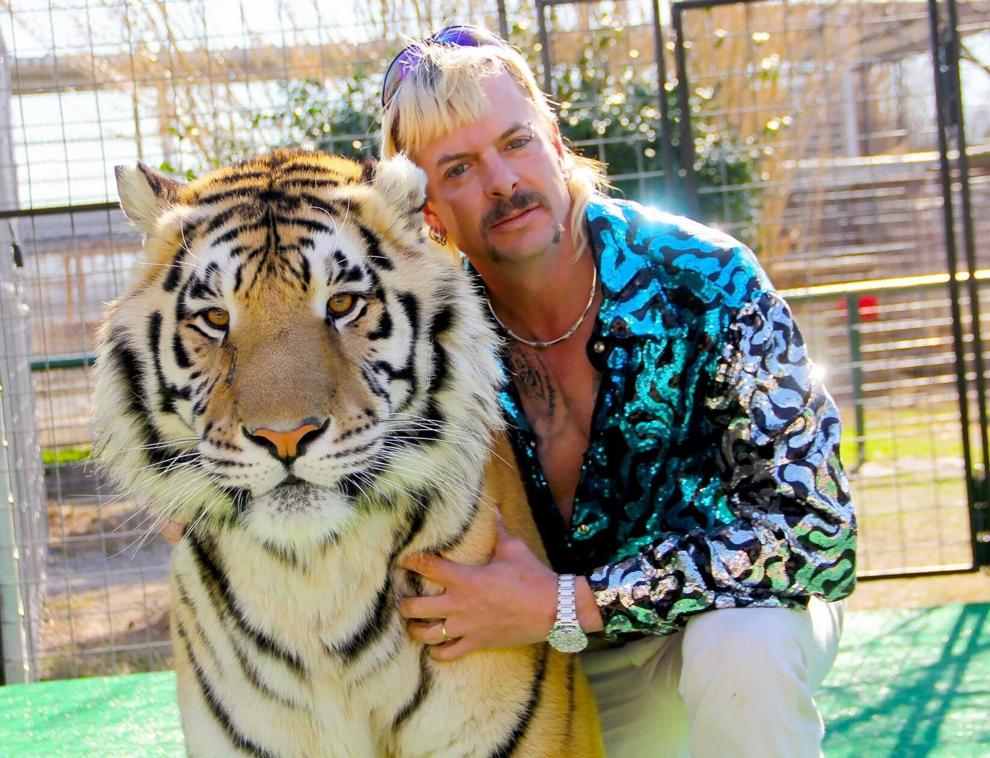 Maldonado-Passage, who has maintained his innocence, was also sentenced for killing five tigers, selling tiger cubs and falsifying wildlife records. A jury convicted him in April 2019.
In his pardon application filed in September, Maldonado-Passage's attorneys argued that he was "railroaded and betrayed" by others. Maldonado-Passage, 57, is scheduled to be released from custody in 2037, but his attorneys said in the application that "he will likely die in prison" because of health concerns.
The blond mullet-wearing zookeeper, known for his expletive-laden rants on YouTube and a failed 2018 Oklahoma gubernatorial campaign, was prominently featured in the popular Netflix documentary "Tiger King: Murder, Mayhem and Madness."
Two rappers were among the entertainment figures included in the list of 140 people who were pardoned or had their sentences commuted.
— Rapper Lil Wayne, whose real name is Dwayne Michael Carter Jr., was given a full pardon. The Grammy winner was charged in Florida on Nov. 17 with possession of a firearm by a convicted felon, a federal offense that carries a potential sentence of up to 10 years in prison. In the pardon, Lil Wayne was praised for his "commitment to a variety of charities, including donations to research hospitals and a host of foodbanks." Pro Football Hall of Famer Deion Sanders backed the pardon. Lil Wayne is one of the seminal figures in rap in the last two decades, selling more than 20 million albums in the U.S. since releasing his debut in 1999. Sentencing for the rapper, who frequently expressed support for Trump, was set for Jan. 28. In a statement, Carter's attorney Howard Srebnick said a pardon was appropriate since "prosecuting a non-violent citizen for merely possessing a firearm violates the Second Amendment to the U. S. Constitution."
— Rapper Kodak Black, born Bill K. Kapri, was granted a commutation. The "Tunnel Vision" rapper is serving a three-year prison sentence for falsifying documents used to purchase weapons at a Miami gun store. Supporters included Gucci Mane, Lil Pump, Lil Yachty, and athletes Lamar Jackson and Jack Brewer. Kodak Black has sold over 30 million singles since 2014, and has had several multiplatinum and platinum-certified singles, including "Zeze," "No Flockin'" and "Roll in Peace." His lawyer, Bradford Cohen, was once a contestant on Trump's "Celebrity Apprentice" show. The pardon notes that Kodak Black paid for schoolchildren's notebooks, supplies to daycare centers and food for the hungry, and donated $50,000 for restaurants in his hometown of Pompano Beach, Florida.
50 worst TV series of 2020
#50. Soulmates
#49. Little Voice
#48. Your Honor
#47. Penny Dreadful: City Of Angels
#46. Animaniacs
#45. Truth Seekers
#44. Helter Skelter: An American Myth
#43. We Hunt Together
#42. Star Trek: Lower Decks
#41. Cursed
#40. The Liberator
#39. Away
#38. The Comey Rule
#37. Emily in Paris
#36. neXt
#35. Tommy
#34. Council Of Dads
#33. Big Sky
#32. Unsolved Mysteries
#31. Coastal Elites
#30. The Twilight Zone
#29. Utopia
#28. Social Distance
#27. Hollywood
#26. Snowpiercer
#25. Love in the Time of Corona
#24. Intelligence
#23. Love Life
#22. Interrogation
#21. Brave New World
#20. Hunters
#19. Filthy Rich
#18. White Lines
#17. Deputy
#16. Amazing Stories
#15. Ratched
#14. Motherland: Fort Salem
#13. Space Force
#12. The Walking Dead: World Beyond
#11. Selena: The Series
#10. Crossing Swords
#9. Messiah
#8. AJ and the Queen
#7. The Politician
#6. Too Hot to Handle
#5. The Goop Lab with Gwyneth Paltrow
#4. Helstrom
#3. Indebted
#2. The Duchess
#1. Hoops