Check back here daily for the latest oddball stories that just may give you a chuckle or leave you scratching your head.
Even the eyelashes freeze: Russia sees minus 88.6 degrees F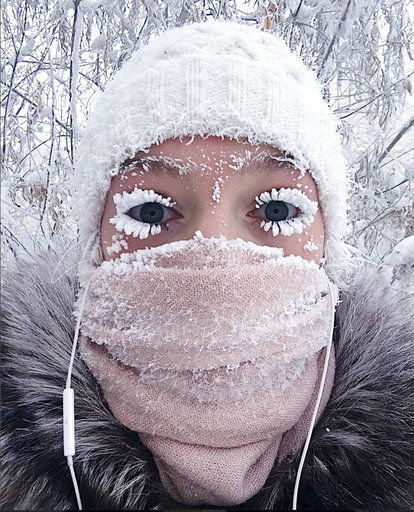 MOSCOW — Even thermometers can't keep up with the plunging temperatures in Russia's remote Yakutia region, which hit minus 67 degrees Celsius (minus 88.6 degrees Fahrenheit) in some areas Tuesday.
In Yakutia — a region of 1 million people about 3,300 miles (5,300 kilometers) east of Moscow — students routinely go to school even in minus 40 degrees. But school was canceled Tuesday throughout the region and police ordered parents to keep their children inside.
In the village of Oymyakon, one of the coldest inhabited places on earth, state-owned Russian television showed the mercury falling to the bottom of a thermometer that was only set up to measure down to minus 50 degrees. In 2013, Oymyakon recorded an all-time low of minus 71 degrees Celsius (minus 98 Fahrenheit).
Over the weekend, two men froze to death when they tried to walk to a nearby farm after their car broke down. Three other men with them survived because they were wearing warmer clothes, investigators reported.
But the press office for Yakutia's governor said Tuesday that all households and businesses in the region have working central heating and access to backup power generators.
Residents of Yakutia are no strangers to cold weather and this week's cold spell was not even dominating local news headlines Tuesday.
But some media outlets published cold-weather selfies and stories about stunts in the extreme cold. Women posted pictures of their frozen eyelashes, while YakutiaMedia published a picture of Chinese students who got undressed to take a plunge in a thermal spring.
No longer governor, Christie gets regular airport screening
TRENTON, N.J. — Chris Christie is learning life as an airline passenger is different when you're no longer governor.
When Christie and his New Jersey State Police security detail arrived at Newark Liberty Airport on Thursday, two days after he left office, they headed to a special access area used by dignitaries for security clearance.
But a law enforcement official familiar with the encounter tells The Associated Press that an airport police officer and a Transportation Security Administration officer directed them to the regular screening line for all passengers. The official spoke on condition of anonymity because he wasn't authorized to publicly discuss the matter.
The official says Christie complied and did not attempt to use the special entrance.
The Republican ex-governor couldn't be immediately reached for comment through an ex-aide.
80-year-old accused of bank robbery has decades-old record
PHOENIX — The lanky, bespectacled man walked into a bank in a strip mall on Tucson's northern edge with a gun, demanded that a teller hand over an undisclosed amount of cash and made his escape on foot.
Experts say the heist on Friday at the Pyramid Federal Credit Union branch represents a rarity in the world of bank robbery: The suspect, who was arrested the next day, is 80 years old.
And as it turns out, suspect Robert Francis Krebs has a decades-old criminal record for stealing from banks, including a 1981 robbery in Florida in which a branch manager and a teller were handcuffed and left in a vault.
Robert Francis Krebs served more than 30 years in prison for the bank robbery near Orlando and has a 1966 conviction in Chicago for embezzling $72,000 from a bank where he worked as a teller. He also did time for theft and armed robbery convictions from Arizona dating back to 1980.
He was released from prison in Florida last summer and has since been found to have violated his probation because he didn't disclose his whereabouts to authorities, according to the Florida Department of Corrections.
Krebs, whose is jailed on a $50,000 bond, was booked on suspicion of armed robbery in the Tucson, Arizona, robbery. It's unclear whether Krebs has yet been assigned an attorney.
Tucson police spokesman Officer Chris Hawkins said investigators are trying to determine the motive behind Friday's robbery.
William J. Rehder, a retired FBI bank robbery expert who isn't involved in Krebs' case, said it's unusual for elderly people to carry out robberies. Typically, bank robbers are in their 20s.
Rehder said Krebs' motivations are likely two-fold: He misses the thrill of pulling off a bank job and needs money, given that he's an octogenarian with little potential to earn money after spending decades in prison.
"This guy sounds more like he is hooked on the action," Rehder said.
Krebs isn't the oldest bank robbery suspect.
Rehder pointed out the case of J.L. Hunter "Red" Rountree, who had been dubbed America's oldest bank robber.
Rountree was convicted of committing robberies at banks during the late 1990s and early 2000s in Mississippi, Florida and Texas. He committed two robberies in his mid-80s and was 91 at the time of his last heist. He died in federal prison a few months before his 93rd birthday.
In the Tucson robbery, Krebs was arrested after a hotel employee, who had refused to give him a room because he didn't have a credit card, later recognized him from surveillance photos that were posted on social media. Officers then went to other nearby hotels and eventually located him.
The Tucson Police Department, which arrested Krebs, and the FBI have declined to confirm that Krebs had prior convictions for robberies.
But The Associated Press confirmed Krebs' convictions by matching his birth date to prison records in Florida, information given by prison officials and news clippings from his criminal cases.
In the 1981 robbery in Florida, Krebs stole $8,300 from a bank near Longwood, Florida. The branch manager and teller had tripped a silent alarm and were later put into the bank vault, according to news accounts by The Orlando Sentinel.
Krebs, who was arrested when walked into the bank's parking lot, was disguised in a red wig, had cotton in his cheeks and varnished his fingertips to leave no fingerprints. Investigators discovered three getaway cars parked along his escape route, according to the newspaper.
Prison officials confirmed that Krebs had theft and armed robbery convictions in Arizona, but no records were available that would provide specifics in the cases.
A few months before the Florida robbery, Krebs was considered a suspect in an April 1981 robbery at a bank in Tucson in which four men stole $3.3 million. But the Sentinel noted in a 1988 news story that Krebs was no longer considered to be a suspect.
Months before the Tucson robbery, a man helped Krebs escape from the custody of the Pima County Sheriff's Office after he was arrested for driving a stolen car. Krebs' associate drew a gun and held two sheriff's deputies at bay while Krebs escaped, according to an AP story on the 1981 robbery in Tucson.
———
News researcher Rhonda Shafner in New York contributed to this report. Follow Jacques Billeaud at www.twitter.com/jacquesbilleaud. His work can be found at https://www.apnews.com/search/jacques%20billeaud.
Paper cup allegedly used by Elvis Presley up for auction
TULSA, Okla. — A paper cup allegedly used by Elvis Presley six decades ago in Oklahoma is up for auction, and bids have already surpassed $1,200.
North Carolina resident Wade Jones is a collector of all things Elvis. He tells the Tulsa World that the crumpled blue-and-white Dixie cup was snagged by a fan in April 1956, after Elvis performed at the Tulsa Fairgrounds Pavilion.
Jones says a fan named June allegedly retrieved the cup the day after the performance, right before Elvis left town for a show in Oklahoma City. A letter accompanying the collector's item says June had asked to keep the cup "as a little memento."
Bids for the now-yellowed paper cup had surpassed $1,280 on eBay by mid-day Wednesday. Jones says the auction closes Sunday evening.
Mom tells cops her son is dead, leads them on 2-state chase
NASHUA, N.H. — Police in New Hampshire say when they went to an apartment to arrest a man on a drug charge, his mother told them he was fatally shot inside and then led them on a two-state chase.
A body hasn't been found.
WMUR-TV reports 54-year-old Carmelita Vergez pleaded not guilty Thursday to several misdemeanor counts.
Police in Nashua say Vergez told them Wednesday about her son's death, but drove off as they attempted to learn more. They said Vergez led them into Tyngsborough, Massachusetts, where she caused a minor collision before driving back to Nashua, about 20 miles.
Police arrested her after her van struck another vehicle and she ran off.
Officials: 5th grader mistakenly gave pot candy in school
ALBUQUERQUE, N.M. — Officials at an Albuquerque charter school say a fifth-grader mistook her parents' medicinal marijuana for candy and passed it out to other students.
KRQE-TV in Albuquerque, New Mexico, reports the Albuquerque School of Excellence student handed out the pot edibles last week before teachers noticed her acting strangely.
Kristy Del Curto, Dean of Elementary Students, says that student also complained she couldn't see.
Del Curto says three students ate one gummy and the student who passed out the candy ate three or four pieces.
Pot gummies can be two to 100 times more potent than traditional marijuana.
Del Curto says school officials called 911 and paramedics monitored all the students to make sure they were not having dangerous reactions.
———
Information from: KRQE-TV, http://www.krqe.com
Headless chickens found in Connecticut courtroom
BRIDGEPORT, Conn. — Authorities in Connecticut are investigating the discovery of two decapitated chickens inside a courtroom.
Judicial marshals and maintenance staff investigating a putrid smell made the grisly discovery Wednesday morning in the public seating area of a courtroom in a state courthouse in Bridgeport.
The headless chickens were under a bench.
Authorities say the carcasses were decorated in silver, green and gold glitter. There was no immediate indication how the decapitated chickens got there and the discovery is under investigation.
The Connecticut Post reports that decapitated chickens have been found outside city courthouses before, but never inside. The placement of decapitated chickens is used in Santeria, an Afro-Caribbean religion, to protect a person from being found guilty of a crime.
———
Information from: Connecticut Post, http://www.connpost.com
Motion-activated cameras capture animals being wild, weird
CHEYENNE, Wyo. — How does a bighorn sheep say "cheese?"
Some charismatic critters caught by motion-detecting wildlife cameras seem to know how to strike a pose. But it's not just show business. As these devices get ever smaller, cheaper and more reliable, scientists across the U.S. are using them to document elusive creatures like never before.
"There's no doubt — it is an incredible tool to acquire data on wildlife," said Grant Harris, a U.S. Fish and Wildlife Service wildlife biologist based in Albuquerque, New Mexico.
Remote cameras have photographed everything from small desert cats called ocelots to snow-loving lynx high in the Northern Rockies.
Harris cited images of javelinas, pig-like desert mammals, and coatimundi, members of the raccoon family, captured at higher latitudes in recent years. That could mean global warming is expanding their range northward, he said.
Scientists deploying remote cameras in their work include researchers with the Wyoming Migration Initiative, who use global positioning to map the movements of elk, mule deer and antelope in and around Yellowstone National Park. They only have so many collars to track animals, meaning there's a limit to the GPS data they can gather, said Matthew Kauffman, a University of Wyoming associate professor and initiative director.
"You see one animal migrating, you don't know if it's migrating by itself, if it's migrating with a calf, or if it's migrating with 40 other animals," Kauffman said.
Remote cameras — which can be left in the backcountry for days, weeks or even months — help fill in blanks by showing how many animals are on the move over a given period, he said.
Where to position them requires careful forethought. Clustering several around a watering hole, for instance, might produce many images but not a thorough profile of a population.
"There's this tension between subjectivity in where you put your camera and where it's statistically sound," Harris said.
Sometimes smart-alecky humans turn up among the images. "I've seen people moon cameras, and that's always funny," he said.
Remote video can also reveal details about animal behavior, including the mewling sounds of migrating mule deer. And live-streaming cameras for everything from bison in Saskatchewan, Canada, to the underwater kelp forest off California's Channel Islands are always popular.
As with all human intrusion into nature, remote cameras have downsides. Animals such as wolverines and bears have been known to attack them, though whether out of curiosity or aggression is hard to say.
Also, the devices have become popular tools to help hunters scout for game, sparking a debate over fair-chase ethics. Then there's the whole subjective thing about going into nature to get away from it all, including surveillance cameras.
Anyway, to answer the question: A bighorn sheep that looks like it's smiling probably isn't saying "cheese" but sniffing pheromones and other scents in what's called a flehmen response, said Harris.
In other words ... bleats us.
———
Follow Mead Gruver at https://twitter.com/meadgruver
Waitress returns from Penn State hangout after 61 years
STATE COLLEGE, Pa. — An 81-year-old waitress who has been a fixture at a popular Penn State hangout for more than six decades has worked her final shift.
Emma Gunsallus retired Tuesday from The Corner Room, where she worked as a waitress for 61 years. The Centre Daily Times reports Gunsallus worked her first shift at the restaurant in the 1950s and has not missed a shift since.
"To me the restaurant has meant good food and good people," Gunsallus said. "But the people is what I'll miss."
One of the patrons she likes to reminisce about is former Penn State football coach Joe Paterno, who was an assistant coach on Rip Engle's staff when she started her career at the restaurant.
Paterno was a regular and he always took the time to find Gunsallus and give her a hug, just like many alumni who came in when they were in town, co-owner John Cocolin said.
Cocolin says Gunsallus' greatest contribution has been her big smile and infectious personality.
"People just love her and it's meant a lot to me to be able to see all of the people who came in and were so happy just to see her," he said.
Recently, she moved to a hostess position which still let her greet and chat with the regulars.
Since word spread at the restaurant that Gunsallus was retiring, she's received gifts from customers. General Manager John Briggs says there had been a steady stream of people coming in to wish her well.
"She's a living legend if you will and an iconic member of the community," he said. "We're going to really miss her."
———
Information from: Centre Daily Times, http://www.centredaily.com
Umbrella mistaken for weapon causes hospital lockdown
KIRKLAND, Wash. — An umbrella sparked a scare at a Seattle-area hospital after it was mistaken for a rifle.
KOMO reports an employee of Evergreen Medical Center in Kirkland, Washington, noticed a visitor Wednesday morning carrying a backpack that had a long-handled item sticking from the top of it.
Evergreen Health spokeswoman Kay Taylor said surveillance video was reviewed but it wasn't clear what the object was. As a precaution the facility was locked down and the hospital sent out the surveillance photo.
The man in the photo recognized himself and contacted hospital security to let them know it was an umbrella with a handle that's shaped like a sword.
Police confirmed it was not a weapon and the lockdown was lifted.
———
This story has been updated to correct the spelling of Taylor.
Spain, Portugal seize cocaine hidden in shipped pineapples
LISBON, Portugal — Spanish and Portuguese police say a joint operation resulted in the seizure of 745 kilograms (1,642 pounds) of cocaine, much of it allegedly concealed inside pineapples shipped from Latin America.
The Iberian police forces announced the big drug bust on Wednesday. They said it unfolded over several months, led to nine arrests and broke up an international smuggling ring led by Colombians.
In November, Spanish police discovered almost 400 kilograms (880 pounds) of cocaine in Madrid and Barcelona. They say that led to an import company shipping fruit from Panama to Portugal and to a search of ships at the port of Lisbon.
The searches uncovered wax-covered cylinders hidden inside pineapples and containing more than 300 kilograms (660 pounds) of cocaine in all. Also seized was 400,000 euros ($489,000) in cash.
Mom-daughter duo show 2 carjackers crime and cocoa don't mix
WOODBRIDGE, Va. — Police in the Virginia suburbs of the nation's capital say two would-be carjackers fled from their intended victims when a splash of hot cocoa and a dash of resourcefulness entered the mix.
Police in Prince William County, Virginia, said in a statement that a 50-year-old woman exited a 7-Eleven convenience store on Saturday night with some purchased items when two men, one with a handgun, approached and demanded her vehicle.
Police say the woman struck one man with her bag before her 22-year-old daughter threw her hot chocolate toward both men, who then fled on foot.
No one was hurt and no property was taken.
Massachusetts police arrest man for stealing manhole covers
WEBSTER, Mass. — Massachusetts police say they have arrested a man who stole seven manhole covers and put traffic cones in their place.
The Telegram & Gazette reports the 46-year-old Webster man was arrested Friday and charged with larceny.
Police say they first received a call around 2:45 p.m. last Wednesday from a witness who saw the suspect taking a manhole cover in Webster. Authorities received several other calls about missing manhole covers, and they say they stopped a vehicle matching the witness' description later that day.
Police say the suspect acknowledged taking the manhole covers and pointed officers to where he had sold them. Authorities recovered the covers Wednesday from a Millbury salvage yard.
Webster sewer superintendent William Burke says they replaced to stolen covers with spares.
———
Information from: Telegram & Gazette (Worcester, Mass.), http://www.telegram.com
German linguists: 'Alternative facts' the non-word of 2017
BERLIN — German linguists have declared the phrase "alternative facts," popularized by White House aide Kellyanne Conway, the non-word of 2017.
Conway used the phrase last year when asked why President Donald Trump's then-Press Secretary Sean Spicer mischaracterized the size of the inauguration crowd.
A team of six language experts at Darmstadt University chose "alternative facts" from among 684 suggestions.
German news agency dpa quoted the head of the panel as saying Tuesday the phrase represents the growing practice of "replacing factual arguments with claims that cannot be proven."
Each year the panel singles out a phrase that runs counter to the principles of democracy or human dignity. Last year it chose the German term "Volksverraeter," roughly "traitor to one's people," used by far-right groups to label politicians who they disagree with.
2 men hit each other in consecutive accidents in Germany
BERLIN — Police in the eastern German city of Dresden say two men suffered minor injuries after backing in to one another in two consecutive accidents.
Police said Tuesday that a 49-year-old man pulled into a disabled parking place on Monday afternoon, then reversed out after noticing his mistake.
As he backed out, he accidentally hit a 72-year-old man walking behind him, injuring him slightly.
After the two men exchanged information for a report, the older man got in his car and backed out of his own parking spot, hitting the younger man in the process and slightly injuring him.
Police say it was at that point they were called to the scene of the two accidents in the Saxony capital.
Wallaby hops across Sydney Harbor Bridge, captured uninjured
SYDNEY — A wayward wallaby disrupted downtown traffic by bounding across the Sydney Harbor Bridge on Tuesday with police in pursuit.
The adult male was captured without any apparent serious injury and is expected to be released back into the wild within days.
Swamp wallabies, which are smaller marsupials than their kangaroo cousins, are common across eastern Australia, but are rarely seen in cities.
The startled wallaby hopped across the bridge's eight lanes of traffic an hour before sunrise then turned onto an expressway on the harbor's southern shore toward the Sydney Opera House. A pursuing police car with flashing lights videoed the animal's steady bounding before police officers captured him near the Sydney Conservatorium of Music and wrangled him into a horse float, police said.
Veterinarian Larry Vogelnest said the wallaby was "quite distressed" but he gave it a tranquilizer before taking it to the wildlife hospital at nearby Taronga Zoo.
"It had some minor grazes on its face and its hind legs," Vogelnest told reporters. "There don't seem to be any major injuries."
Vogel said he did not know where the wallaby had come from or how it found its way to the bridge.
"It's unusual obviously to have a wallaby running around on the Harbor Bridge, but there are more and more of these wallabies turning up in bush land close to the city," Vogelnest said.
Police Inspector Kylie Smith said several police cars plus horse-handlers from the police mounted unit had responded to the wallaby alert.
"When police arrived, the wallaby refused to obey police directions and initially evaded police," Smith joked.
Six officers eventually nabbed the macropod, including the horse-handlers who attempted to calm it down, she said.
"It was a very unusual job for a city police officer to be chasing a wallaby down the Harbor Bridge," she said, adding that the officers involved would likely never be assigned a similar job.
The wallaby was lucky it did not attempt the journey an hour later at 6 a.m. local time when traffic would have been far heavier, Smith said.
A motorist who identified himself as Ray told Sydney Radio 2GB of his surprise at seeing police cars with flashing lights pursuing a wallaby.
"I'm from the bush, I'm used to seeing them running all over the place, but I've never seen one so close in the city before," Ray said.
Shiver me timbers! New signs pirates liked booty — and books
RALEIGH, N.C. — Dead men tell no tales, but there's new evidence that somebody aboard the pirate Blackbeard's flagship harbored books among the booty.
In an unusual find, researchers have discovered shreds of paper bearing legible printing that somehow survived three centuries underwater on the sunken vessel. And after more than a year of research that ranged as far as Scotland, they managed to identify them as fragments of a book about nautical voyages published in the early 1700s.
Conservators for Blackbeard's ship the Queen Anne's Revenge found the 16 fragments of paper wedged inside the chamber for a breech-loading cannon, with the largest piece being the size of a quarter.
The Queen Anne's Revenge had been a French slave ship when Blackbeard captured it in 1717 and renamed it. The vessel ran aground in Beaufort, in what was then the colony of North Carolina, in June 1718. Volunteers with the Royal Navy killed Blackbeard in Ocracoke Inlet that same year.
Tens of thousands of artifacts have been recovered since Florida-based research firm Intersal Inc. located the shipwreck off the North Carolina coast in 1996 but few, if any, are as surprising as pieces of paper. To find paper in a 300-year-old shipwreck in warm waters is "almost unheard of," said Erik Farrell, a conservator at the QAR Conservation Lab in Greenville.
Eventually, the conservators determined that the words "south" and "fathom" were in the text, suggesting a maritime or navigational book. But one word, Hilo, stood out because it was both capitalized and in italics, said Kimberly Kenyon, also a conservator at the lab.
They turned to Johanna Green, a specialist in the history of printed text at the University of Glasgow, who pointed them to the Spanish settlement of Ilo — or Hilo — on the coast of Peru. The fragments eventually were determined to be from a 1712 first edition of a book by Capt. Edward Cooke titled "A Voyage to the South Seas, and Round the World, Peform'd in the years 1708, 1709, 1710 and 1711."
It's impossible to say who aboard Blackbeard's ship would have been reading the voyage narrative — a form popular in England in the 17th and 18th century — or whether it belonged to a pirate or some terrified captive. But some pirates were known to be literate, Kenyon said.
For example, Stede Bonnett, the "gentleman pirate" who joined Blackbeard in 1717, had his own library. It's not known if he brought his books on the Queen Anne's Revenge.
A history of pirates written in 1724 mentions a journal belonging to Blackbeard that was taken when he was killed. And when Blackbeard captured a ship called the Margaret in December 1717, the list of items taken from the ship included books, Farrell said.
"They were literate men," Kenyon said. "People always assume pirates are ruffians from bad backgrounds, and that wasn't always the case."
The survival of the paper fragments is perhaps even more unusual than their existence aboard the pirate vessel.
The chamber in which they were found was a separate piece of a breech-loading swivel gun that was likely kept on the top deck because it was used as an anti-personnel weapon, Farrell said. Conservators don't have the cannon itself, which likely was salvaged or stolen when the Queen Anne's Revenge ran aground. In cannons of that period, "wadding" material such as cloth or paper would usually be stuffed behind a cannonball. So it's also possible someone just tore up the book without reading it to use it for firepower.
Conservators had removed a wooden plug from the chamber so they could clean it when they discovered the paper fragments stuffed in there, along with pieces of fabric in May 2016, Farrell said. That mass was removed easily enough, but prying the fragments from the fabric was more tedious and time-consuming, he said.
The combination of fabric and the plug likely protected the paper, which normally would have disintegrated in water, Farrell said.
But the ability to read doesn't change the evil character of pirates, who ransacked, raped and killed.
"The fact that they're literate doesn't mean they're not terrible, marauding people," Farrell said. "It just adds some nuance."
———
Follow Martha Waggoner at http://twitter.com/mjwaggonernc