Check back here daily for the latest oddball stories that just may give you a chuckle or leave you scratching your head.
Hippo roaming loose for months in southern Mexico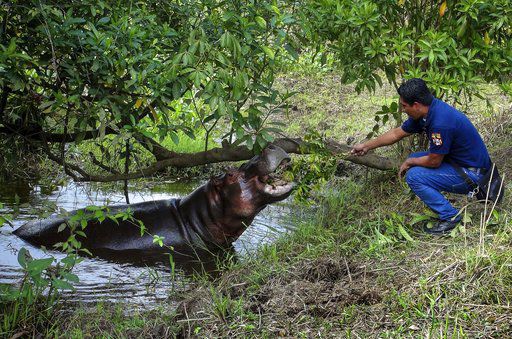 MEXICO CITY — Authorities say they're worried about a hippopotamus that is roaming loose in a swampy area of southern Mexico.
Nobody knows where the animal came from, but hippos are not native to the country. The hippo appears to have been living in a pair of ponds near Las Chopas, in the Gulf coast state of Veracruz.
Mexico's office for environmental protection said Thursday that experts are looking for the best way to trap and move the three-year-old, 1,320-pound (600 kilogram) mammal. It also said hippos can be aggressive, posing a potential danger to the public and native species.
The hippo was first spotted by local media near a garbage dump in January. Residents of the town have come to love the animal so much they have nicknamed it "Tyson."
No horseplay: Florida club closed due to hoofed attraction
MIAMI BEACH, Fla. — A bit featuring a scantily clad woman riding bareback on a white horse has prompted officials to shut down a Florida nightclub.
Miami Beach City Manager Jimmy Morales announced Friday that he was revoking the Mokai Lounge's business license.
A video went viral Thursday night that showed the woman riding the horse inside the club. As the animal moved through the crowded space, it appeared to panic, and the woman fell off.
Miami Beach police and code-enforcement officers began investigating after receiving multiple complaints, which ultimately led to the club shutting down. No injuries have been reported to humans or the animal.
Mokai Lounge can appeal the license revocation to the city's special master. No one from the club immediately responded to a telephone message left by The Associated Press.
Aging kangaroo to get cryotherapy treatment for arthritis
NEW YORK — An aging kangaroo who calls the Bronx Zoo home is receiving cryotherapy treatment for arthritis.
The treatment is a high-tech alternative to ice baths that humans have used for years.
Zoo director Jim Breheny tells the Daily News that the nearly 15-year-old marsupial named Dave is getting up there and his stiff joints are aching.
Breheny says the treatment might sound exotic but that it's really just one course of healing the 200 medical experts at the zoo in New York City utilize to treat some 7,000 different species.
Dave's saga with localized cryotherapy treatment will be documented by Animal Planet's latest season of "The Zoo."
Cryotherapy has become commercially popular in recent years. Some Manhattan facilities charge humans as much as $90 for a three-minute session.
Couple weds in Jersey high school hall where they met
CLIFTON, N.J. — Two high school sweethearts in New Jersey returned to the high school hallway where they first met nearly three decades ago for their wedding over the weekend.
Chris Gash and Jenn Sudol, who first met when they were freshmen at Clifton High School in 1989, were married Saturday at their old high school. The ceremony was small with just family members, and officiated by Clifton Mayor James Anzaldi — who says he came out of retirement for this ceremony after retiring from wedding officiating a few years ago.
The couple says they dated briefly in high school, but went their separate ways before dating again in 2016.
Gash's daughter, Lucy, says the wedding reminded her of romantic comedy movies she loves to watch.
Police: New Mexico man hit guard over no hotel vacancies
LAS CRUCES, N.M. — A New Mexico man is facing charges after police say he slammed his truck into a security guard when a Las Cruces hotel told him it had no vacancies.
KTSM-TV in El Paso reports Dal Iacofano was arrested last week following the alleged attack at Hotel Encanto.
According to police, the 55-year-old Iacofano became enraged after he arrived at the hotel around 2 a.m. and was told no rooms were available. Police say Iacofano was escorted from the lobby and later hit a security guard with his truck.
Authorities say Iacofano then hit two other parked cars.
Police say they found a gun in Iacofano's truck after he was arrested.
He faces a number of charges, including aggravated assault.
It was not known if he had an attorney.
Amid spat with chief, Mississippi mayor keeps police cuffed
JONESTOWN, Miss. — There's a town of more than 1,000 in Mississippi, and its sole law enforcement officer says the mayor won't let him work more than 20 hours a week. But the mayor says that officer "won't do anything at all."
The Clarksdale Press-Register reported on last Monday's Jonestown City Council meeting, which featured the dispute between Police Chief Rico Smith and Mayor Kenny Lester, who suspended the former for insubordination and laid off the other two officers last month.
At the meeting, Jonestown resident Billy Martin complained that there were no night patrols and that he didn't know when the chief was on duty to handle problems. Smith replied that he didn't want would-be criminals to know his schedule.
Lester said hiring more officers under ineffectual leadership would be useless.