Today's quirky news: Michigan police department picks "Pawfficer"
Check back here daily for the latest oddball stories that just may give you a chuckle or leave you scratching your head.
Michigan police department picks "Pawfficer"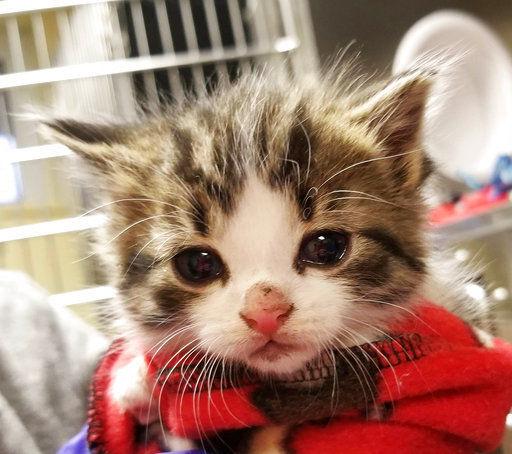 TROY, Mich. — A suburban Detroit police department is giving another cat a chance to take the law into her own paws.
A cat named "Pawfficer Donut" was sworn in Friday by a judge, a day after a cat named Badges was removed from the Troy Police Department due to a serious illness.
Donut will be used for therapeutic purposes and public appearances. Troy police say Badges will always be considered the department's first "pawfficer."
Troy police pledged to add a cat if it could reach 10,000 Twitter followers by April. It took just eight days to go from 4,000 to 10,000.
4 charged with tainting cupcakes with bodily fluids
WINCHESTER, Conn. — Police have charged four people they say brought cupcakes tainted with bodily fluids to their Connecticut school last year.
Two boys and two girls, whose names are not being released because they were juveniles at the time of the alleged actions, were charged Monday with offenses including fourth-degree sexual assault and second-degree breach of peace.
Winchester police said three suspects are now in college and all turned themselves in after learning of their arrest warrants.
Police started investigating last June after getting complaints that the students brought cupcakes to The Gilbert School that were tainted with bodily fluids. Authorities have not specified the fluid.
Authorities say they do not think the substance added to the batter or frosting was toxic and there were no reports of illnesses.
Marriage proposal upstaged by 3-year-old's call of nature
BAY CITY, Mich. — A Michigan boy found a way to make his mark on the occasion of his mother's marriage proposal.
Allyssa Anter said "yes" Saturday to the question popped by her boyfriend, Kevin Przytula. Video shows the bride-to-be and man on bended knee are blissfully unaware that right next to them, 3-year-old Owen Anter had dropped his pants to urinate in front of Bay City's Ring of Friendship sculpture.
They were alerted to the pint-sized proposal crasher by the giggling videographer, Przytula's 11-year-old daughter, Kayleigh.
Allyssa Anter says her son "stole the show," and acknowledges his potty training is a work in progress.
The video was shared Monday by WNEM-TV and The Bay City Times.
Ohio transit bus driver accident-free over 1 million miles
CLEVELAND — If you need to ride a public transit bus in Cleveland and Cuyahoga County, there's no better person behind the wheel than Godwin McNeal.
Cleveland.com reports the 64-year-old McNeal has been a driver for the Greater Cleveland Regional Transit Authority for 40 years, logging an estimated 1.2 million miles (1.9 million kilometers) without causing an accident. Officials say it's the longest preventable accident-free streak in the RTA's history.
McNeal has been driving a 63-foot-long bus along on Euclid Avenue, one of Cleveland's main thoroughfares, weekdays for the last five years from 2:30 a.m. until 1:30 p.m. without breaks.
Asked what his secret might be, McNeal said he doesn't think about it. He then added that patience is needed.
McNeal hopes to retire in 2020 with his streak intact.
Bee on the lookout: Georgia keeper stung by $20K hive heist
LULA, Ga. — A Georgia beekeeper says thieves stole dozens of hives, taking off with up to $20,000 worth of equipment.
Don Kuchenmeister tells WSB-TV the hives disappeared Sunday morning.
With more than five decades of experience in beekeeping, including 35 years as a commercial beekeeper, Kuchenmeister operates Dixie Bee Supply in Banks County, where he often teaches disabled vets his craft.
He theorizes that at least half a dozen people were involved in the heist. He says the thieves likely had beekeeping experience and were looking to either resell the hives or use them to pollinate their own beekeeping business.
Whatever the reason, Kuchenmeister had one message for the abductors: "I hope you get stung good."
Police use app to help rescue 14 ducklings on Mother's Day
BAY SHORE, N.Y. — Police used technology to help save 14 ducklings from a storm drain on Mother's Day.
Officers with the Suffolk Police Department on Long Island on Sunday responded to a 911 call that several ducklings had fallen into a storm drain, with their mother waiting nearby.
Four of the ducklings were rescued immediately, but the rest retreated further into the drain. That's when Officer Steven Damico used a duck-calling application on his phone that helped lure the remaining ducklings out.
A final duckling was unreachable until an officer snagged it with a net.
All the ducklings were safely reunited with their mother.
Better late than never: Library gets book 47 years overdue
SAN FRANCISCO, Calif. — A book nearly five decades overdue has been returned to the San Francisco Public Library.
The copy of Eldridge Cleaver's memoir "Soul On Ice" was due back at the Eureka Valley branch Dec. 9, 1970, making it 47 years, four months and 29 days late. The library's late fee would've been $1,731.70 if it didn't cap the fine at $10.01.
The San Francisco Chronicle reports the paperback's cover is detached from its spine and there's a hole in the title page.
Branch manager Anne Vannucchi told the Chronicle last week she'd like to know who the library patron is so she can get the story behind the returned book.
A man at another branch last year returned his great-grandmother's book titled "Forty Minutes Late" — but it was more than 100 years late.
Las Vegas lawyer who defends DUI cases facing own DUI charge
LAS VEGAS — A Las Vegas attorney who often defends drunken driving suspects is facing a bench trial after being arrested on suspicion of driving under the influence.
The Las Vegas Review-Journal reports 56-year-old John Leo Duffy was arrested March 3 and a bench trial for him is scheduled for July 9.
According to a criminal complaint, Duffy was booked into the Clark County Detention Center and later charged with DUI and failure to maintain a lane.
Duffy was released on his own recognizance.
Because Duffy works closely with the vehicular crimes unit of the county district attorney's office, the Nevada Attorney General's Office has been asked to handle the prosecution of the case.
A county commission is scheduled to vote Tuesday on handing the case to the state AG's Office.
Did a Labrador mix snap a group selfie? Looks that way
LOVELAND, Ohio — An Ohio dog daycare photo has gone viral for capturing what looks like a group of four-legged friends taking a selfie.
The Cincinnati Enquirer reports Go Fetch Dog Daycare and Boarding in Loveland originally posted the photo of the group March 30.
A black Labrador mix named Rouge appears front and center in the photo with several dogs howling in the background.
The photo was shared by a Facebook user who commented that it looks like Rouge was taking a selfie.
The photo has received more than 1,800 Facebook reactions and hundreds of comments, including one from a user saying, "this is exactly how I imagine the entrance to heaven."
Go Fetch owner Matt Ramsey says the dogs get along well, which makes it easy to take photos of them.
Residents try to break world record for largest paper plane
FITCHBURG, Mass. — Residents of a central Massachusetts city are trying to break the world record for largest paper airplane.
The volunteer team of youth, artists, engineers and community leaders from Fitchburg, Mass. are gathering Saturday at the Fitchburg Municipal Airport to help assemble a 64-foot plane made mostly of corrugated cardboard and about as long as a bowling lane.
The group plans to launch the aircraft June 12. The project is being organized by the Revolving Museum, a local public art organization, and city government. It's meant in part to spotlight the city's history as a major paper producer.
Guinness World Records says the largest paper aircraft was constructed by students and employees at the Braunschweig Institute of Technology in Braunschweig, Germany and launched in 2013.
Father, daughter get Temple University degrees together
PHILADELPHIA — A father and daughter in Philadelphia walked across the stage together to get their undergraduate degrees from Temple University.
Craig Manning and his daughter, Juliana, graduated from Temple on Thursday.
He graduated with a Bachelors of Arts degree in film and media arts, and she graduated with a dual major of linguistics and creative writing.
Craig Manning tells WTXF it has been a long road. He started off at a community college, but his wife was in the Air Force and the family was sent to Germany. Over the years, he took classes when he could. He's been working full time while he completed his Temple degree.
He says he didn't want to walk on graduation because he felt too old. He says his wife encouraged him, to show their three other children what it looks like when you achieve your goals.
Black bear devours 2 dozen cupcakes left in baker's car
ROCKAWAY TOWNSHIP, N.J. — The smell of two dozen cupcakes in a baker's car was too much for a black bear in New Jersey.
The bruin smashed a window and left only smeared icing and a paw print behind.
Christine Allen tells The Record the bear ate every single chocolate, vanilla and strawberry cupcake that she had made for a large order. Awaken by the dog barking and a "crunch sound," her husband spotted the bear early Thursday.
Rockaway Township Police Lt. Peter Reilly says it looks like the bear has done some other damage in the area and breaking into a car raises concern. Police have notified wildlife officials.
Allen says while she doesn't want her property destroyed, she doesn't want the bear to be killed.