Check back here daily for the latest oddball stories that just may give you a chuckle or leave you scratching your head.
Wedding dress returned 32 years after dry cleaner mix-up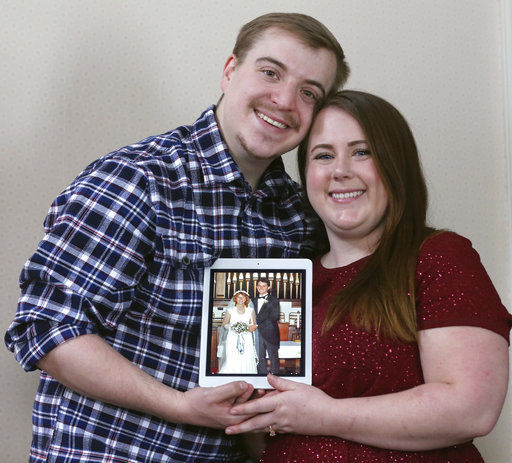 WILLOWICK, Ohio — An Ohio woman had given up hope of seeing her wedding dress again after a dry cleaner mix-up three decades ago until her daughter's friend saw photos of the dress on Facebook.
Michelle Havrilla was nearly speechless after getting the dress back last week for the first time since her 1985 wedding.
Her dress was put in the wrong box by a now-defunct dry cleaner in Willowick and stored in another family's attic.
The Akron Beacon Journal reports Ame Bartlebaugh found the dress on Feb. 4 when she went looking for her mother's wedding dress.
She posted about the mix-up on Facebook, and Havrilla was reunited with the dress within a day.
Bartlebaugh hopes social media will help her find her mom's dress before her own wedding next year.
Police: 'Obit bandit' targets homes of mourners at funerals
BARNSTABLE, Mass. — Police have arrested a man they say broke into people's homes in Massachusetts while they attended wakes or funerals.
Authorities say they began to suspect 35-year-old Randy Brunelle during an investigation into a series of break-ins on Cape Cod. Brunelle previously had served an 18-month prison sentence on a 2012 conviction for breaking into a police officer's home as the officer attended his mother's funeral.
Barnstable police say they followed his car Friday while other officers went to homes of residents attending funerals.
Officers discovered a break-in and pulled Brunelle over. Police say they arrested him after finding jewelry in his pockets.
Brunelle, who police nicknamed the "obit bandit," is facing multiple charges including felony breaking and entering. The Cape Cod Times reports that he ignored a reporter's questions while entering court for his arraignment Monday.
New Jersey capital to use lasers, audio to get rid of crows
TRENTON, N.J. — New Jersey's capital city is taking a high-tech approach to rid the city of an estimated 30,000 crows that are waking up residents and leaving droppings behind.
The U.S. Agriculture Department on Tuesday will begin using pyrotechnics, lasers, spotlights, amplified recordings of crow distress calls and crow effigies to try to scare the birds away from Trenton.
USDA district supervisor and biologist Kimberly Clapper tells NJ.com crows and other birds in the winter form large roosts. Clapper says the crows look for areas where there is less light and few people, such as parking lots.
Clapper says the methods have worked to clear crows from other urban areas.
USDA wildlife officials will spend four consecutive nights in Trenton until Feb. 23.
———
Information from: NJ.com, http://www.nj.com
Professor replaced after insisting Australia isn't a country
MANCHESTER, N.H. — An online adjunct professor incorrectly told a student that Australia isn't a country and gave her a failing grade, prompting Southern New Hampshire University to replace the instructor.
Buzzfeed News reports that the 27-year-old student in Idaho was assigned to compare American social norms to that of another country. She chose to study social media use in Australia, but the professor gave her a zero on that portion of the assignment, saying Australia is a continent, not a country.
Australia is actually both — a country and a continent.
University officials tell WMUR-TV the instructor has been replaced following an investigation. In a statement, the university said it deeply regrets the interaction between the professor and student, and wished athletes from Australia good luck in the Olympic games.
Stranger accused of spanking man's son in Georgia store
NEWNAN, Ga. — Police say a stranger spanked a man's 2-year-old son at a grocery store in Georgia when the toddler kept asking his dad for a candy bar.
A Newnan police report says 62-year-old Juan Martinez was arrested Tuesday night. Police say Martinez smelled like alcohol and slurred his speech.
The 2-year-old's father, James Morris, tells The Newnan Times-Herald his son was asking him for a candy bar in the store's checkout line when Martinez slapped his son's hand and bottom. Morris says his son was not hurt.
Police say Martinez was arrested on charges including battery and obstruction. News outlets reported Thursday that police body camera video shows officers struggling to arrest Martinez.
Martinez is jailed on a $3,390 bond. It is unclear if he has a lawyer.
———
Information from: The Times-Herald, http://www.times-herald.com
Vacancy sign flashes at Florida jail dubbed 'Green Roof Inn'
BUNNELL, Fla. — Looking to stay at the Green Roof Inn? Probably not.
A Florida sheriff says rooms are available and a new retro-neon sign purchased with drug-seized assets features a blinking "vacancy" light.
Flagler County Sheriff Rick Staly has dubbed the county jail the Green Roof Inn. A sign lists the amenities at the facility north of Daytona Beach. There is no privacy, group bathrooms and no meal selection.
But inmates do get free transportation to court and state prisons, designer handcuffs and leg irons, color coordinated jumpsuits and shoes.
A sign at the jail's exit lets inmates know the Green Roof Inn "always has a light on" and beds are available if they break the law again.
Staly says it's a warning that jail is not a "5-star hotel."
———
Information from: Daytona Beach (Fla.) News-Journal, http://www.news-journalonline.com
Japan public grade school under fire over Armani uniform
TOKYO — A Tokyo public school has adopted Giorgio Armani uniforms for students, triggering criticism in a country where hefty school fees are already burdening young parents.
Taimei Elementary School in Tokyo's upscale Ginza shopping district has announced plans to introduce the new uniform option, which costs more than 80,000 yen ($730) for a full set. A minimum set — a navy-blue jacket and matching trousers or skirt, a long-sleeve shirt and a hat — would be more than twice the price of the current uniforms.
The school's principal, Toshitsugu Wada, told a news conference Friday that the top fashion brand would fit Taimei's identity as "a school of Ginza." He said he chose Armani because its boutique is near the school.
Wada acknowledged the new uniform would cost more, but considered it worth it. He said his decision is unchanged despite the criticism.
"I thought Taimei can use the power of the foreign fashion brand for its identity," he said.
The Armani uniform, to be launched in April, is recommended but not compulsory.
In Japan, where a sense of belonging and conformity are valued, uniforms are worn at most secondary schools and used to be considered durable and thrifty. Prices have jumped in recent years and have become a big initial investment for Japanese parents.
"Armani at a public elementary school?" asked Naoki Ogi, a popular education commentator, in his blog. "It's like saying no to poor people and welcoming only those who take pride in Armani."
Besides the cost, critics say uniforms are part of rigid school rules that could infringe on diversity and children's rights.
Government education officials said Friday that school principals are free to set school rules and uniforms, but that in the Taimei case they should have done more to reach a consensus with parents.
"Schools should be mindful of uniform prices so that parents won't be overburdened," Education Minister Yoshimasa Hayashi told reporters. "We also expect them to have sufficient discussions in the process with involved parties" including students, parents or parent-teacher associations.
The Armani uniform also came under attack in parliament Thursday.
"School uniforms are already more expensive than the business suits we wear," said Manabu Terata, an opposition lawmaker. "But these uniforms at Taimei Elementary School are especially questionable."
School uniforms tend to be expensive because they come with special school emblems, buttons and other designs.
It's also a billion-dollar market, dominated by a few major manufacturers and competition is lacking, according to a recent Fair Trade Commission report.
Even Finance Minister Taro Aso, a descendant of a former aristocrat known for his dandy fashion, called the costs "pricey."
———
Follow Mari Yamaguchi on Twitter at https://www.twitter.com/mariyamaguchi
Find her work at https://www.apnews.com/search/mari%20yamaguchi
Fans return Eagles CB Sidney Jones' lost cellphone
PHILADELPHIA — A group of fans have helped return Philadelphia Eagles rookie cornerback Sidney Jones' lost cellphone during the team's Super Bowl victory parade — but not before taking a selfie.
Jones was with several of his teammates in Philadelphia on Thursday as they celebrated the Eagles' 41-33 victory over the favored New England Patriots when his phone reportedly fell out of his back pocket.
A photo appeared on the player's verified Instagram page shortly afterward that showed several smiling fans with the caption, "Guess who dropped their phone at the parade!" The fans promised to return it.
Jones confirmed his cellphone was missing in a post on Twitter.
He later posted an image on Instagram of him among a group of fans saying he got his phone back with the hashtag "#RealLove."
Drivers, and Oxford comma, come up big in lawsuit settlement
PORTLAND, Maine — A Maine dairy company has settled a lawsuit over an overtime dispute that was the subject of a ruling hinging on the use of the Oxford comma.
Drivers with Oakhurst Dairy filed the lawsuit in 2014 seeking more than $10 million. Court documents filed Thursday show that they settled for $5 million.
A federal appeals court decided to keep the drivers' lawsuit alive last year. The suit concerned an exemption from Maine's overtime law that says it doesn't apply to "canning, processing, preserving, freezing, drying, marketing, storing, packing for shipment or distribution of" foods.
The disagreement stemmed from the fact there's no Oxford, or serial, comma in the "packing for shipment or distribution" part. The drivers said the words referred to the activity of packing and shipping, but they don't do any packing.