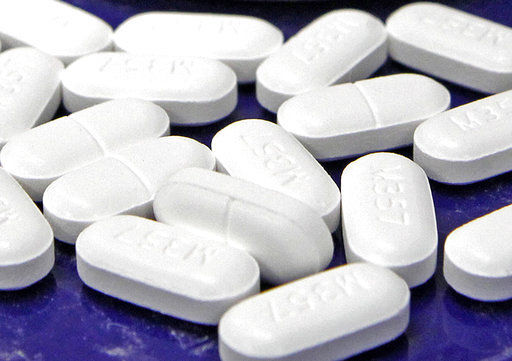 Federal agents have recovered around 3,600 pills containing illicitly produced fentanyl and approximately 1,100 grams of fentanyl powder in northern Indiana in the last two months, according to the Drug Enforcement Administration.
DEA Assistant Special Agent in Charge Alfred "Chip" Cooke confirmed to The Times that his territory, which includes most of the northern half of Indiana, was part of a nationwide crackdown that netted an historic amount of the potentially lethal drug. In the tri-state region of Illinois, Indiana and Wisconsin, the DEA nabbed 24 kilograms of fentanyl and 77,000 pills containing fentanyl between Aug. 3 and Sept. 28, according to a DEA news release.
Cooke, who is based out of Merrillville, said he could not provide additional information on local seizures because operations, most conducted in conjunction with local law enforcement, are ongoing.
Cooke and others in both the law enforcement and harm reduction communities have been warning for months about the increased prevalence of fentanyl as a hidden ingredient in an array of narcotics, including frequently abused black-market pharmaceuticals like Xanax, Adderall, Percocet, Vicodin and Oxycontin. And they say that fentanyl produced in clandestine labs, primarily in China and not the same as medical-grade fentanyl that can be used to treat severe pain, is being unknowingly cut into heroin, cocaine and other drugs, leading to major spike in overdoses in the last two years.
"It's very much in our face," Cooke said last week of the rise in fentanyl-related overdoses, "and we're meeting it head-on."
The announcement of the tri-state seizures coincided with the DEA's launch of the "One Pill Can Kill" campaign Sept. 27. The agency issued a public safety alert warning that the volume of fake pills on the black market is increasing, and that pills may contain hidden ingredients, including fentanyl, which can be fatal even in small doses.
Nationwide, the DEA said it arrested 810 drug traffickers and seized more than 1.8 million fentanyl-laced pills in August and September, "enough to kill more than 700,000 Americans."
Harm reduction experts recommend those taking black-market pills never use alone, and groups like Gary Harm Reduction offer free fentanyl testing strips that allow users to determine whether or not fentanyl is present before using a black-market narcotic. Advocates also recommend users and their loved ones keep a supply of naloxone, often known by its brand name Narcan, on hand to help reverse the effects of an overdose. Narcan can be acquired through Gary Harm Reduction or by emailing the Lake County Sheriff's Office's Police Assisted Recovery Initiative at pari@lakecountysheriff.com.