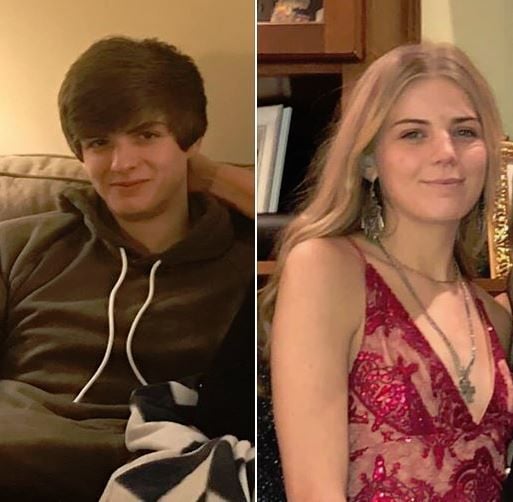 ST. JOHN — An external probe has concluded the St. John Police Department acted appropriately in the controversial disappearance and homicide of a local teen.
From the moment Molley Lanham went missing, her family knew something was wrong. 
The 19-year-old was always in contact with her family and friends and active on social media, her family has said. 
So when no one heard from her after 11:30 p.m. on Feb. 25, 2019, they said they knew something was wrong.
During a July 2019 St. John Town Council meeting, family members voiced their concerns about how the Police Department handled their daughter's missing persons case.
Now an external report of the investigation — provided to The Times Monday by the town — suggests no wrongdoing by St. John police.
The 12-page report, compiled by Kouts-based Attorney Jerome Ezell, concludes "the department members handled the investigation in a standard law enforcement protocol." 
Lanham, 19, of St. John, and Thomas Grill, 18, of Cedar Lake, disappeared Feb. 25, 2019. Police later found their bodies March 2 in a burned-out car in a remote, rural area southeast of Valparaiso. Both teens suffered gunshot wounds. 
Public allegations, including that police told Lanham's parents, Mark and Stacy Spejewski, they believed the teen was "just a runaway," are determined to be unfounded in the outside report. 
According to Ezell, the comment allegedly was made by then-detective Cmdr. Steve Flores, who became police chief this month.
During a March 1, 2019, discussion at the police department, which was captured on video, Mark Spejewski gave Flores information "in order to assist in finding his stepdaughter," the report states. 
While Lanham's stepfather talked, Flores listened to "a number of disparate and not fully developed tips, possible clues and theories" regarding the disappearance of Lanham and Grill, the Ezell report states.
"I don't mean to sound heartless, but we've spent countless, countless hours of man-hours between us, New Lenox, Porter County, Valparaiso, Cedar Lake police — we've all been working on this since this has all started," Flores told Mark Spejewski.
Flores added at that time that it appeared Lanham and Grill were two adults who left and from whom nobody had heard.
"Yeah, it's just unusual for her," Mark Spejewski said during the videotaped discussion. 
"I get it, and if I was sitting in your shoes, I'd be just as concerned as you are. I absolutely would be concerned," Flores replied. 
Flores' response, Ezell states in the report, "may have been subsequently interpreted by Mr. Spejewski in a manner that led to him believing Cmdr. Flores had made the statement, 'We're wasting too much time on a runaway.'" 
"It is likely Mr. Spejewski was unable to take comfort in Flores's responses," the report adds. 
Flores told The Times Monday he wants current officers to keep the family's concerns in mind, and all officers will be briefed on the case in March. 
"It was completely tragic, and I can't express enough on how bad I feel for them and what they went through," Flores said. "I can't even imagine for a second going through what they went through."
Flores said the most important thing is making sure Lanham and Grill receive justice. 
'Let down yet again'
During a Jan. 8 St. John Town Council meeting, the town's clerk-treasurer read a letter Lanham's mother, Stacy Spejewski, wrote to officials, noting she was "very disappointed" with the findings of the Ezell report, which Spejewski reportedly received Dec. 31.
"(I) feel that our family and Molley were let down yet again by our town," Stacy Spejewski wrote. "My family and I were completely honest with the information we shared and the events that took place during and leading up to the time my daughter was missing."
During a previous Town Council meeting, the family's attorney, Tara Tauber, said from the beginning, St. John police minimized the concerns of Lanham's parents. 
Tauber told The Times Monday that the family had no further comment on the Ezell report, adding that Stacy Spejewski didn't intend for her letter to the newly elected Town Council to be read into the public record during the Jan. 8 meeting. 
The family's main concern, Stacy Spejewski has previously said, is St. John police didn't investigate the disappearance and dismissed crucial information.
The family also was concerned that a narrative report taken by Officer Nicholas Stamate gave a false impression of Lanham and that St. John police didn't directly notify the family of Lanham's death. 
According to the report, Flores contacted Cmdr. Jay Dahlin and asked him to go to the Spejewskis and notify them of Lanham's death. 
Dahlin then allegedly told Flores when he tried to go to the Spejewski residence, no one was home, and the family was in Porter County looking for Lanham. 
Flores said the department is working on a death notification policy for the general public. 
When the family felt St. John police weren't doing enough, they hired a private investigator, town records show. Within a few days, tips were collected, including that a "Connor Kerner might be involved," Tauber said during the previous meeting. 
Tauber said when the family turned over the tips they received, including Kerner's name, an officer said the department was aware of the 17-year-old and that he "wasn't dangerous." 
Kerner, of Valparaiso, is facing two counts of murder and felony counts of intimidation and arson in the case. His trial is expected to begin July 7. 
Be the first to know
Get local news delivered to your inbox!